"This fossil-fuel-free building fills a much needed gap in the housing market. Austin Maynard Architects has considered what it means to live in a Terrace House, extracted many of those highly appealing elements and wielded them to drive this design. This is a project that invites intrigue and encourages conversation in its mission to contribute to Brunswick with gusto." - The Local Project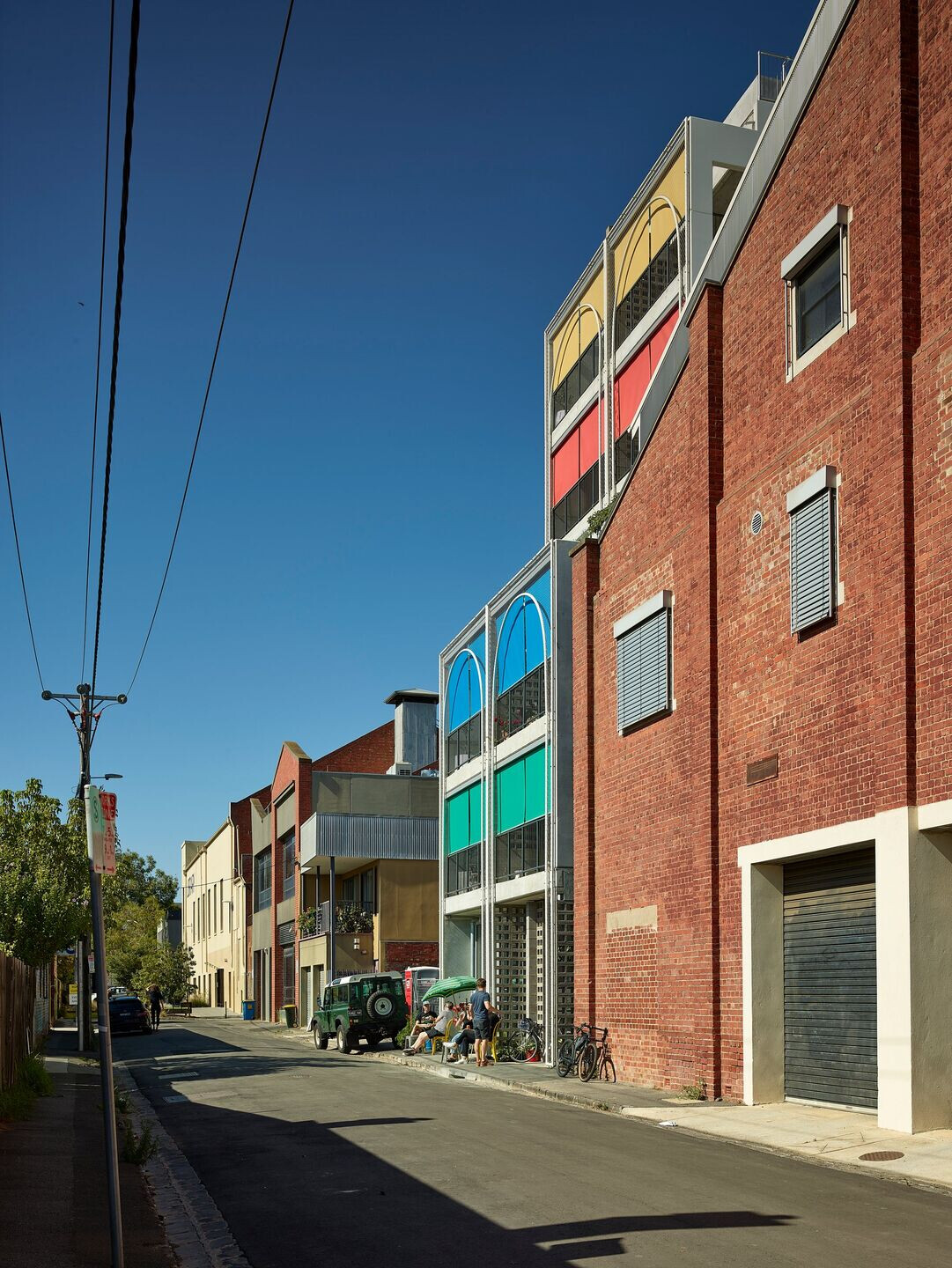 Terrace House is the result of past Austin Maynard Architects clients, staff and allies putting their own money at risk to create community-focused homes that are equitable, ethical, cost-effective, robust and resilient in the face of the growing climate crisis. Amongst our incredible investors, who risked so much, are past clients at Union House, Grant House, Mills: The Toy Management House, Mash House, Sproule House and Walker House. Also the patriarch of Melbourne architecture Emeritus Professor Leon Van Schaik supported and helped fund Terrace House as did fellow architects Scale Architecture, Phooey Architects and more. All of them champions of ethical housing who have been incredible supporters of Austin Maynard Architects in the past and whom we look forward to sharing future adventures with.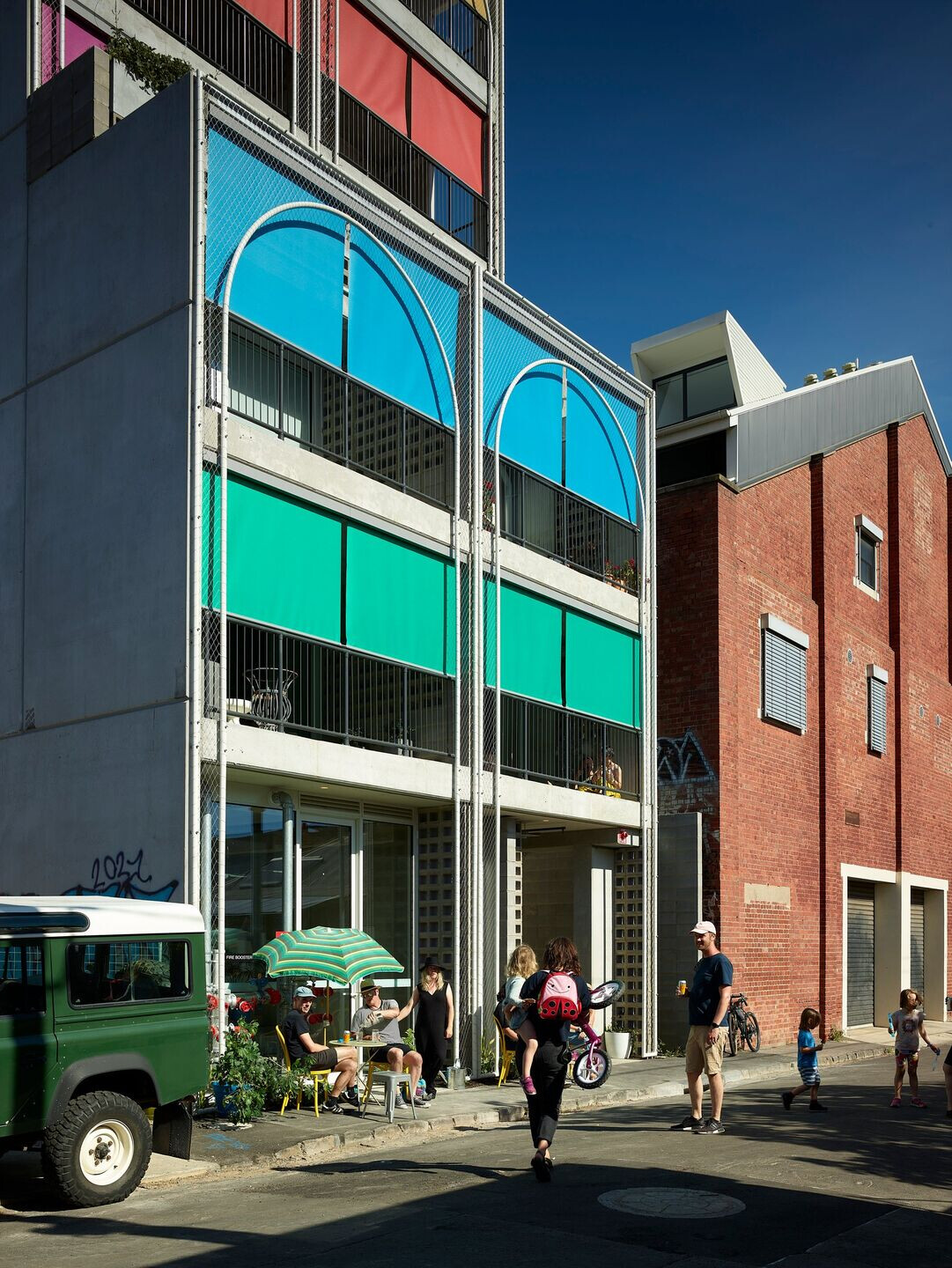 "One of us is a public servant, the other is a school teacher. In our income bracket options for home ownership are limited to cookie-cutter suburban sprawl with a lengthy commute to work (likely requiring a car), or an inner city shoebox not suited to raising small children. We would certainly never be able to afford an architect-designed new build, let alone one in Brunswick. Terrace House has given us peace of mind that we can live car-free and carefree in a 20 minute neighbourhood, walking distance to all the amenities we need, and that we will be able to raise our children in a stable community of owner-occupiers that like us values equitable outcomes, environmental sustainability and great design." - Paula Hanasz, Department of Environment, Land, Water and Planning, member of the Victorian Public Sector Sustainability Community of Practice, and resident of Terrace House.
"This building is the future, setting the tone for what is possible; to see how good it is to live a bit more simply and more sustainably, in a very tight knit community, in an area where everything you need is within walking distance. It's a great place to be and everyone is so warm and open and equally happy to be here. It's a perfect home."
- Griff, Director Hermann Studios and resident of Terrace House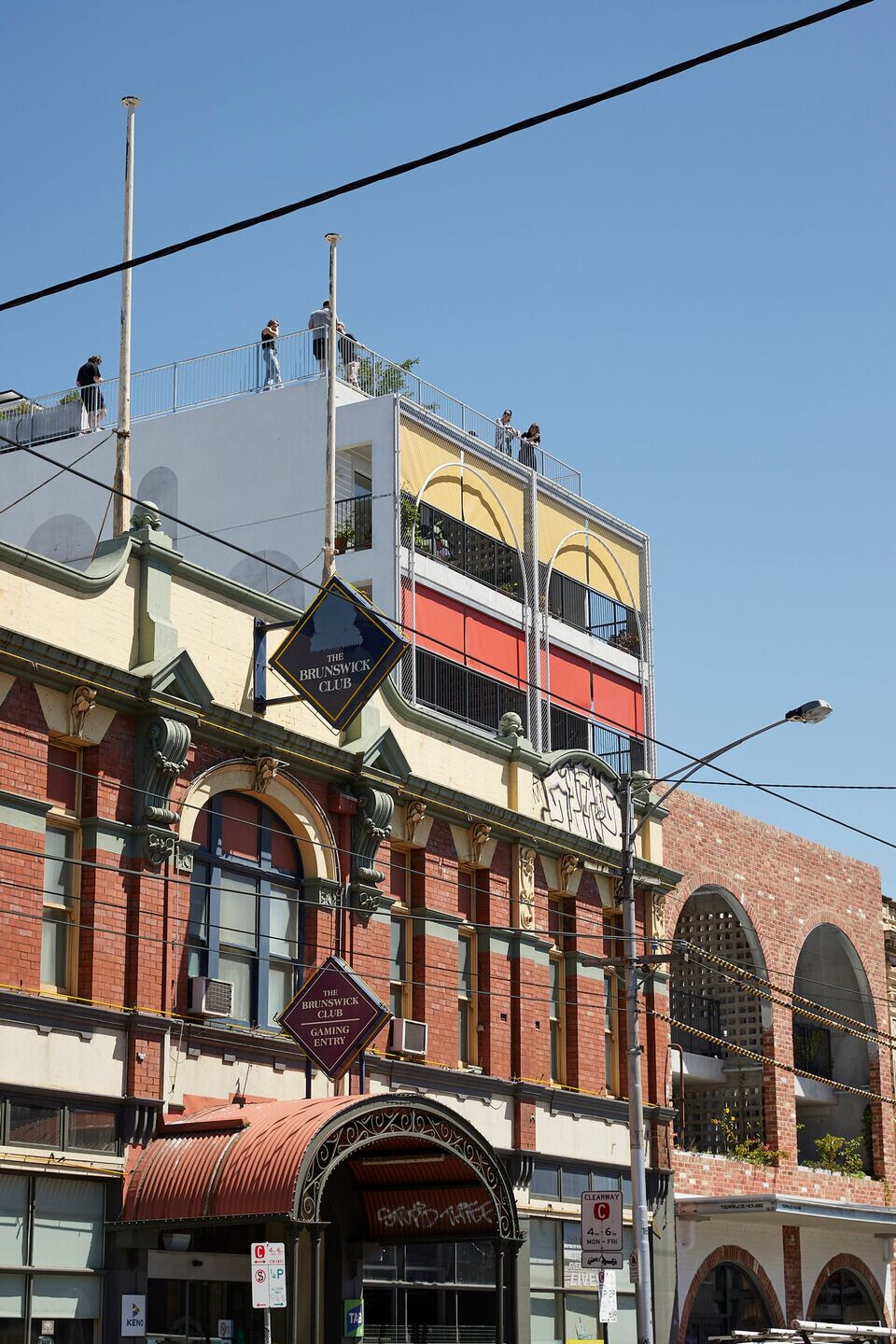 THE WHAT
Terrace House is an ethical, beautifully-designed, highly sustainable and 100% fossil fuel free building in Melbourne, comprising twenty (2 & 3 bedroom) residences, with 55 bike parksand three commercial spaces at ground level.Austin Maynard Architect's firstmulti-residential project as both architect and developer, Terrace House takes a revolutionary approach to housing and delivers quality apartments that are environmentally, socially and financially sustainable.
Terrace House, is the re-imagining of a former inner-city suburban life, where rows of workers cottages generated and nurtured close community. Street parties, shared childminding, communal gardens, neighbourly lending and borrowing, conversations over the washing line and unlocked front doors - these ideals are the basis of Terrace House. These are not apartments, these are homes - terrace houses stacked six storeys high.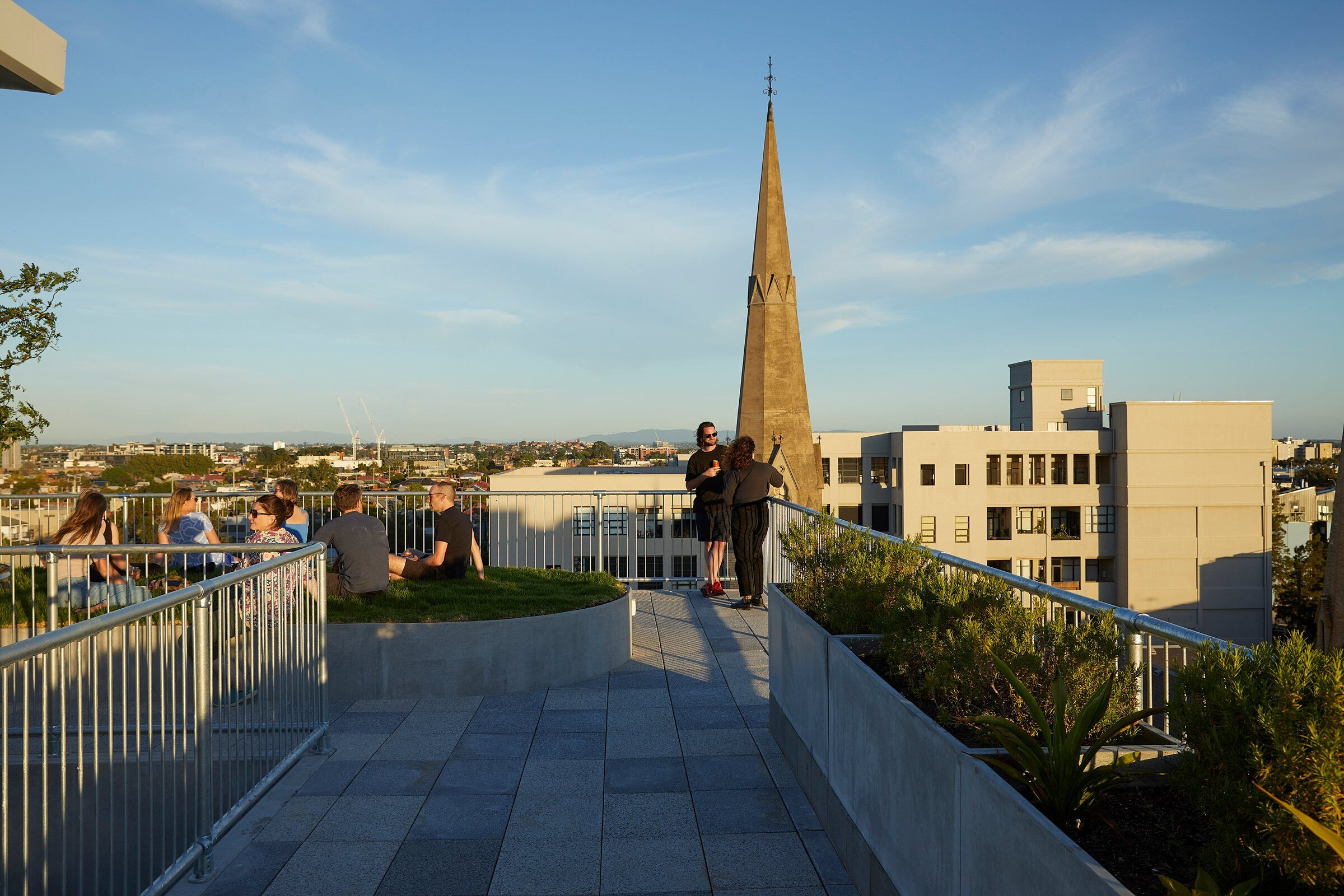 9. BOTH ARCHITECT & DEVELOPER
Over the years developers have approached Austin Maynard Architects, seeking our unique, joyful and award-winning design.However, repeatedly,developers were disinterested in solving fundamental climate and housing problems. They simply wanted to leverage Austin Maynard Architect's popular brand. So instead we committed to doing it ourselves. We committed to being both architect and developer. Instead of profits, we focused on deliberative design, working directly with the residents to form a community and help them author their collective future. With the design of the building we set out to tackle the big issues, climate change and the lack of affordable housing; to be a really good example of urbanism and to be financially sustainable.To achieve this we democratised investment capital, to leave the big banks out of the equation as much as we could. We asked ethical investors to bank-roll us. We went to past clients and asked them to help us house others in the community. Our clients chipped in, at significant risk, as did many of us at Austin Maynard Architects. After a search we found an engaged landowner who wanted to do something positive within the neighbourhood they called home.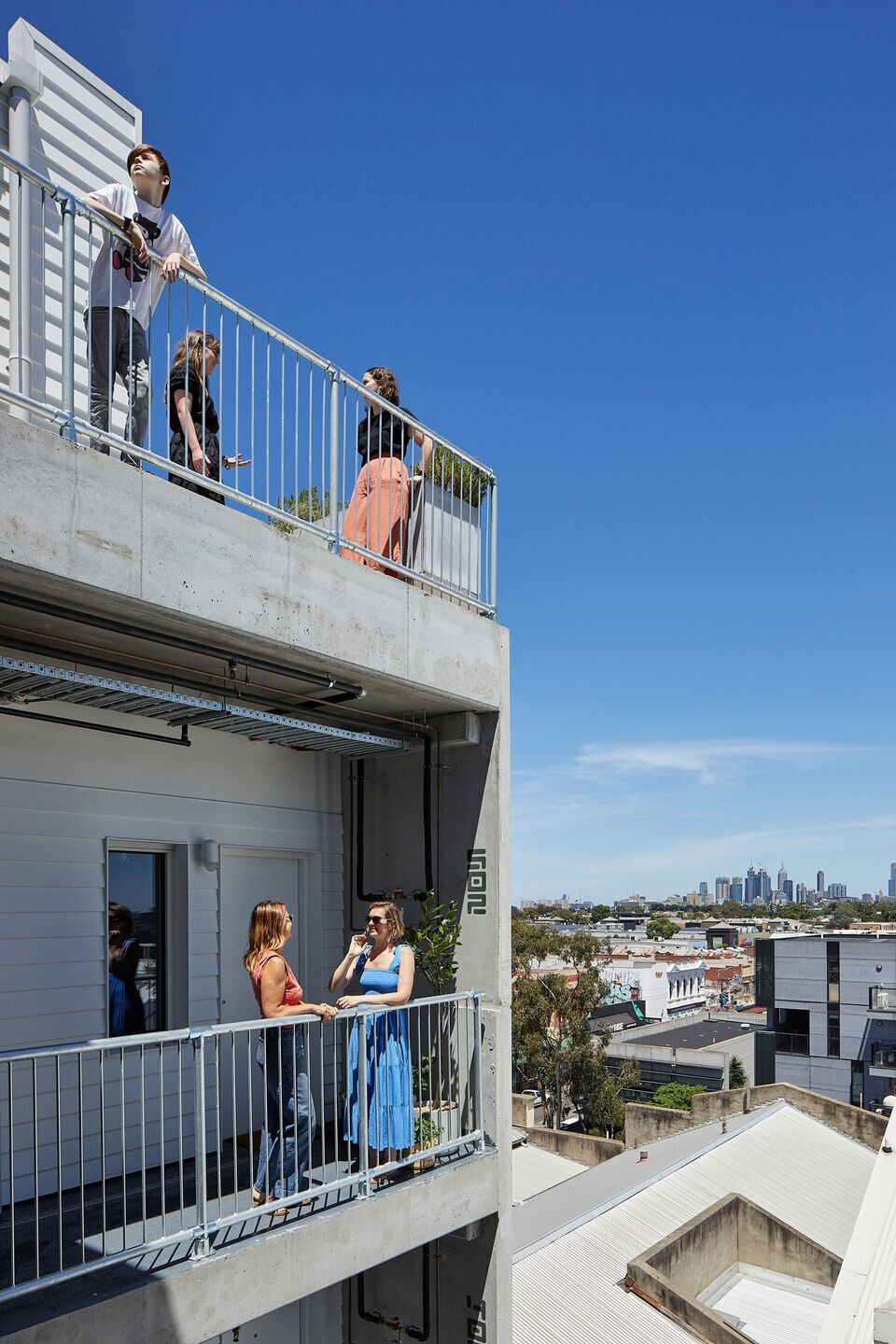 BEAUTIFULLY LARGE HOMES
Located onSydney Road, a busy high street in Brunswick, Melbourne, Terrace House is sited on a thin, long block (10m x 57m). Typical small inner-city apartment buildings cannot be arranged on a block this size without the homes facing inward, towards each other, using saddlebacks or compromising bedrooms. We believehomes should have an aspect out from the site, into the surroundings, and to the sky, not facing each other at close proximity. The response to this unique site led to generous homes and the opportunity to emulate traditional terrace house plans. Homes with big external outlooks, a front verandah, a study and a shared 'backyard' on the roof.These are highly sustainable terrace homesin an engaged community, at a relatively affordable price, with super-low running costs, and without the constant demands for maintenance and poor thermal performance of typical terrace houses.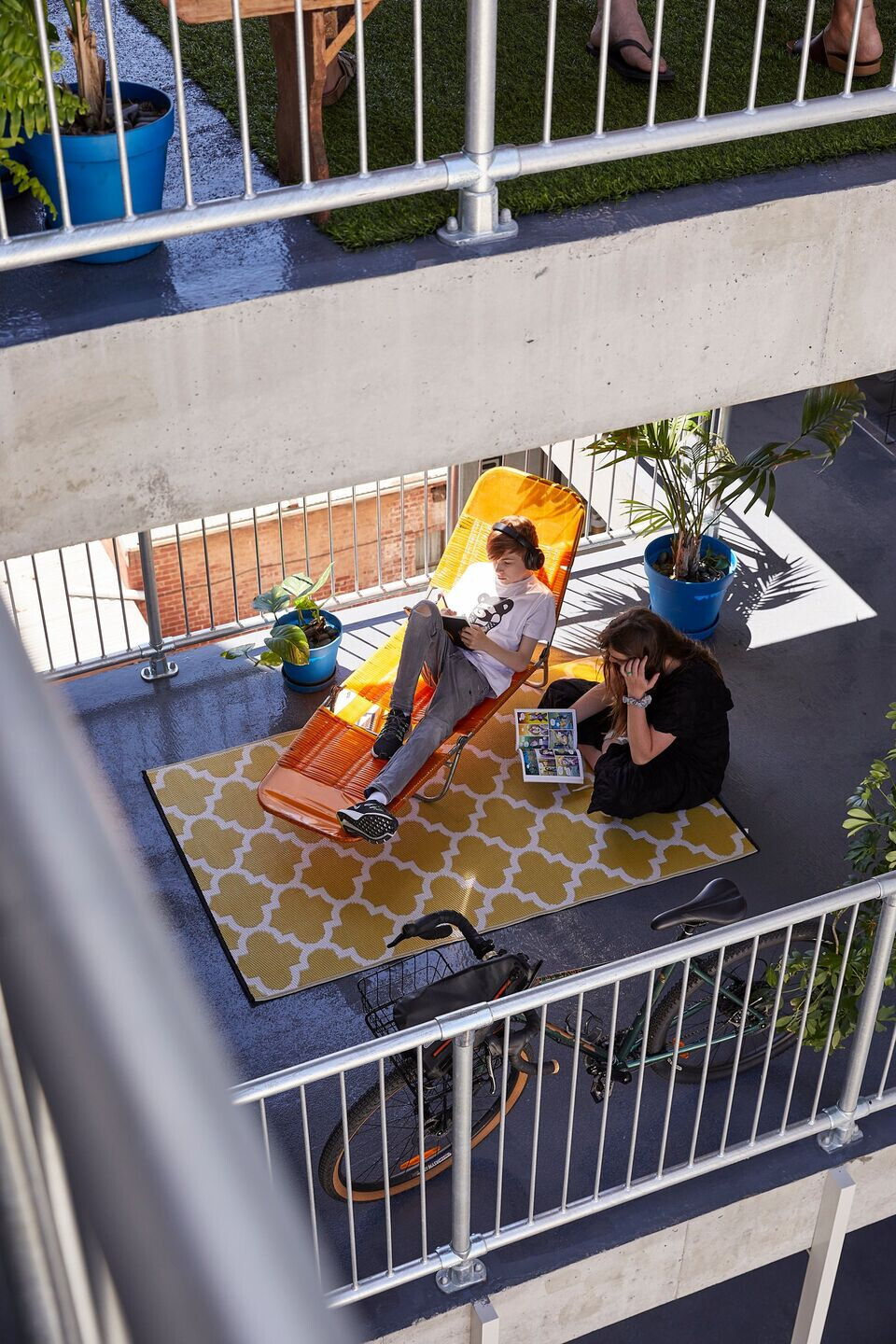 IT'S ALL RELATIVE
A terrace home, as a typology, is an efficient type of free-standing housing. With homes up to 130m2 - Terrace House is large relative to other apartments, yet they are highly efficient relative to the typical Australian home. The average Australian home is 233m2, and generally inefficient in its use of space and energy, poorly designed and unsustainable. Terrace House fills a much needed gap in the housing market. Notably more affordable than similar sized, un-renovated, homes in the area. Large enough for families, but still with the shared resourcing and community that apartment living can bring.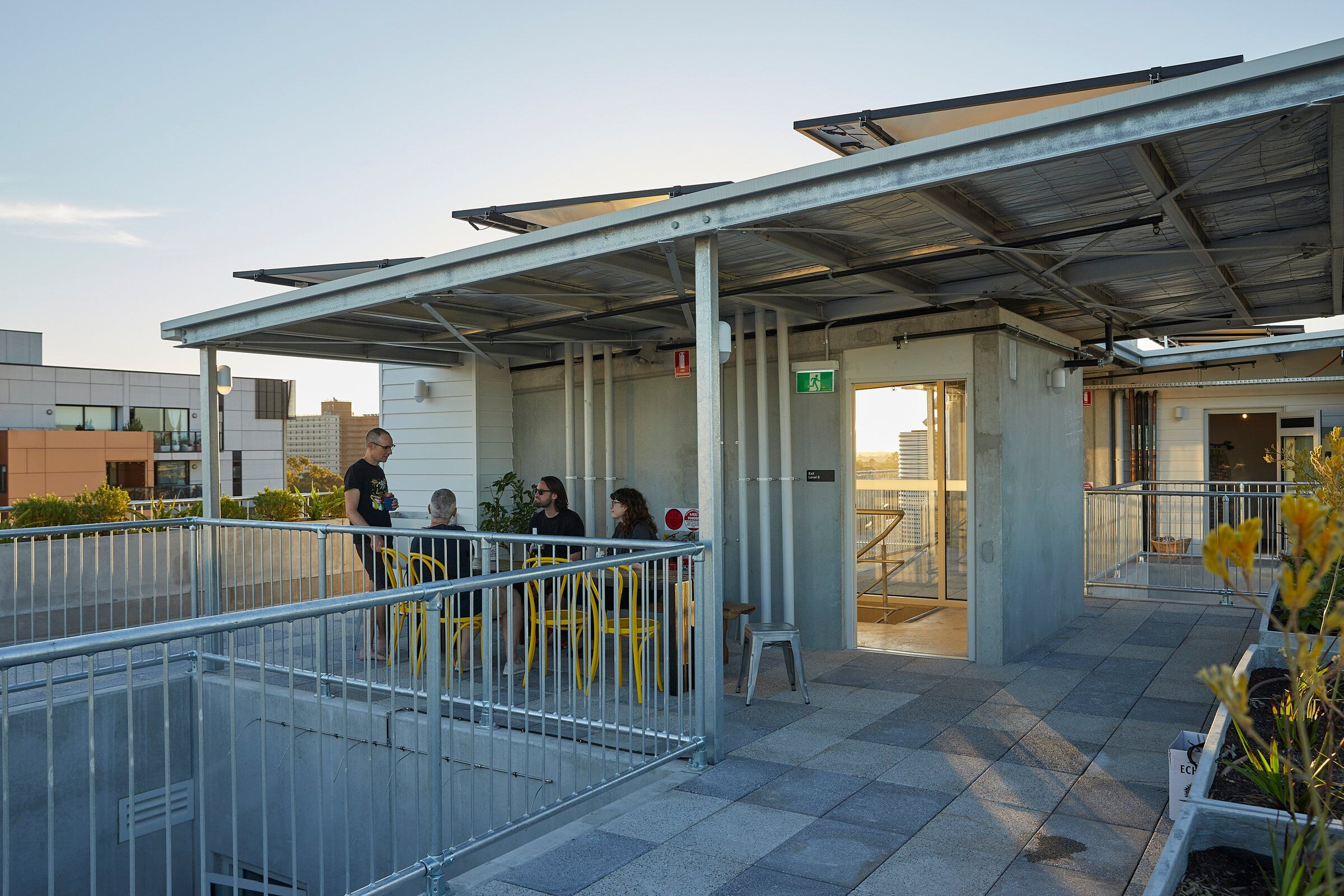 INFORMATIVE DESIGN
Terrace House is an evolution of apartment living. As architect and developer, it offered Austin Maynard Architects a way to create ethical, sustainable, cost-effective housing, while also allowing the community to craft an outcome that suits their needs and wants.
In June 2016, we made available a survey to potential purchasers, the results of which strongly informed the design of Terrace House.All respondents expressed a willingness to purchase homes designed by Austin Maynard Architects.55% of respondents were first home buyers and 75% of respondents were aged under 45. The vast majority wanted a shared laundry and a rooftop clothes line, to ensure that they had larger living spaces. A rooftop garden was very important to most respondents. Everyone was concerned about climate change and wanted a highly sustainable and resilient development. Almost no-one requested air-conditioning, with the knowledge that Austin Maynard Architects would be designing a highly thermal efficient building. The vast majority of respondents wanted a car free home as almost everyone commutes via public transport, bicycles, walking and Uber.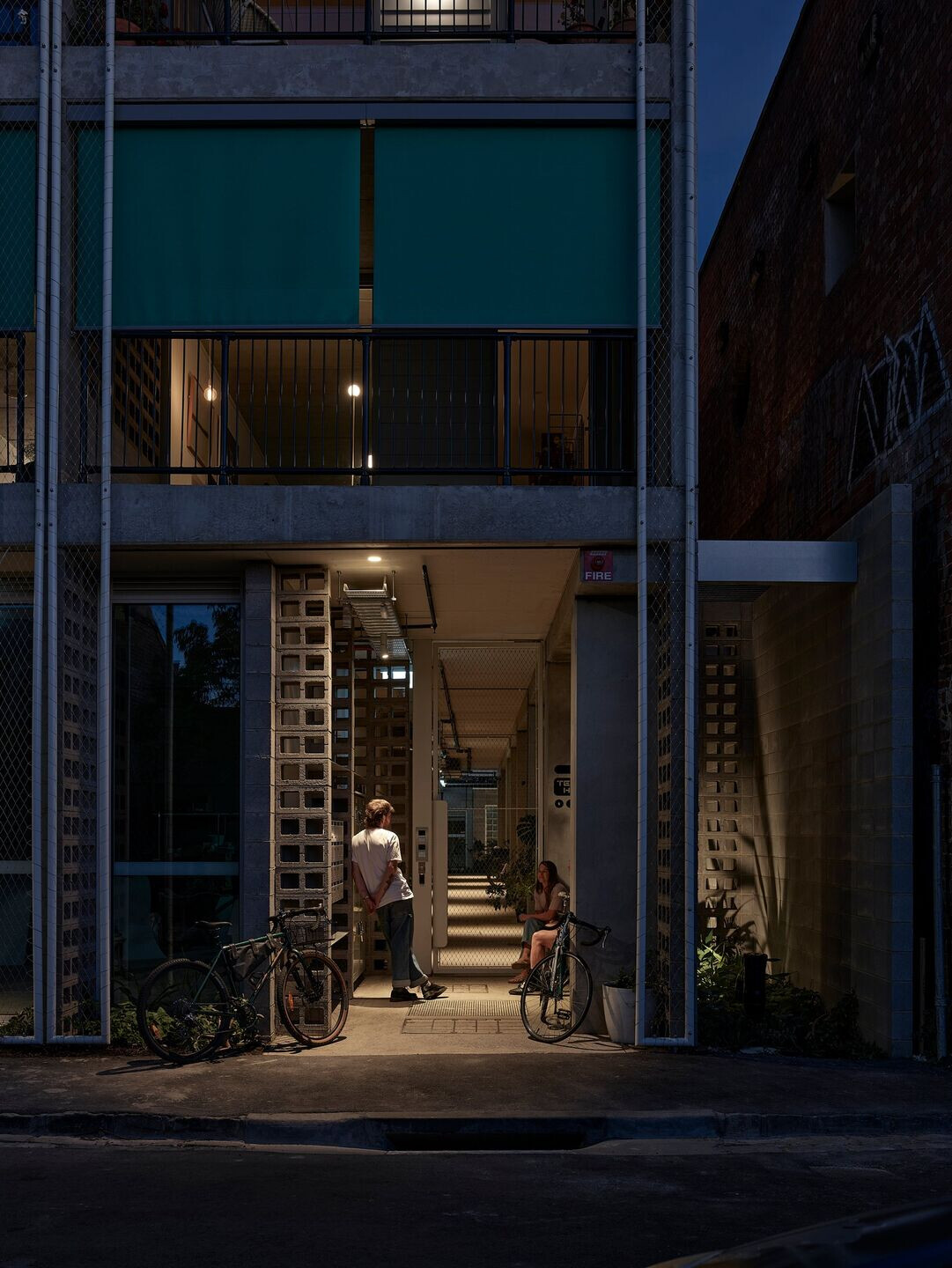 "Our path to Terrace House began in 2013, in conversations with friends about architecture, good design, urban planning and the future of Melbourne. How communities, thoughtful policy and planning decisions can shape really liveable, exciting communities that are also future-proofed.
With Austin Maynard Architects we found we shared the same strongly held convictions about the environment and social justice, we joined the list for Terrace House and in 2017 our ballot was successful. We are not the sort of people who ever felt that need to buy a house. The only reason that we have bought anything is because it's sustainable, community-focused and 'location, location location'. Terrace House is premised on good design, on liveable apartments and we love that it tries to up-end the paradigm of development in Melbourne at the moment."
Paula, resident of Terrace House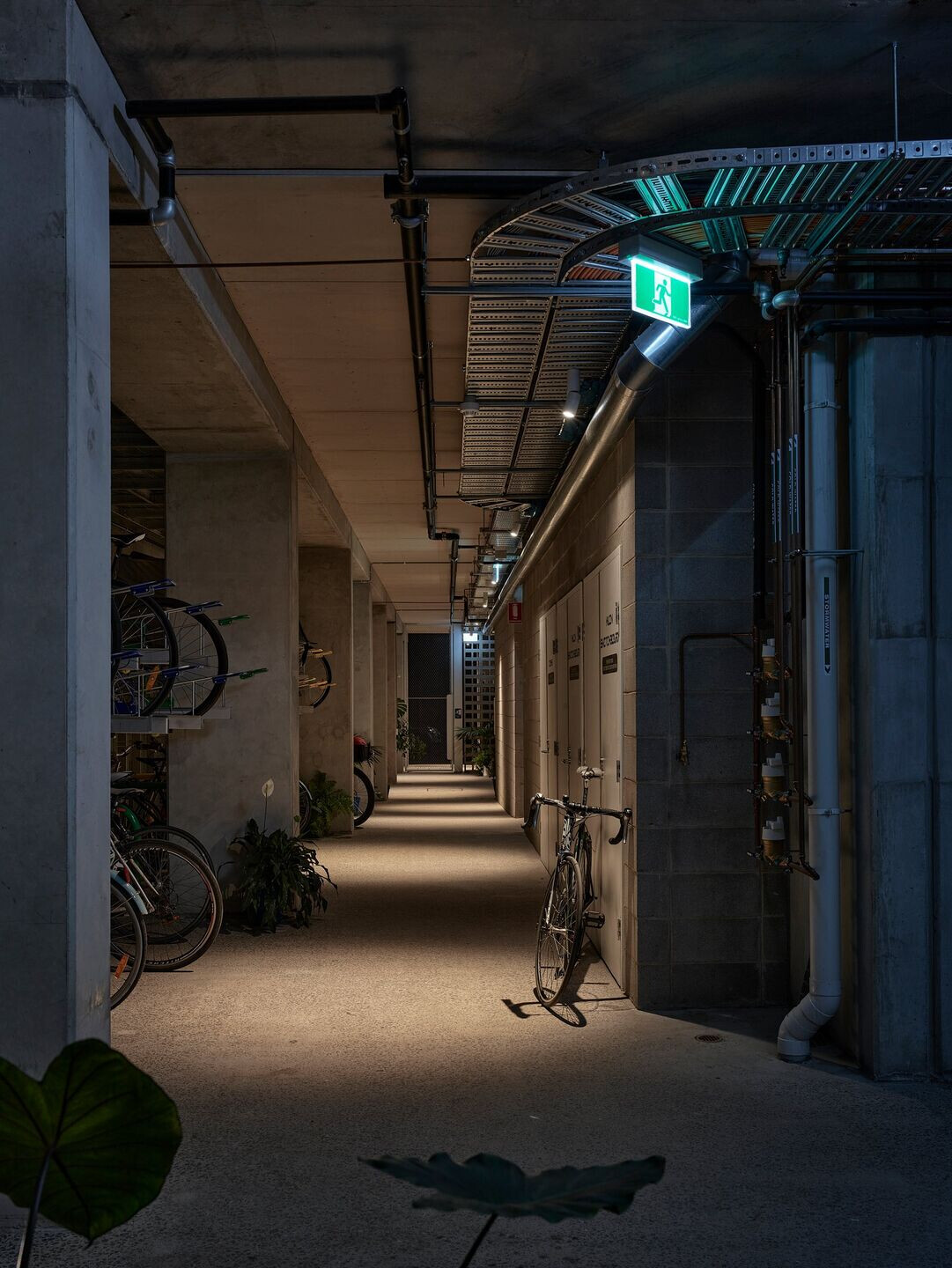 THE COMMUNITY
Brunswick is a wonderfully diverse suburb, with residents from a range of different socio-economic backgrounds, ethnicity and lifestyles. Issues of equality, sustainability, the arts and ethics are high priorities of many locals. The majority of Terrace Housepurchasers are Brunswick residents and many are renters in the area who have been unable to find suitable or affordable options to purchase. They already have an established social network here, but cost issues are forcing many to relocate to the outer suburbs, further from the city, from their familiar neighbourhood and infrastructure. Terrace House fills the gap in the market and maintains the spirit of community.
"As a consumer, what I really think Austin Maynard Architects has designed and built here, first and foremost, is a community. A thoughtfully designed and constructed community of like-minded people, who have been brought together by shared values and empowered by co-design. By involving us all in design decisions, AMA have given residents the permission to make this building our own; to take the design principles and run with them." Paula, resident of Terrace House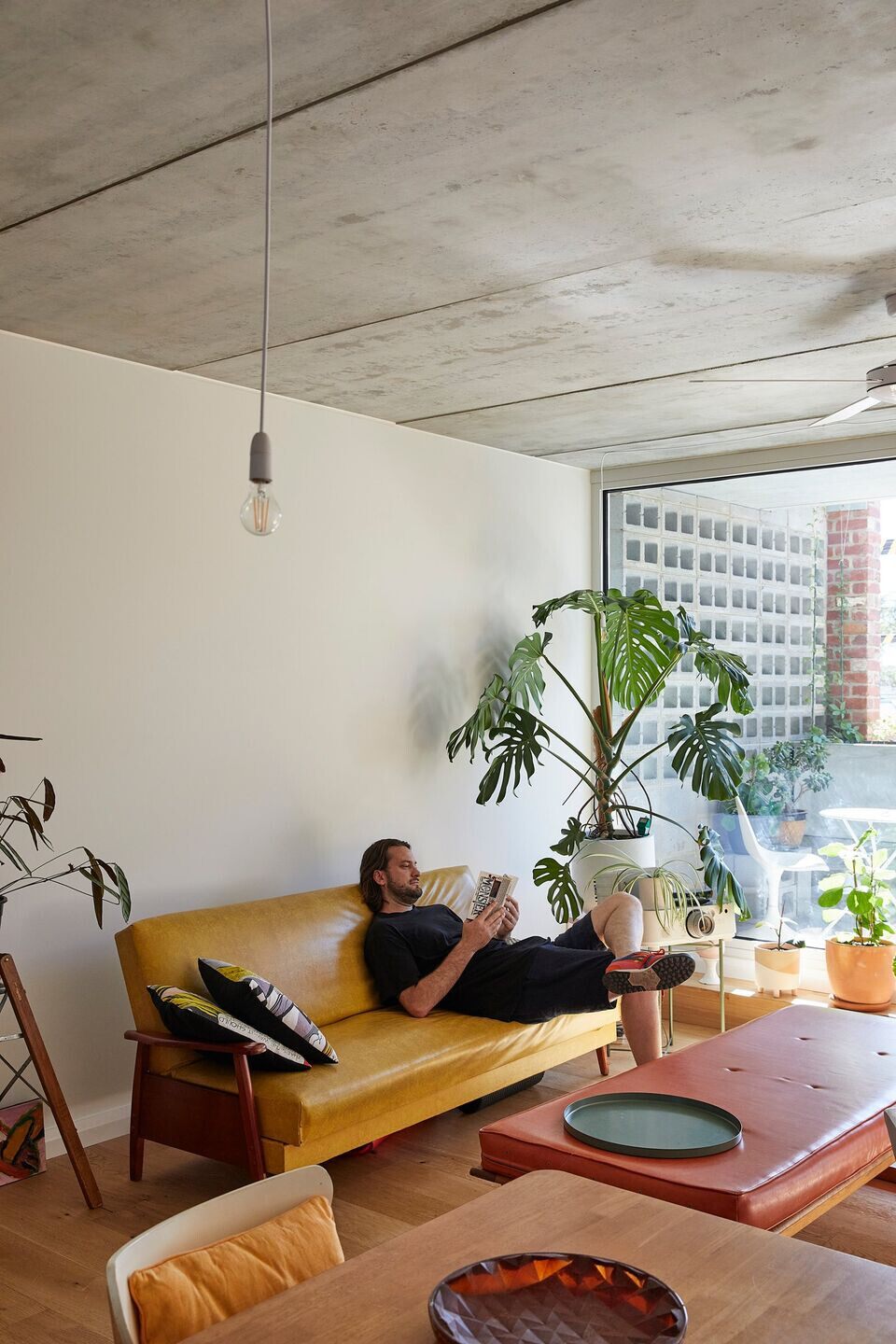 RESPONSE TO BRUNSWICK'S BUILT HERITAGE
Brunswick is one of the most eclectic and multi-cultural suburbs in Melbourne. It has a rich and diverse heritage that remains to this day. Terrace Houseis a love letter to Brunswick's eclectic heritage and specifically to its often undervalued Mediterranean-Australian built history. Sadly, arches and brown brick are not in fashion at the moment and as such we are seeing the erasure of a very important part of post-war Australia.
Terrace House borrows from the plethora of unique arches of various types and epochs along Sydney Road, in a respectful and playful way. We studied these facades and have created a modern interpretation of the context, yet using light, utilitarian materials on the eastern and western facades that reflect Brunswick's industrial past. Although we are very fond of the masonry arch balconies of neighbouring buildings, the lack of natural light provides poor amenity to the inhabitants, compared to the metal mesh and gardens established at Terrace House.
Undertaking yet another thoughtless, boxydevelopment is exactly what Brunswick does not need. Neither does it call for a direct copy of heritage structures. Instead we have designed a green lung that borrows the forms and rhythms of the area. The utilitarian concrete and metal mesh provide the backdrop for substantial gardens on the east and west facade, and elegant, simple graphics of the North and South facades. The balustrading is simple vertical posts, which ensure that the balconies are not scalable by youngsters whilst providing abundant light to the inhabitants.
Our vision is that Terrace House will become a vertical community garden within a masonry context. Our aim is to provide a tall garden full of life.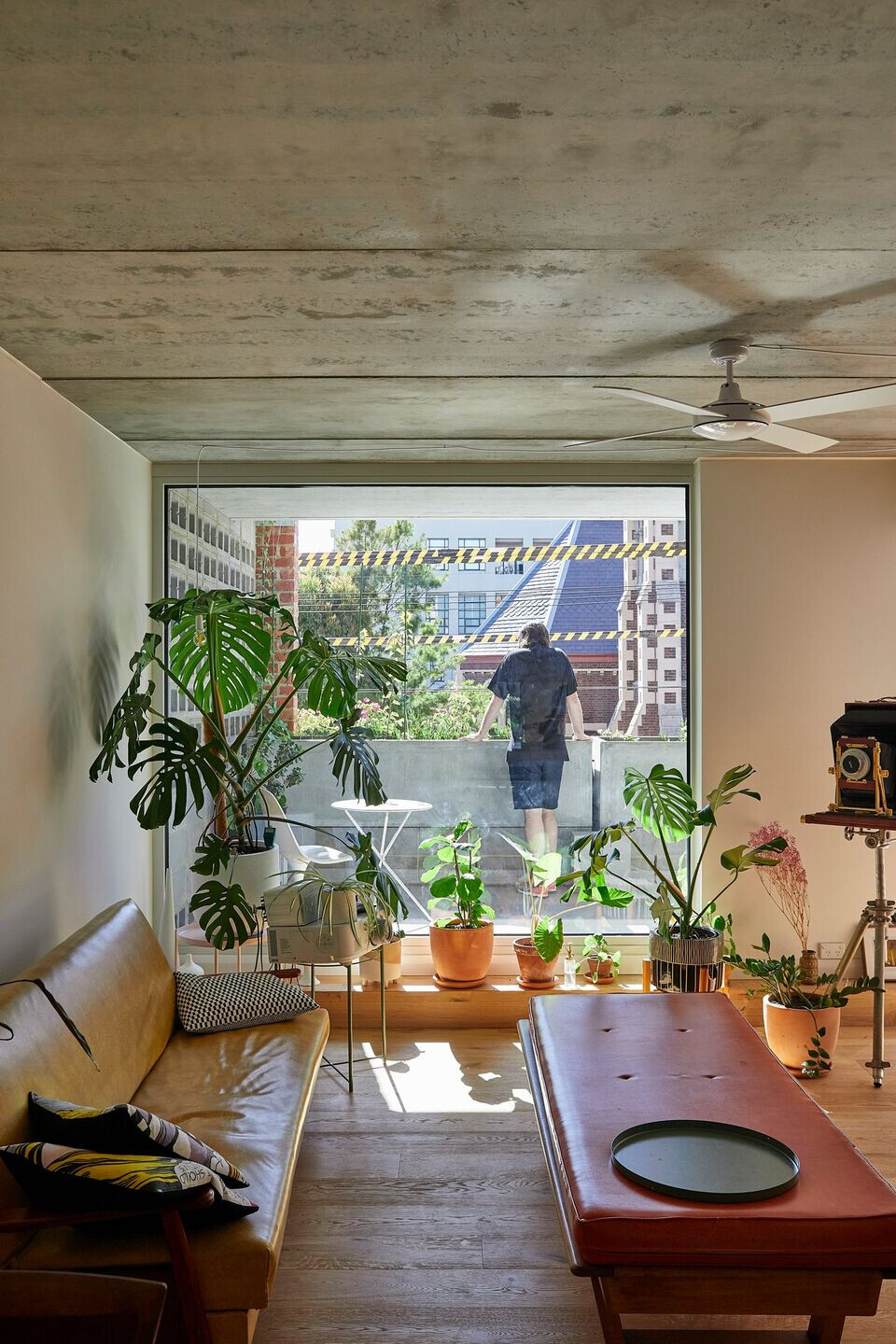 AN URBAN RESPONSE TO TRANSIT AND PARKING
As determined by the transport plan, increased car usage on the street at the rear of Terrace House (Saxon Street) should be discouraged. A relatively narrow, 'no-through' road with a pedestrian park at the end, meant it could not effectively tolerate car usage. In fact, increased car activity would not only be an ineffective transport outcome, it would be to the detriment of the area. Saxon Street is an important public space and artery to public infrastructure, such as the school, the swimming baths, the train station, bike path, library, council building and other services, all tightly packed in this unique public realm. Furthermore the purchasers of Terrace House articulated a commitment to sustainable transport options and most have a history of non-car usage. With a reliable public transport system, car sharing on their doorstep, and with 55 secure bike-parks inside, the by design "no car no garage" urban response to transit and parking is the ideal solution for the residents of Terrace House, and importantly for the broader community.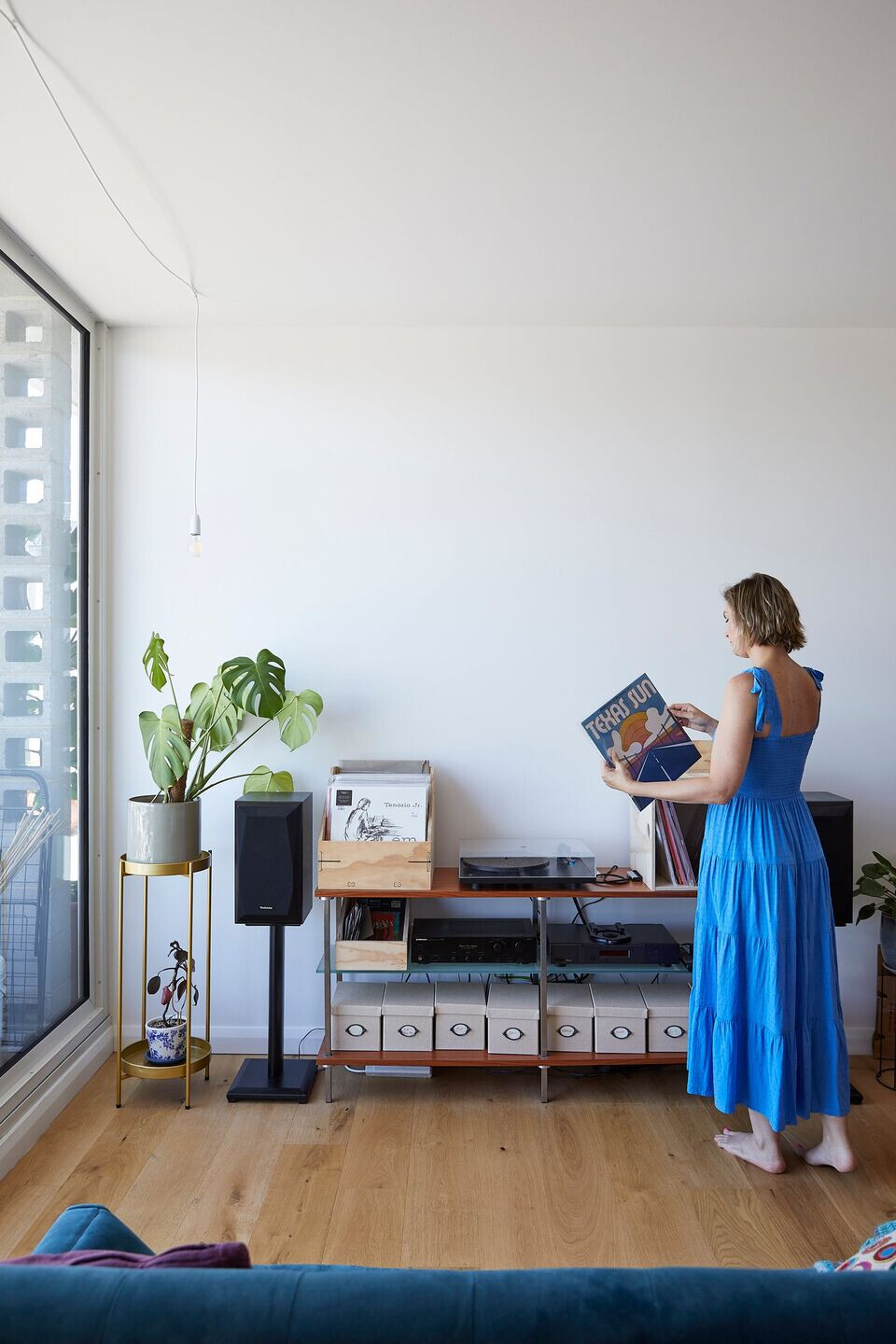 GREEN SPACE
Terrace House exhibits a striking and contemporary attitude towards the integration of landscape and architecture, with green open spaces. The proposition was for a rambunctious garden that creates a moment of green dissonance in the urban environment, across private, communal, integrated and external 'street scape' garden. The facade is a metal mesh is intended to be taken over by the landscape adding further solar protection and a green outlook in an inner-city environment. Internal communal garden on the ground floor offers seating and access to sunlight, whilst providing shade and wind protection. The roof, with expansive views of the city and distant hills, is a place for individual and communal use. Much like any typical Brunswick backyard, it has a clothes line, a productive garden and a lawn area, with a tree for shade.
The private balconies all have planter boxes incorporating a reservoir and wicking system with light screening plants. The landscaped areas are easily managed and maintained - irrigated with harvested rain water.
With the use of simple materials, proven planting and bold forms the landscaping supercharges the character of the building.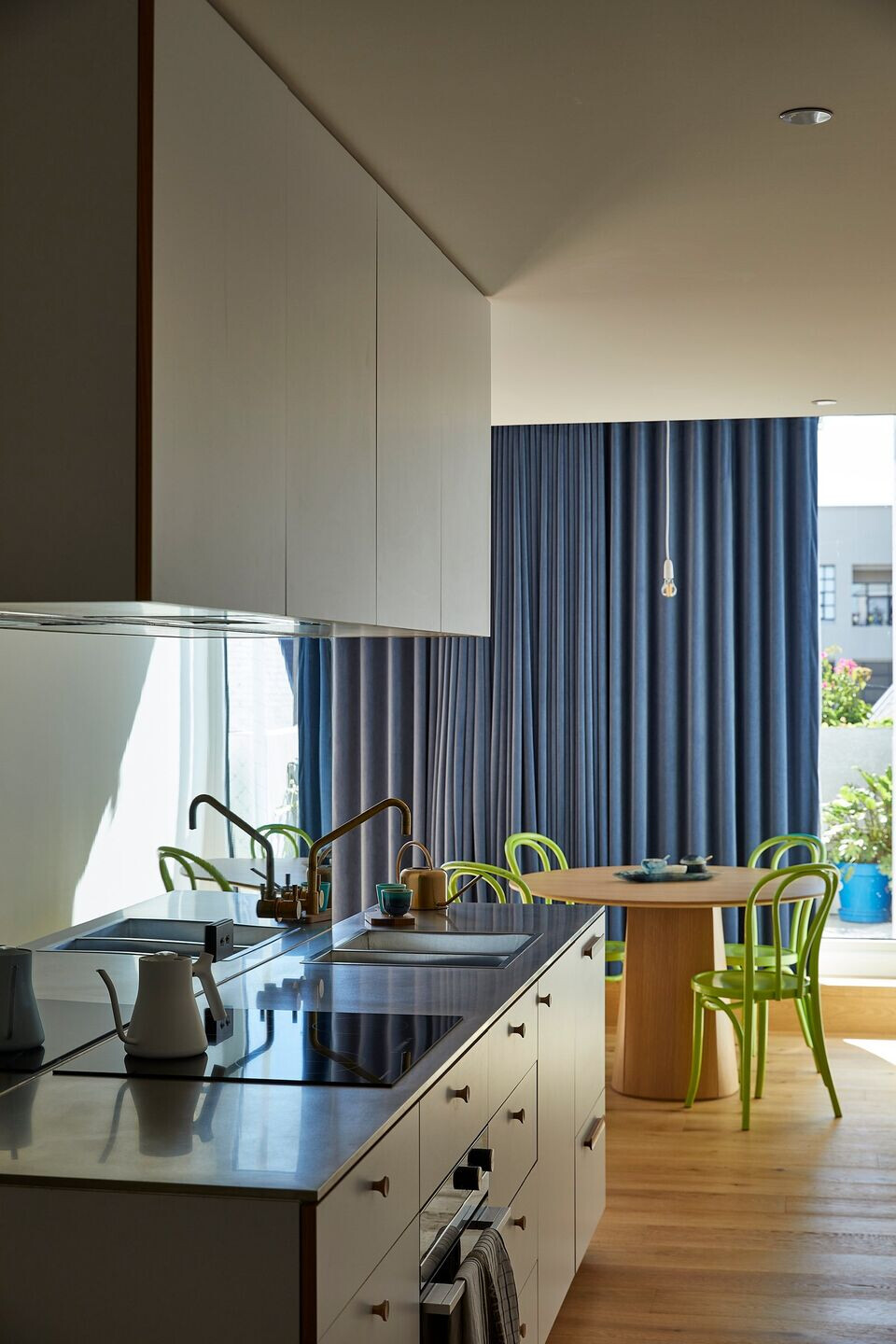 STAIRWELL GRAPHICS
We were already fans of Melbourne based design studio Hermann Studios - of his clothing and his mural - we even had the t-shirts, so when we heard the company director, Griff, was successful with his ballot and would be moving into Terrace House, we approached him with an idea.
"The idea was to design a series of graphics in the building that would communicate earth and man and how they all intersect. It was a really good brief to work from, with that imagery, and so I kept it abstract but also symbolic. I really wanted to communicate the earth and then a human abstract of form and then unify them. They don't all communicate that, some have plant structures entering the human head and other ones have a globe - you can interpret it as you want, art is subjective, but it was a great brief."
Griff, head of Hermann Studios and resident at Terrace House.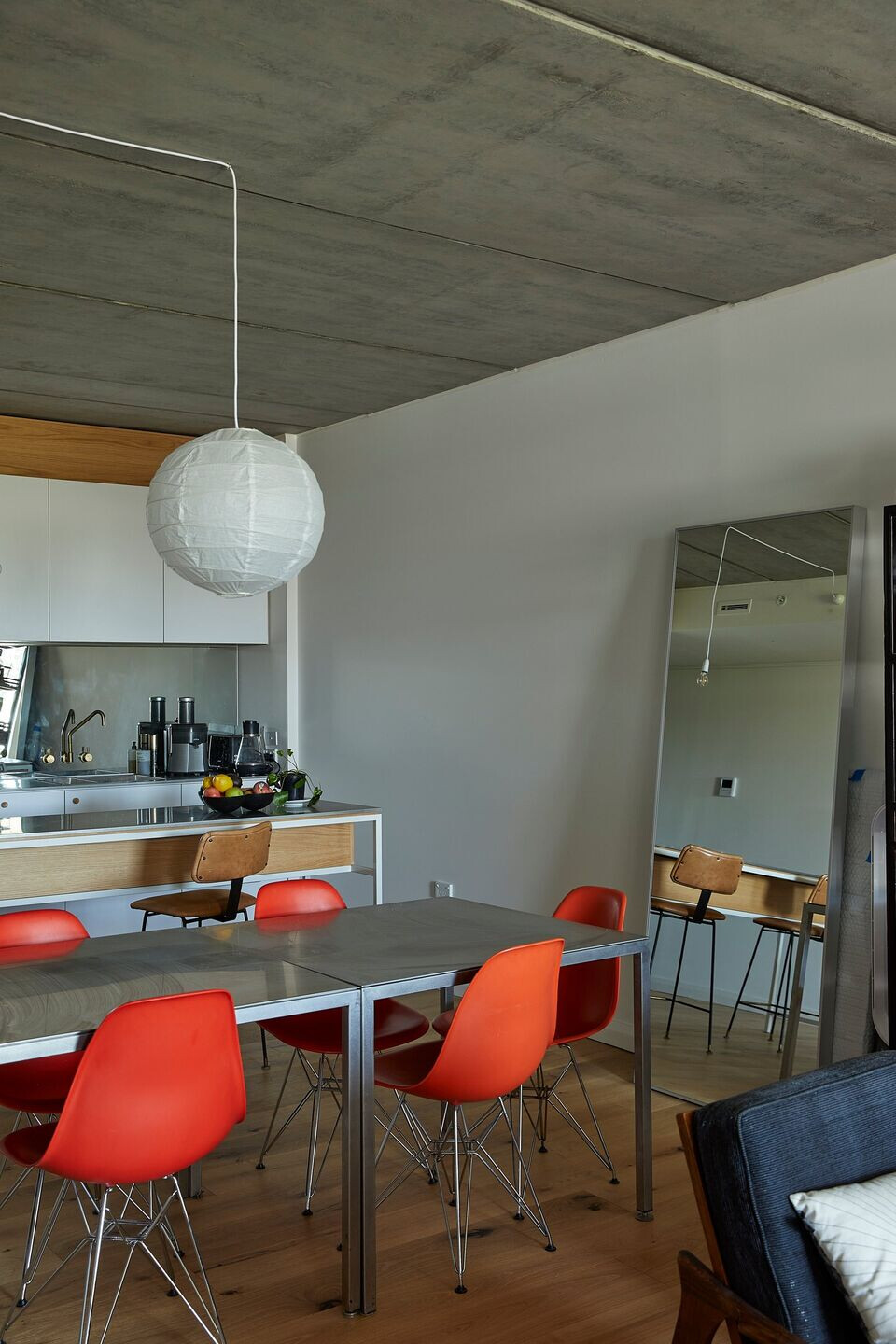 SUSTAINABILITY
"Over its life span this building will emit -7000 tCO2eq less than average or standard buildings providing the same functionality. This is equivalent to:
– 42,000 trees planted
– 1842 cars taken off the road for a year
– 932 zero energy Australian homes for a year
– 203,855,455 balloons of CO2 gas removed from the atmosphere" From Hip V Hype 120 year life cycle assessment 2021.
Terrace Houseaddresses 10 key Ecologically Sustainable Design (ESD) categories in design and operations. The following is a summary of how each has been considered and what has been achieved, the results of which culminate in a building that will have reduced environmental impacts in the long term and will offer residents comfortable living conditions and reduced running costs.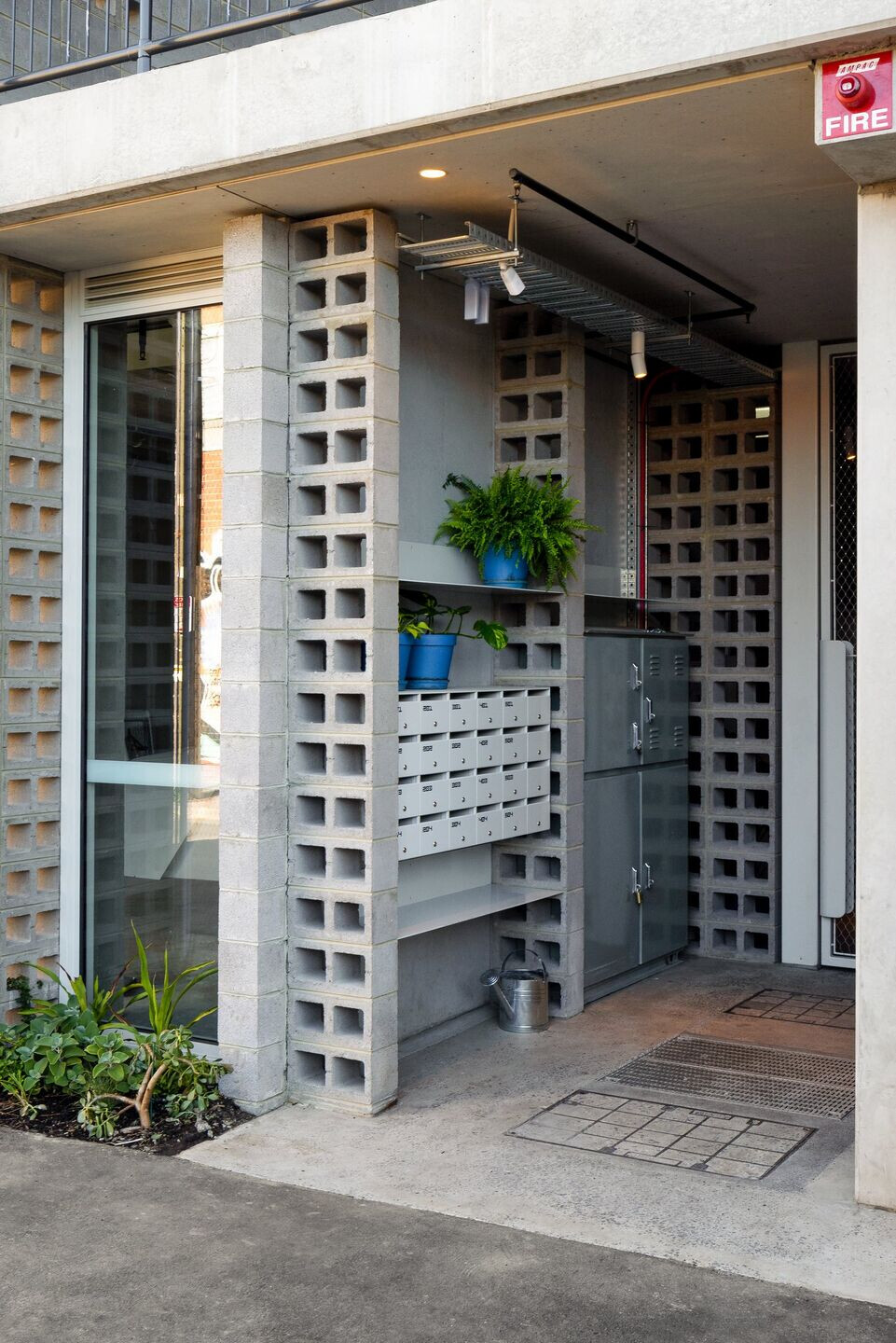 1. Indoor Environment Quality
Low VOC &formaldehyde materials
Fresh Air: Natural ventilation and energy recovery ventilators
Thermal comfort (ceiling fans, insulation) daylight
2. Energy Efficiency
Insulation and high performance glazing
Thermal mass
Average NatHERS Rating of 8.1 Stars
Air tightness…
•Target ≤4.0 m3/hr/m2 @50Pa
•Achieved 2.1-2.3 m3/hr/m2 @50Pa
Energy Recovery Ventilators (ERV's)
Lightwells with Cool Mist
Condensing clothes dryers and drying lines
Apartment master switch
LED lights throughout
2a. 100% Fossil Fuel Free
All Electric Building
No Gas
Induction Cooktops and Electric BBQ
Electric Heat Pump for hot water
Solar PV System
Embedded Network with 100% GreenElectricity
3. Water Efficiency
High Water Efficiency fixtures & appliances
10,000L Rainwater collection for reuse
5,000L Fire Sprinkler System test water collection tank for reuse
Water sensitive landscaping
4. Stormwater Management
Reduction of Stormwater leaving the siteduring a storm event
Improved Quality of Stormwater leavingthe site achieved through a combination of soft landscaping and rainwater tank.
5. Building Materials
Concrete with Cement Replacement,100% recycled water
Recycled clay Red brick façade
Forest Stewardship Council (FSC)approved Timber
Steel from responsible steel maker (WSACAP membership)
PVC: Best Practice Certified
Durable and sustainable materials
6. Transport
No Carpark
Access to public transport (trains, trams,buses)
55 Bicycle parking spaces
Car share within 20m
7. Waste Management
Waste Management Plan
Dedicated Waste Room with:
•Recycling Facilities
•Shelf for batteries &electronic waste
•Wormfarm
No Waste chutes
90% of construction waste recycled
8. Urban Ecology
Landscape designed for improved site ecological value
Vegetable garden
Soft landscaping for reduced heat island effect
Reduced light pollution
9. Innovation
No jaw-dropping-ground-breaking innovation initiatives (that might not work)
Simply thoughtful design
10. Management
Construction
•Environmental management plan
•Contractor Environmental Education
•12 Months building tuning process
Operation
•We have given the residents the tools for sustainable living.
The initiatives that have been utilised during construction, and built into this project for its future operations, are exemplary. We are incredibly proud to be have made a positive contribution to the environment and the community.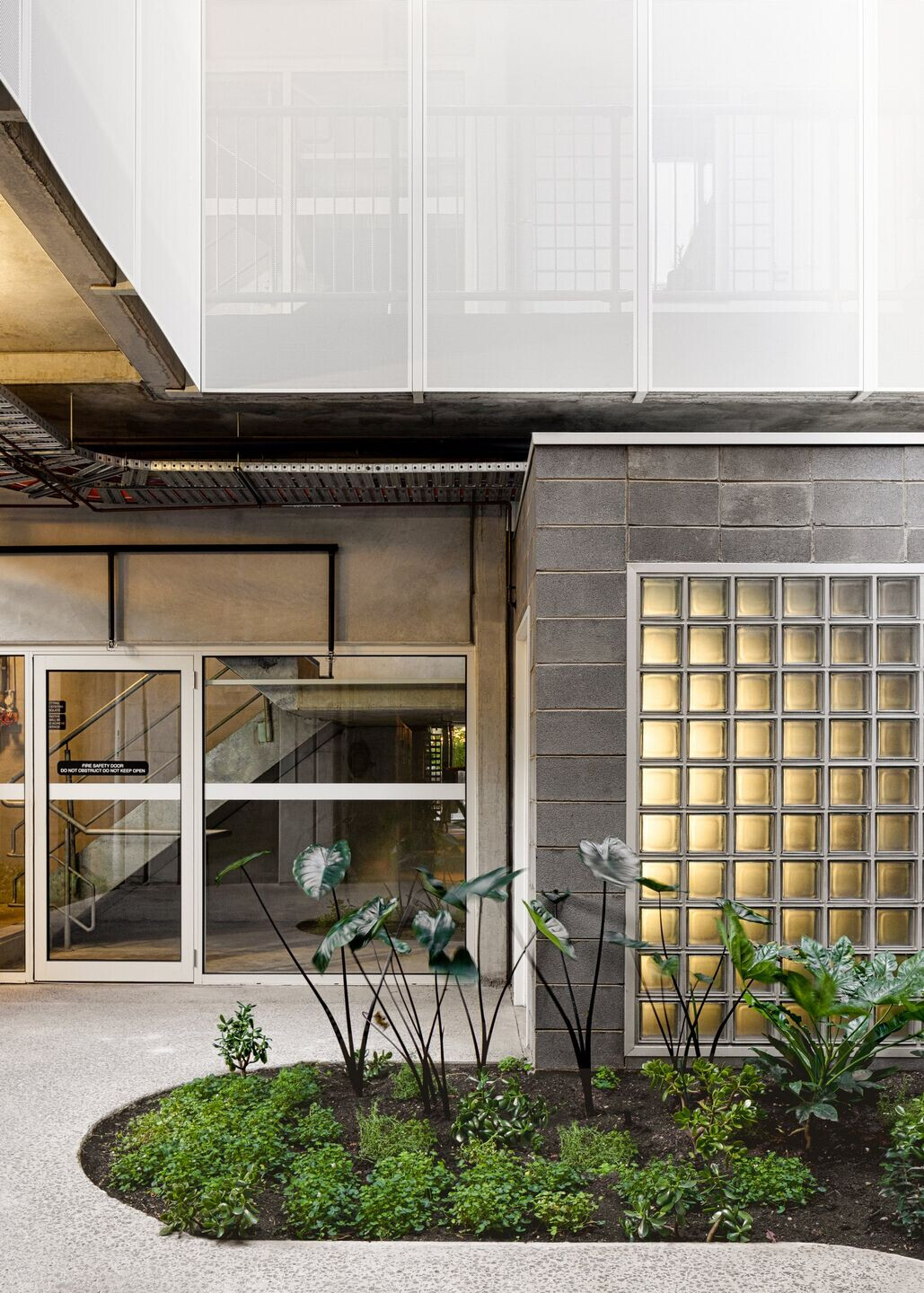 Team:
Traditional land owners: Wurundjeri Woi Wurrung
Project team: Andrew Maynard, Mark Austin, Mark Stranan
Developer: Austin Maynard Architects
Builder: Kapitol Group
Project Managers: Armitage Jones
Engineers
Structural - Adams Engineering
Engineer - Services - BCA Engineers
Engineer - Fire - Omnii
Engineer - Acoustic - WSP
ESD: Irwin Consult
Traffic Consultant: Ratio
Planning consultant: Hansen
Access Consultant: Architecture and Access
Landscape Architects: Openwork
Building Surveyor: Steve Watson & Partners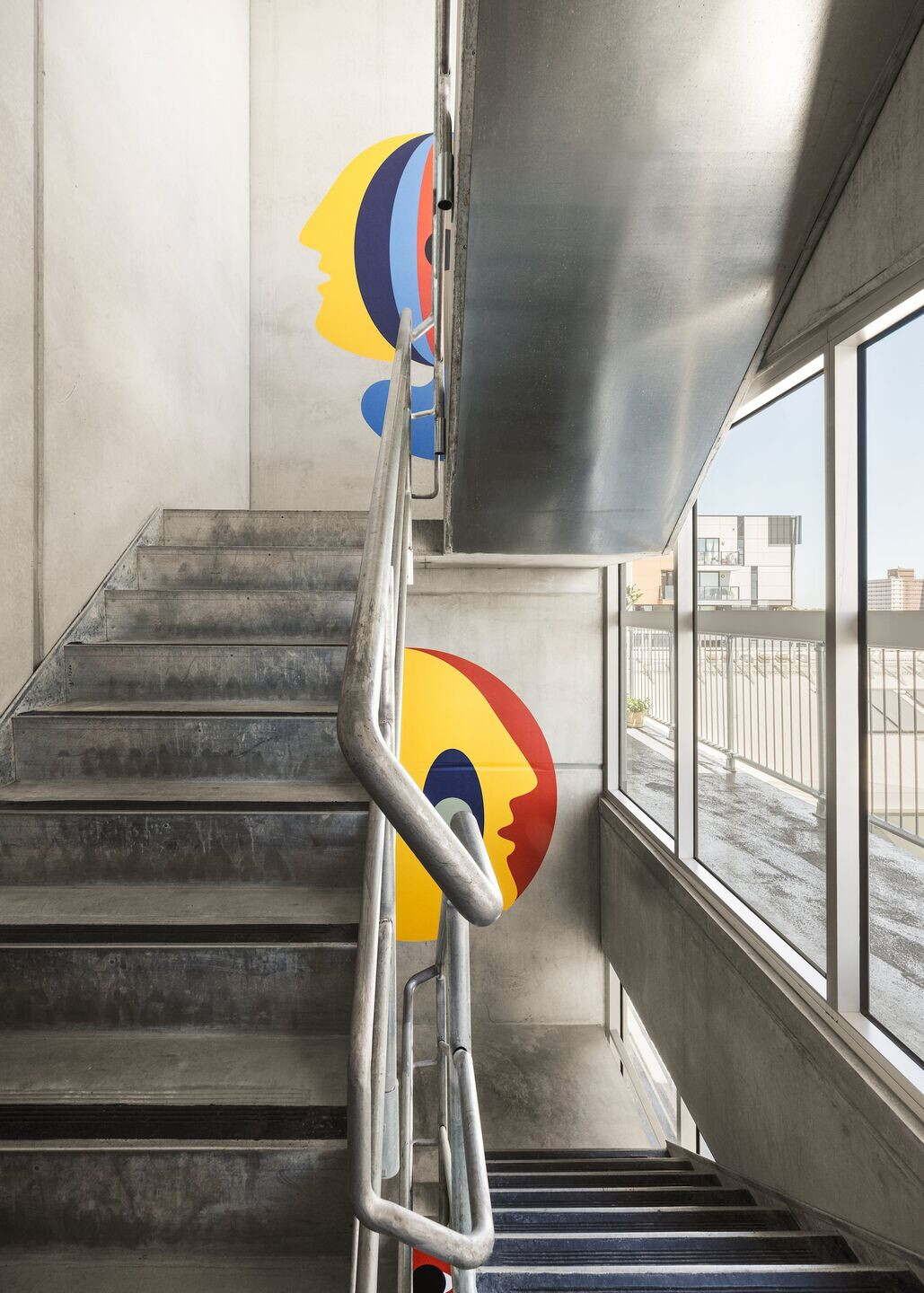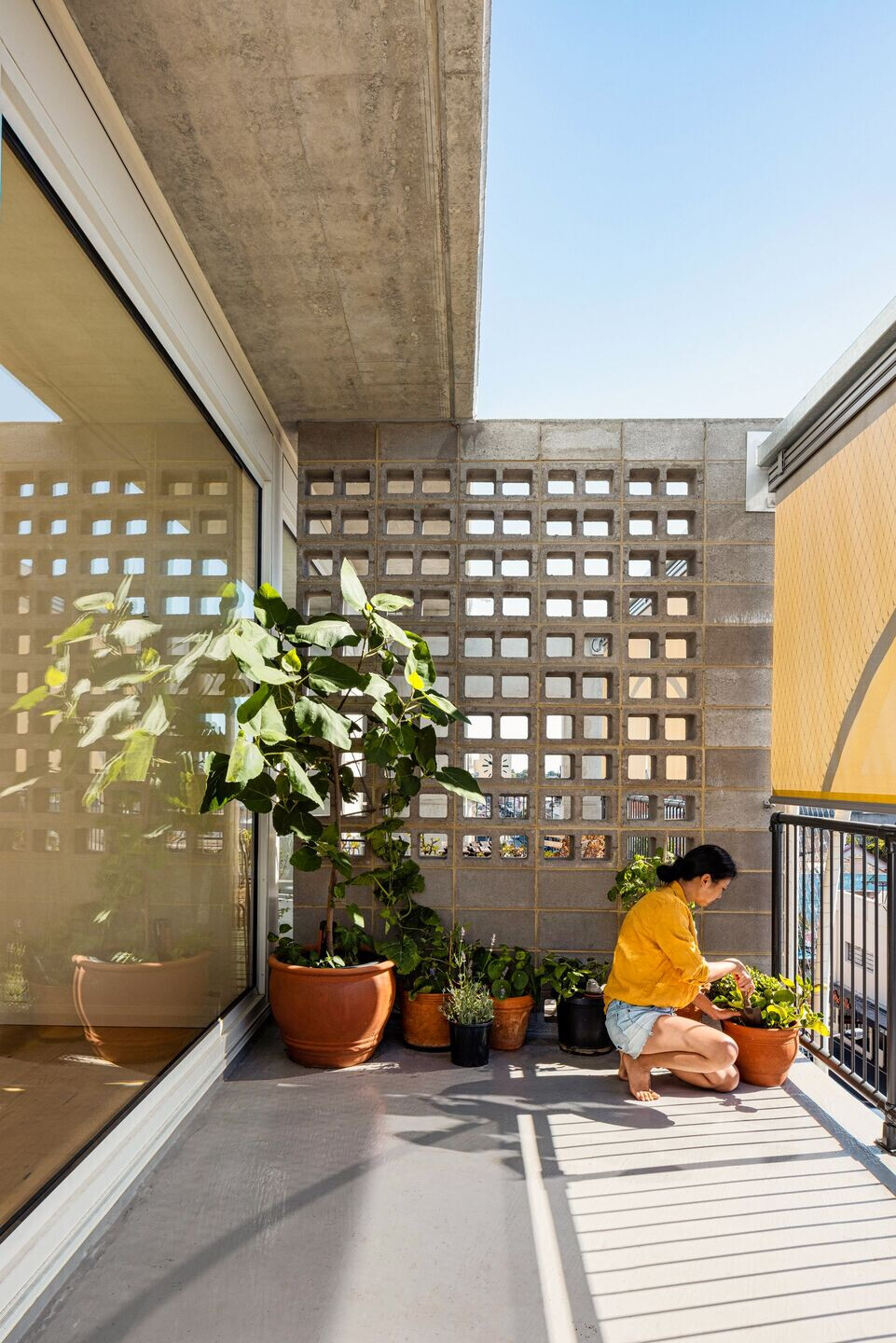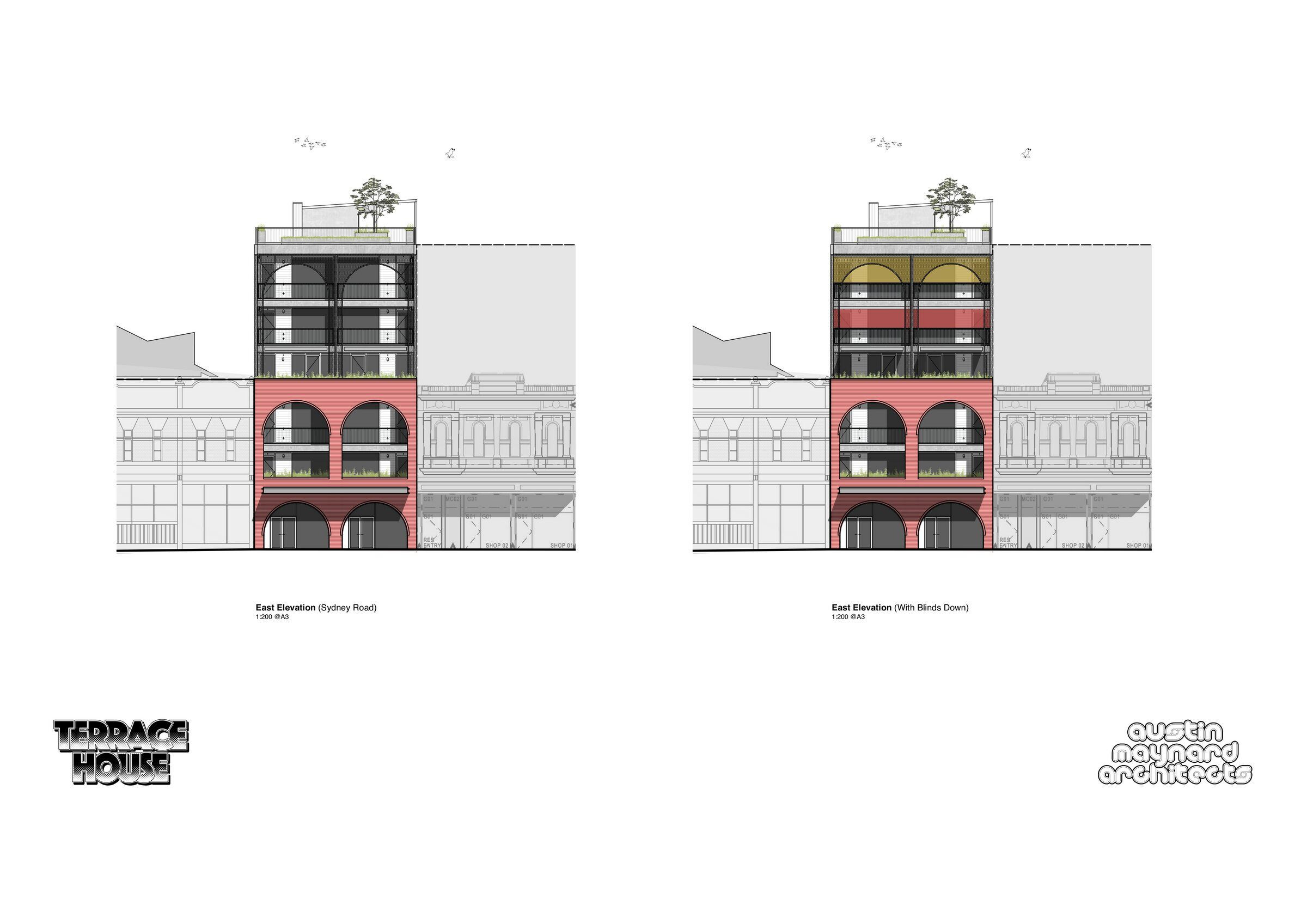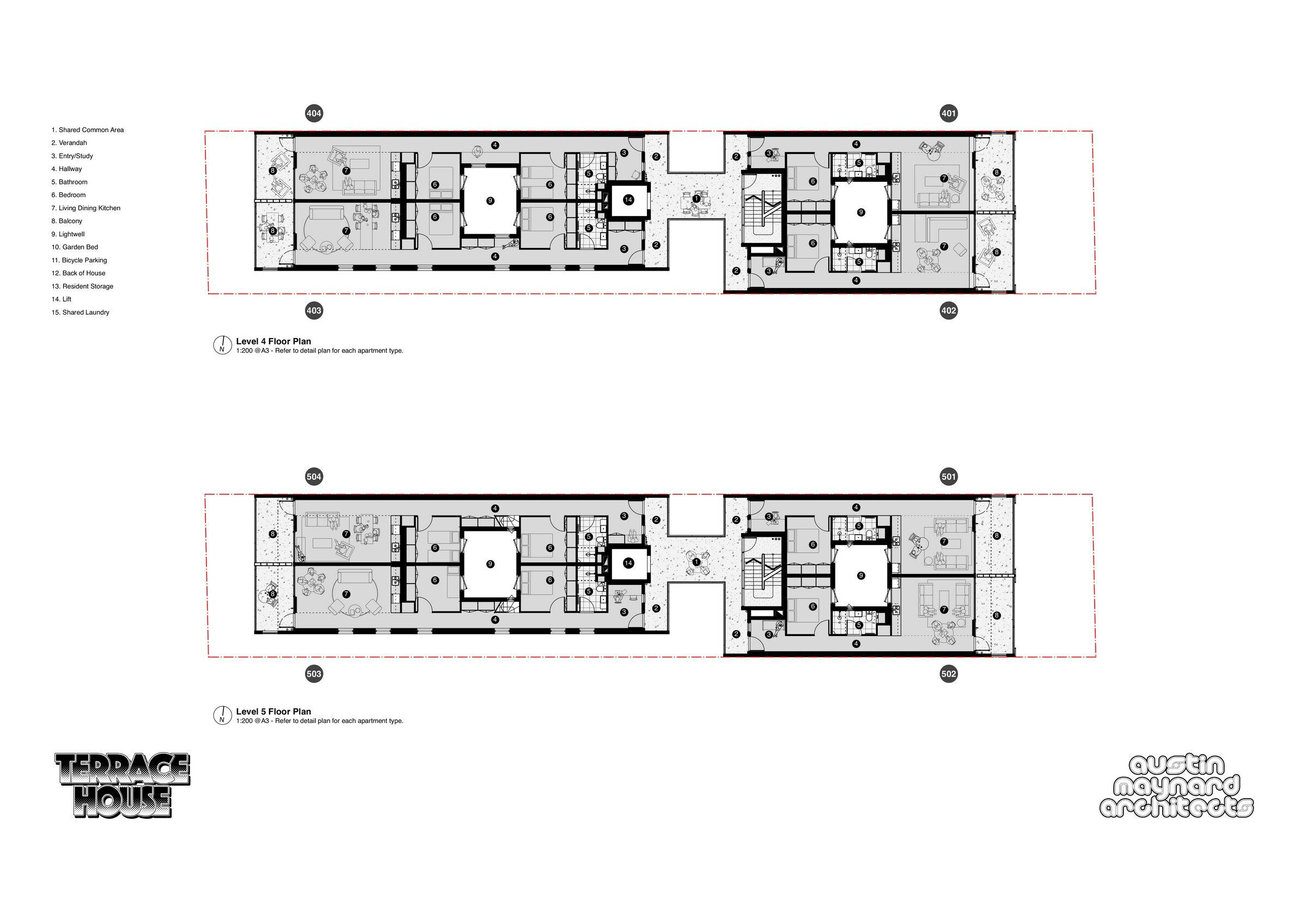 Material Used:
EXTERNAL FINISHES
Roofing: Lysaght Custom Orb & Klip-lok Roofing, Colorbond Surfmist
External Wall Cladding:
Precast Concrete, Concrete Blockwork, CSR Balmoral Weatherboards, Recycled Red Bricks
Aluminium screens, Surfmist powdercoat finish.
Paving: Urban Stone Elegance Rage, Pearl & Ash.
Awnings: Warema Terrea K50 from Shadefactor
Blinds: Warema from Shadefactor
Bike Stackers: Cora Double Tier Stacker E3ST
Bike Rails: Cora CBR1
Electric BBQ: Smart BBQ WM700EW
Facade Steel Mesh: Jakob Webnet installed by Tensile Design and Construct
Blockwork & Breezeblock: National Masonry 200 Series.
Windows:
Alspec Therm-a-Frame Aluminium Thermally Broken windows in Colorbond Surfmist
INTERNAL FINISHES
Timber Flooring: Engineered Floating Floor - Pronto 'Regal Oak'
Concrete Flooring: Brush-Hammer finish to structural concrete slab
Cement Sheet Ceiling: Expressed Join raw cement sheet
Floor Tile: Terrazzo Australian Marble - 1109A
Wall tile: Earp Bros Manhattan White Gloss
Paint colours: Dulux Snowy Mountains Quarter
Built-in joinery:
White Laminate Cabinetry. Natural Oak Veneer Edging
Metalwork powder coat finishes, Surfmist.
Lighting
Wall Lights: Clipsal Batten Holders
Pendant Lights: Clipsal Batten Holders on Cloth Flex Cord
External Lights: Beacon Lighting Pebble
External Lights: Ambience Lighting Andro Spot
MECHANICAL
ERVs: (energy recovery ventilators) Aero Fresh 180 from Fantech Australia
Ceiling Fans: Fanco Urban 2 from Universal Fans
Misters: High Pressure Evaporative System by OzMist
KITCHEN
Benchtop (General): Stainless Steel
Benchtop (Island): Stainless Steel
Joinery fronts: White Laminate Cabinetry. Natural Oak Veneer Edging
Splashback: Mirror
Sink: Abey 1 & 1/4 Bowl CUA180D
Tap Set: Sussex Voda VWSS-25
Oven: Fisher and Paykel Oven OB60SC7CEX2
Cooktop: Fisher and Paykel Induction Cooktop CI604CTB1
Rangehood: Fisher and Paykel Rangehood HP60ICSX3
Fridge/Freezer: Fisher and Paykel Integrated Fridge/Freezer RS80A1
Integrated dishwasher: Fisher and Paykel Integrated Single dish drawer DD60SI9
LAUNDRY
Benchtop: Stainless Steel
Tubs: Abey The Hunter AL100
Washing machines: Fisher and Paykel WH8060F1
Heat Pump Dryers: Fisher and Paykel DH8060P3
BATHROOMS
Basin: United Products Saturn
Vanity: White Laminate Cabinetry. Natural Oak Veneer Edging
Basin taps set: Sussex Voda Wall Basion Set VWBS200-25
Shower: Sussex Voda VHSH0250-25
Shower tapset: Sussex Voda VWTA-25
Shower shelf: Sussex Voda VCS180
Towel Rail: Sussex Voda VTRS700
TRH: Sussex Voda VTRH
Robe Hook: Sussex Voda VRH
Toilet: Caroma Luna CleanFlush 8448