Project Questions / Location
What existed in the space before?
This space was formerly a physical therapy office and as such had minimal daylight
Is there anything unique about the location?
The Commons Suites is not only the first co-working space on the Upper East Side, it is to our knowledge the first to offer personal 'cabins'
What is the surrounding neighborhood like?
The Commons is situated in the heart of the Upper East Side. It is within easy walking distance of Whole Foods, Barnes & Noble, Shake Shack, The Metropolitan Museum of Art, The Guggenheim, and countless other stores and restaurants.
Were there other renovations made to the space?
No, just interior work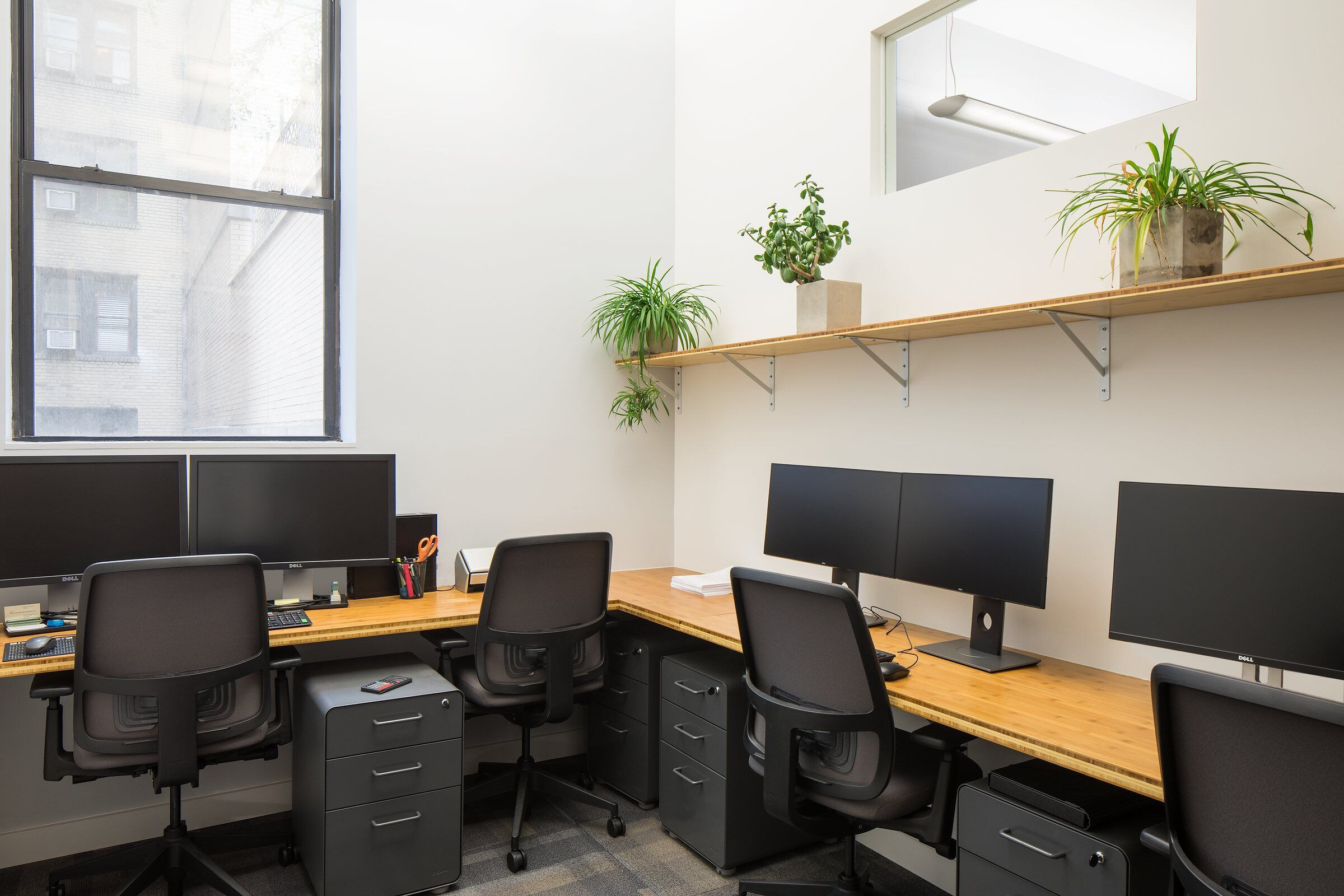 Project Questions / JIDK's Involvement
How did JIDK get involved with the project?
The team behind the 5th floor coworking space contacted us to be their partner in realizing a new type of coworking space; private suites.
Who at JIDK should be credited?
Thomas Jensen, Brigid Bjorklund, Alice Chang
Should anyone else, not at JIDK, be credited?
Yes: construction by MP Renovation, Furniture services by AC Desk, A/V and low voltage by Geosot, Inc, Graphics by The Commons.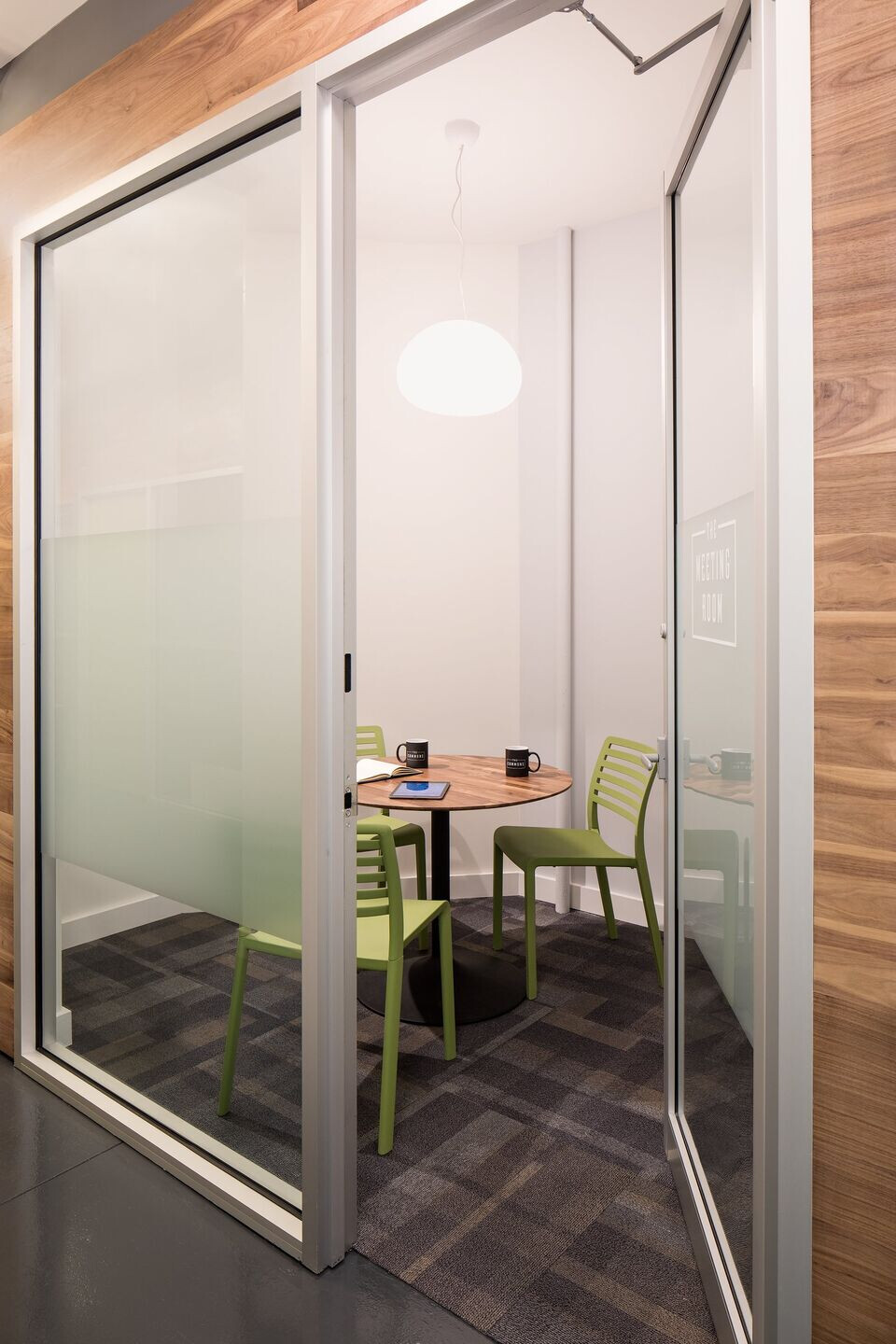 Project Questions / Design
Walk us through the space.
The space is laid out along a central corridor; the window side of the corridor has the bright white suites while the 'aisle' side has the cosy wood cabins. Aesthetically these are quite different and we worked carefully to dial them in right. The bright spaces are geared towards larger teams where daylight and generous desk space is required. These spaces are very similar to how we design large offices in that they are designed to be bright, healthy and adaptable to future needs. The tenants for these spaces are generally small companies in a growth pattern who want more identity than generic coworking spaces offer.
The private suites on the other side of the corridor, affectionately called the cabins, are targeting individual users with the need for a 'home office away from home'. It's a fresh take on a writer's cabin, where comfort and coziness (hygge in Danish) are the central qualities. These are introverted quiet spaces but they are not phone booths. We made them large enough that you feel comfortable there and whether you are at the desk or stretching out while taking a call.
What features are unique from other coworking spaces you've worked on?
We put a lot of energy into making two dissimilar room types work together. The bright rooms and the cabins appeal to different users, and we wanted to make everyone feel welcome. That meant using really high quality materials and designing for comfort. There is a tendency in coworking to throw every available design feature at the communal spaces and leave the user spaces sparse to the point of austerity. Our client wanted to better but with no gimmicks… To achieve this, we selected solid walnut for the walls you touch, warm greys for walls that are behind you and a range of green accents that mimics the plants we use throughout The Commons
What were the objectives for the space? What was the design intent?
Create a cheerful and serene coworking space that accommodates the needs of independent contractors. At the same time, create a number of spaces that offers privacy and comfort so as to get a mix of users in the space.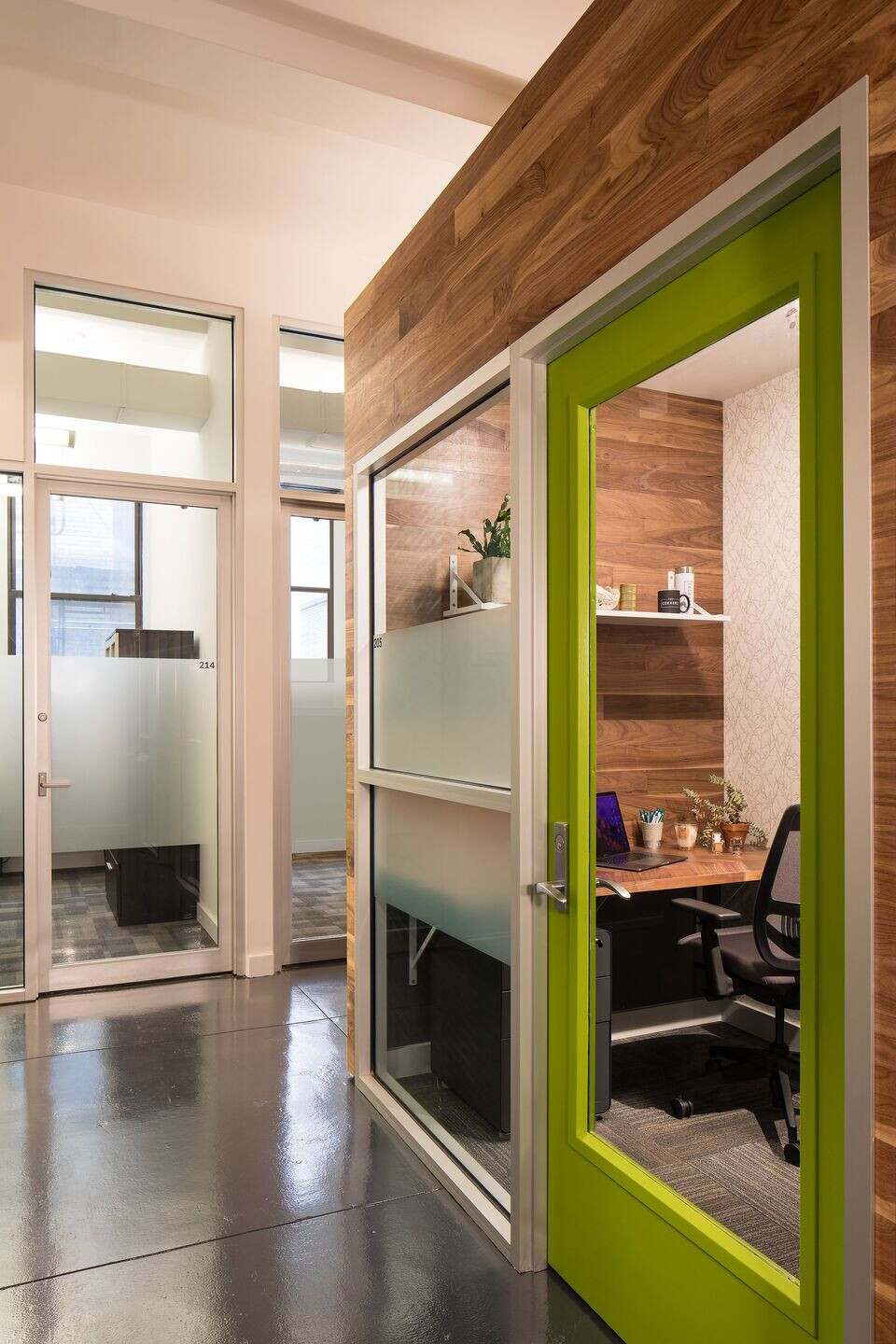 How does the design speak to the The Commons brand/mission?
JIDK's design of The Commons caters to today's mobile workforce by offering versatile zones essential for fostering diverse categories of work. In the design we work with quality materials and high-end products which not only ensure a long life cycle, but also illustrates how The Commons want to be different from the harsh, tech heavy coworking spaces
How is employee wellness addressed with the design?
We used high quality ergonomic furniture so that each user is equipped with a comfortable workstation. An abundance of living plants and light promotes mental wellbeing and helps maintain good indoor air quality
What special considerations were made in terms of design? How did you address the needs of growing businesses freelancers, and entrepreneurs?
Making amenities such as phone rooms, meeting rooms, lounges, printing equipment, and a well-stocked pantry available creates an environment conducive for both collaboration and private work. A good coworking space has all the benefits of the traditional office, but adds not only the concierge convenience but the benefit of communality. We want users to be comfortable both at their workstations and when they are socializing over espressos, and defining these zones well is a delicate act.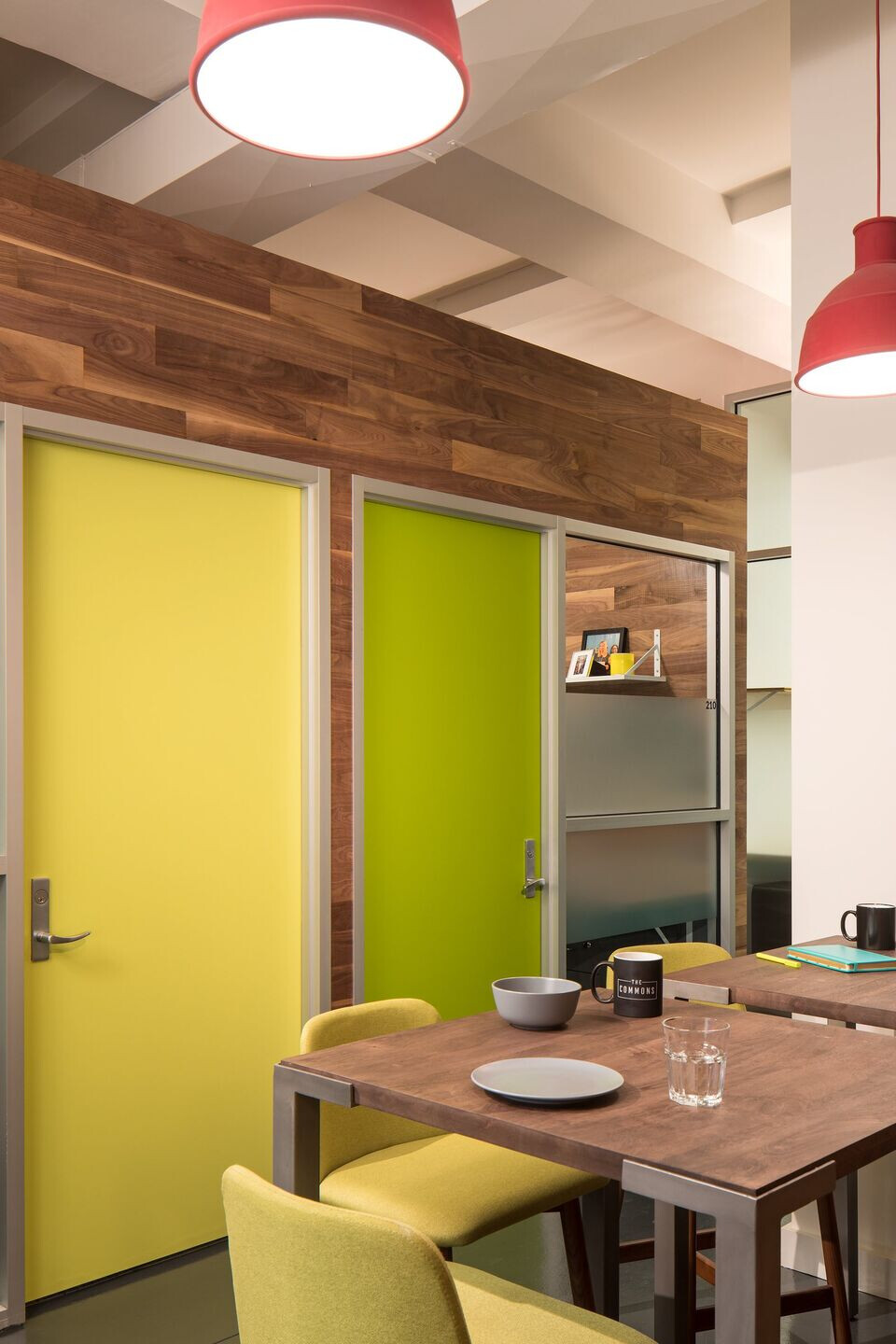 Were any elements kept from the previous space? What materials are you using? Any sustainable elements?
No and no
What restrictions and/or challenges did you run into?
The cabin part of this project was a first for both us and the team behind The Commons, so although we are very happy with how it turned out, we are continuously studying and tweaking the space. Coworking is still relatively new, and I don't think the formula is perfected yet. Introducing a more comfortable type of coworking is exciting and we really hope it takes off and becomes available to more users
Any special technology incorporated into the design?
Yes, access control is completely keyless using the KiSi system giving the operations team full and easy control of member access.