Partially built into grade to accommodate to the sloping site, the front-facing, four-story Building houses the school's classroom/lecture hall and science laboratory spaces in an integrated yet functionally distinctive way.The building's 35,000 square feet of classroom space is located adjacent to the Main Entry Plaza. The above-grade, two-story Biology and Chemistry floors provide 20,000 square feet of much-needed teaching and learning space for the sciences that is easily accessed from the Upper Plaza.The easily identifiable vertical circulation core overlooks the Main Plaza, directing and orienting students, faculty, and visitors, while at the same time providing a natural visual guide to the campus.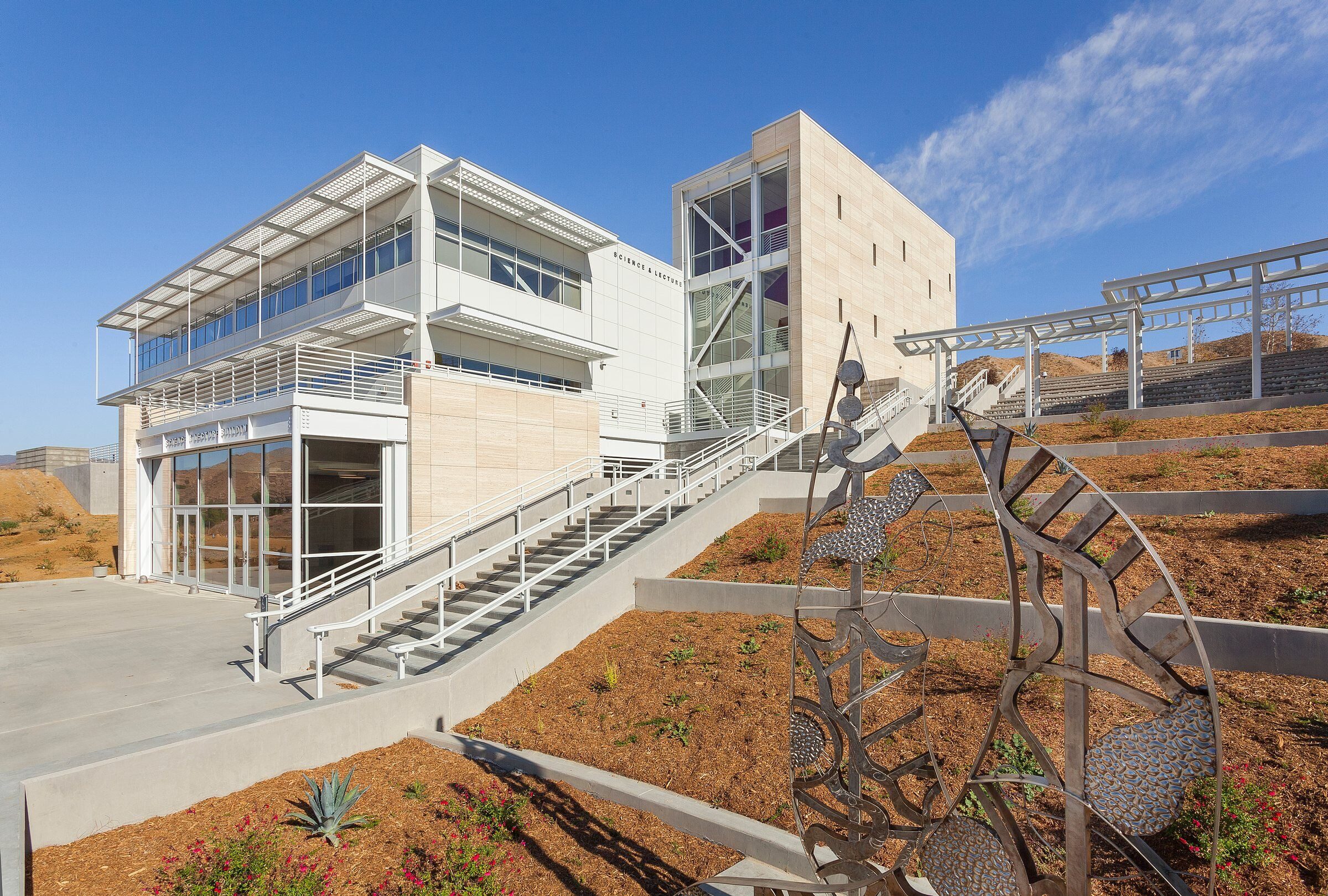 The Main Entry Plaza
By welcoming and directing new students, faculty and visitors, this primary pedestrian area (known as the Main Plaza) anchors the permanent facilities and directs pedestrian circulation to each building. The Main Plaza's design also creates a visual balance for the site and provides first-time users with a clear and understandable order of hierarchy among the campus' structures.
The Upper Plaza
The Upper Plaza counterbalances the Main Plaza's energy and activity by offering students, faculty, and guests shaded, cool and quiet gathering opportunities under its extensive canopy of evergreen foliage, which also offers shelter from the prevailing winds during the winter months. This green space connects the outdoor pedestrian context to the surrounding academic structures in a cohesive and functional manner.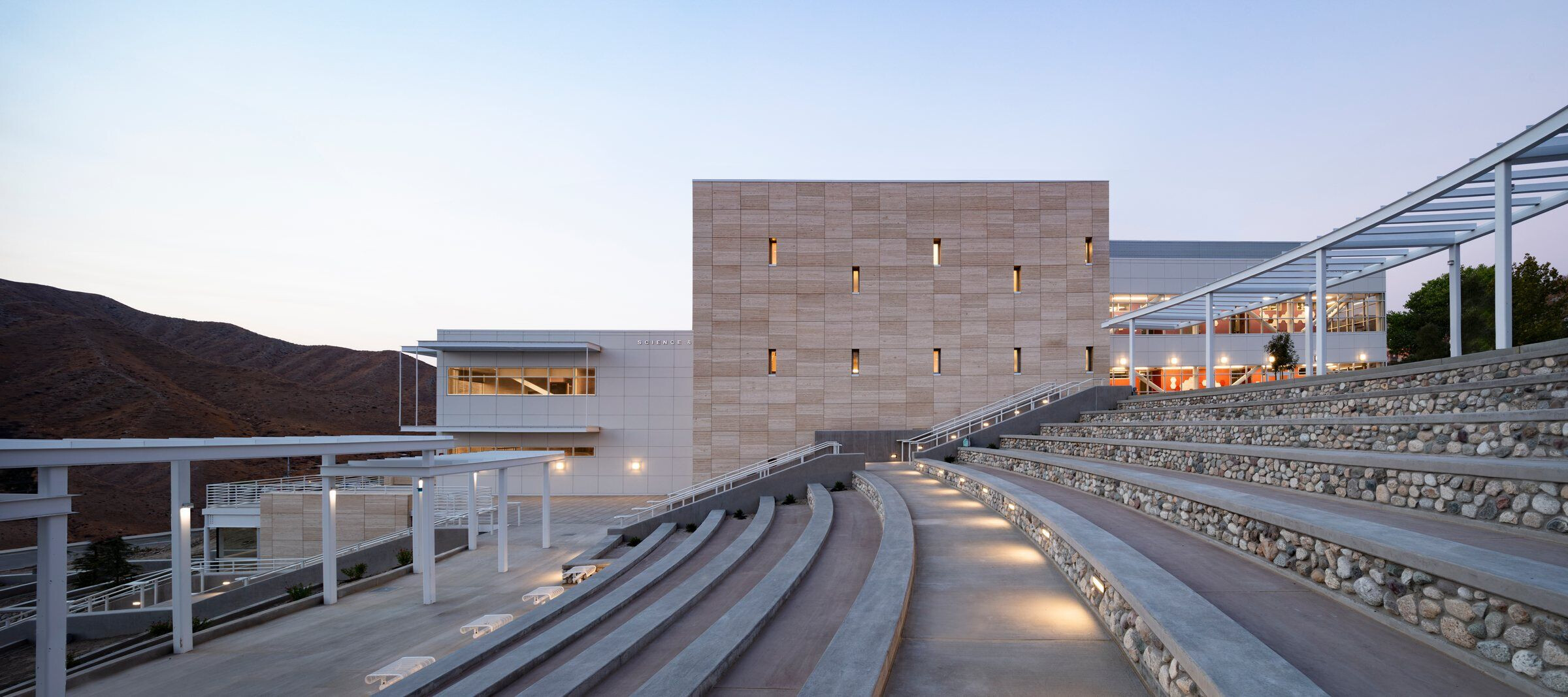 The Outdoor Amphitheater
Since its inception, the campus has remained committed to providing students and the larger community with a venue for a variety of outdoor activities, such as a popular "Star Party" as well as Movie Night events. Thus, one of the primary objectives identified during the Don Takeda Science Center's planning process was to expand on this commitment through the construction of a larger outdoor presentation structure.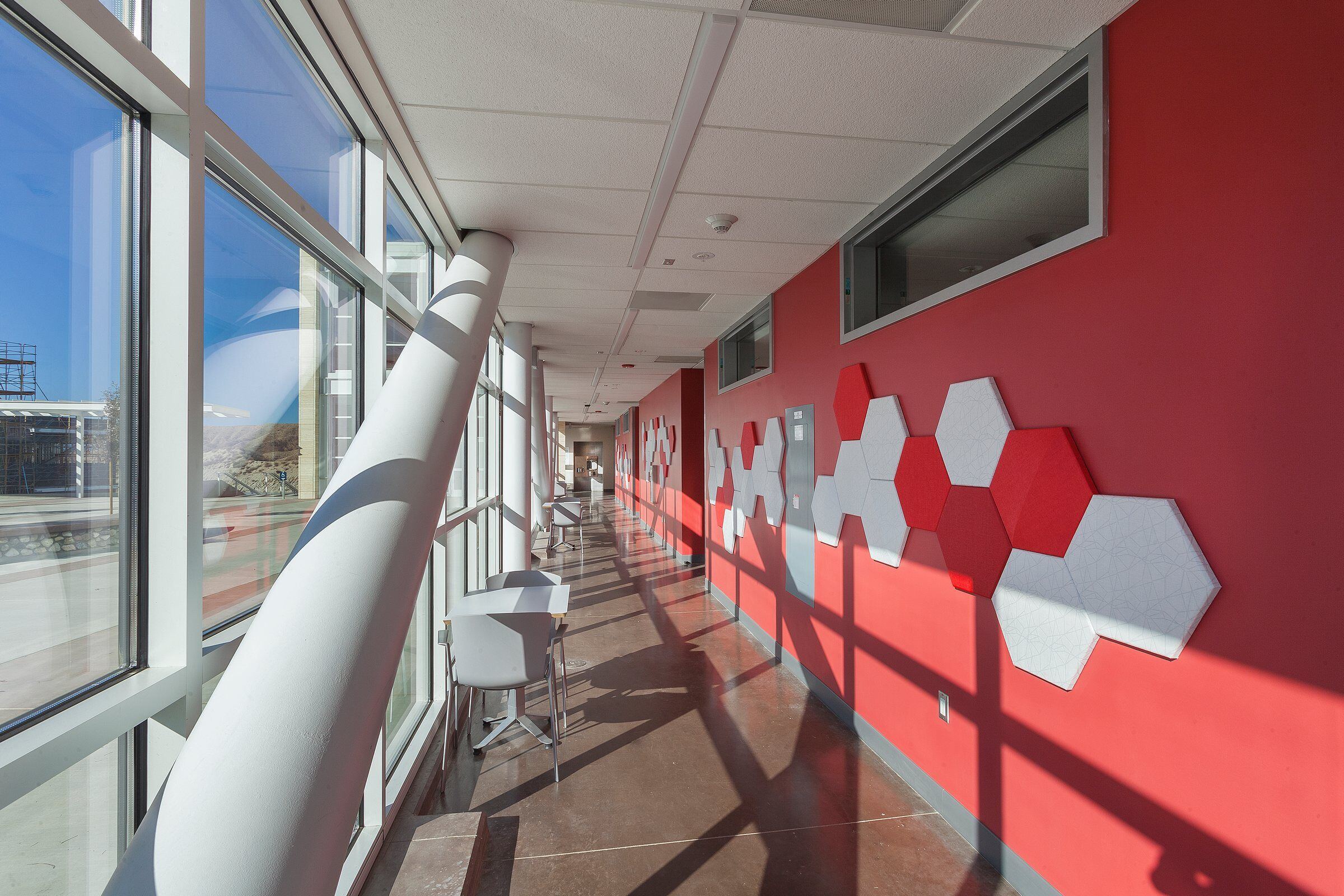 The Outdoor Amphitheater, designed according to the Master Plan's design principles, addresses this objective by providing seating for 200+ students and/or spectators. Its placement along the campus' compositional axis allows the Amphitheater to complete the Main Plaza in shaping the campus' entryway view.
Team:
Structural: Les Tso, HOHBACH-LEWIN, INC.
MEP: Kevin chen& Andrew Injo, dHA+CALPEC.
Landscape: Bron Ruf, LMA.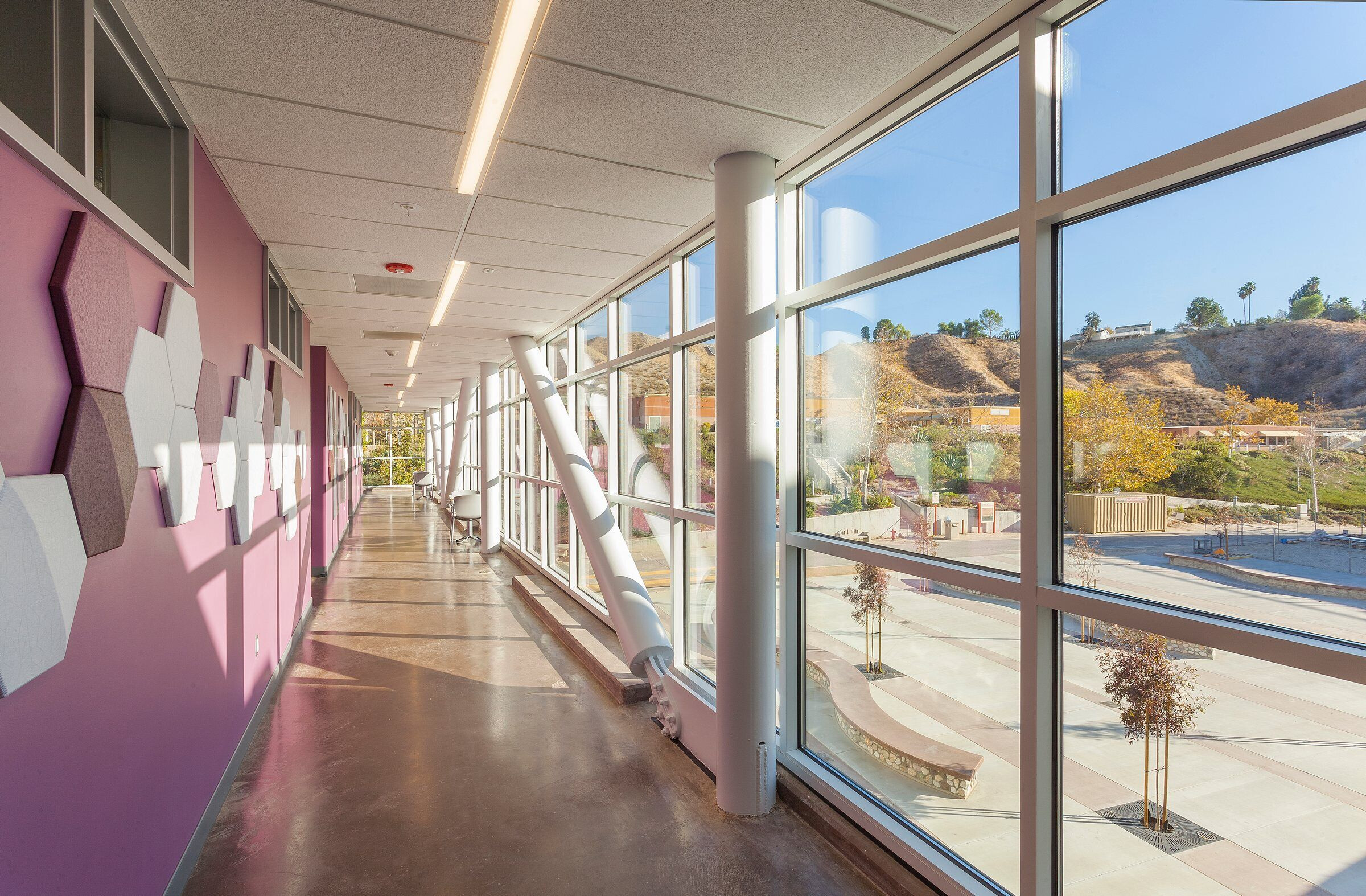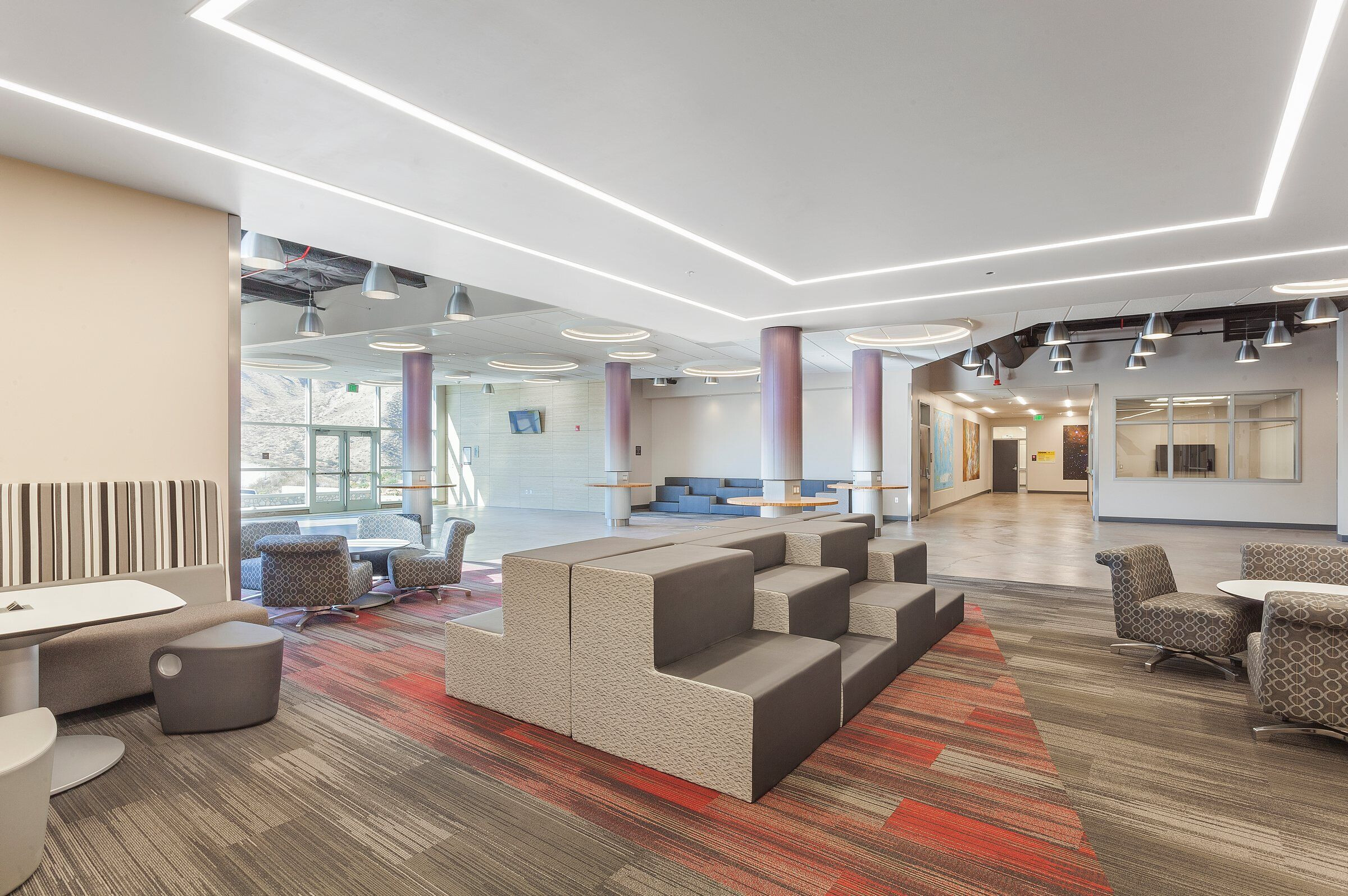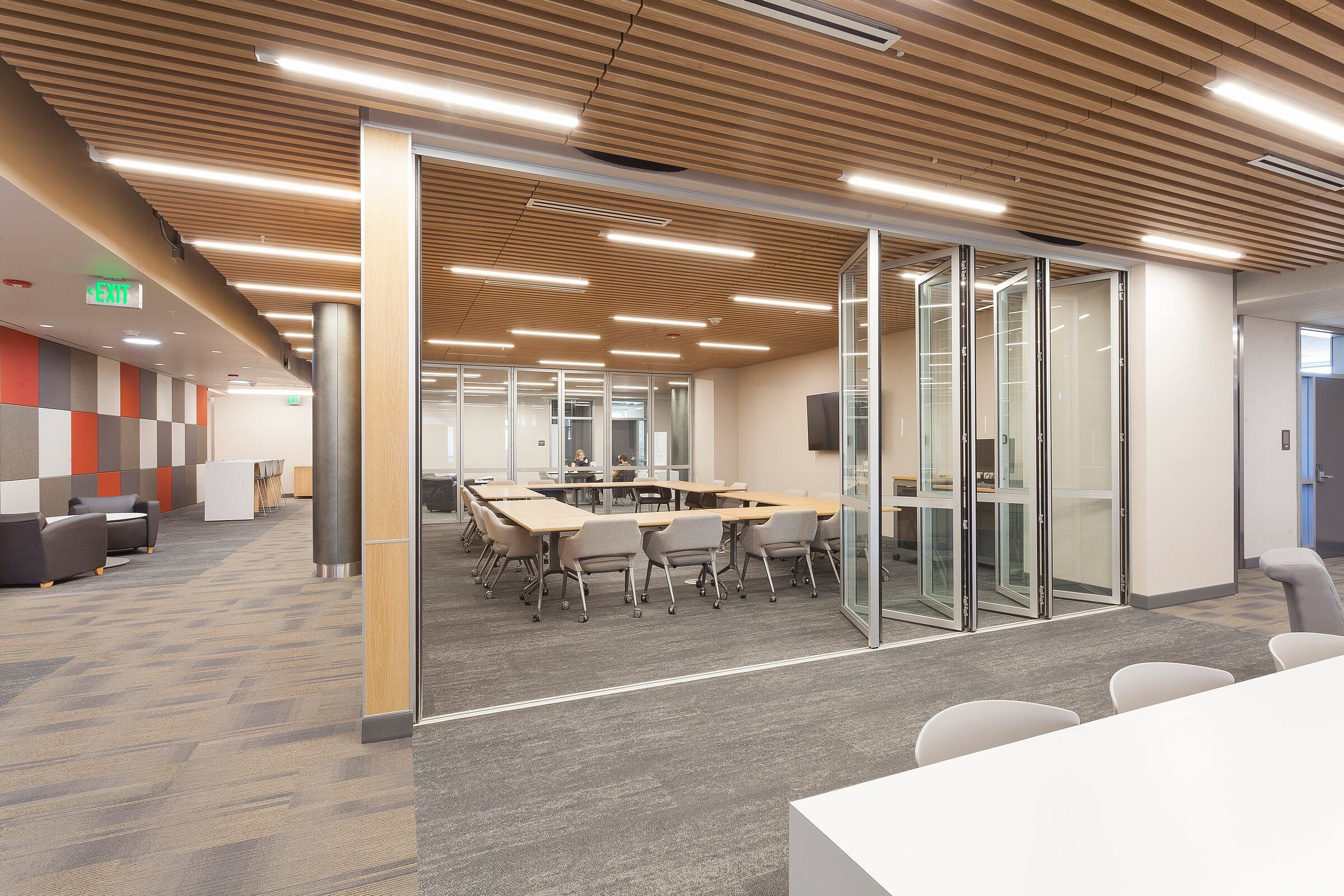 Material Used:
1. Facade cladding:
Stone panels, StoneLite, Roman Classic Travertine by Stone Panels, Inc.
Aluminum panels, Envelope 2000 by Citadel Architectural Products, IncSystem.
2. Flooring:
Rubber Sheet Flooring by Nora Systems, Inc.
Modular Carpet by J&J Flooring Group.
3. Entrances and Storefront: EnCORE™ Framing System by Kawneer Company Inc.
4. Glazed Curtainwall: 1600 Wall System™1 Curtain Wall by Kawneer Company Inc.
5. Roofing: Single Ply Thermoplastic (PVC) Roofing Membrane by Sika-Sarnafil.
6. Daylighting System: Brighten Up Series, Solatube Model 290 DS by Solatube International, Inc.
7. Interior lighting:
Continuous LED recessed ceiling luminaires, Eaton Neo-ray Define 3.
Surface mounted Luminous Halo LED Architectural ring lights, Eureka – Cycle 3800.
Exterior LED light fixtures, Holm & Bega.
8. Interior furniture:
Lounge & Collaborative Seating, Gather Seating, "Rise" by Allsteel.
Wall Mounted iBooth Enclosure, "iBooth" by Peter Pepper Products.
Bar Height Meeting Table w/Fixed Desk Top Power Modules, "Avelina" by Arcadia Contract.