What was the brief?
The kitchen brief was essentially to design a hub – the soul of the home where everyone tends to circulate (both family and guests). As it's the hardest working room, it also needed to demonstrate its key practical function (featuring considered storage facilities, space for meal preparation, plus dining facilities and now, with the WFH phenomenon, an additional work desk). I wanted to capture the essence of 'afternoon delight' – that warm, cosy time of day when the sun streams in and there's nowhere else you'd rather be because the world seems to stop in that golden moment.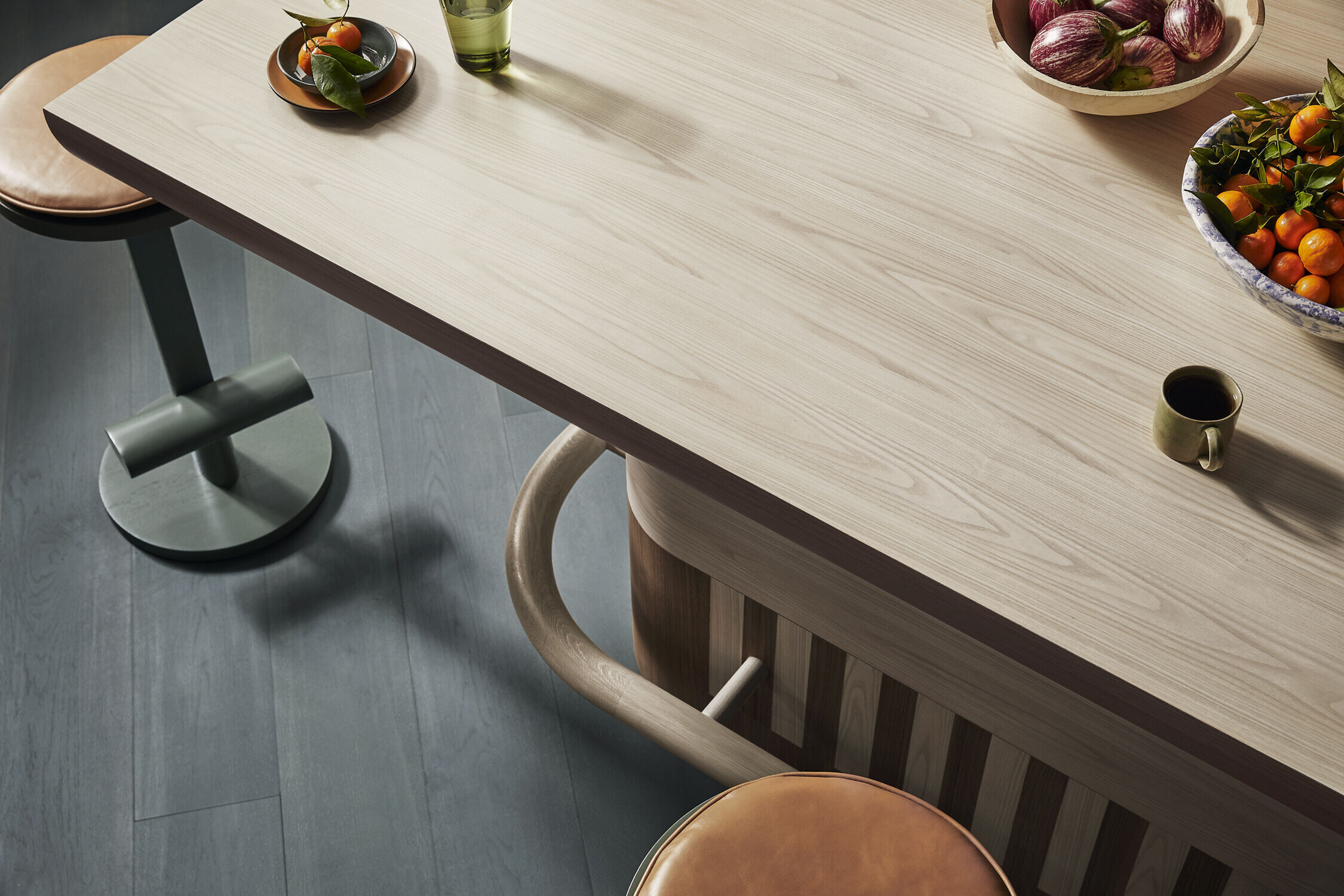 Laminex were also after a really liberated approach to experimenting with their woodgrain finishes. They add organic texture and visually arresting patterns given the way I've applied it.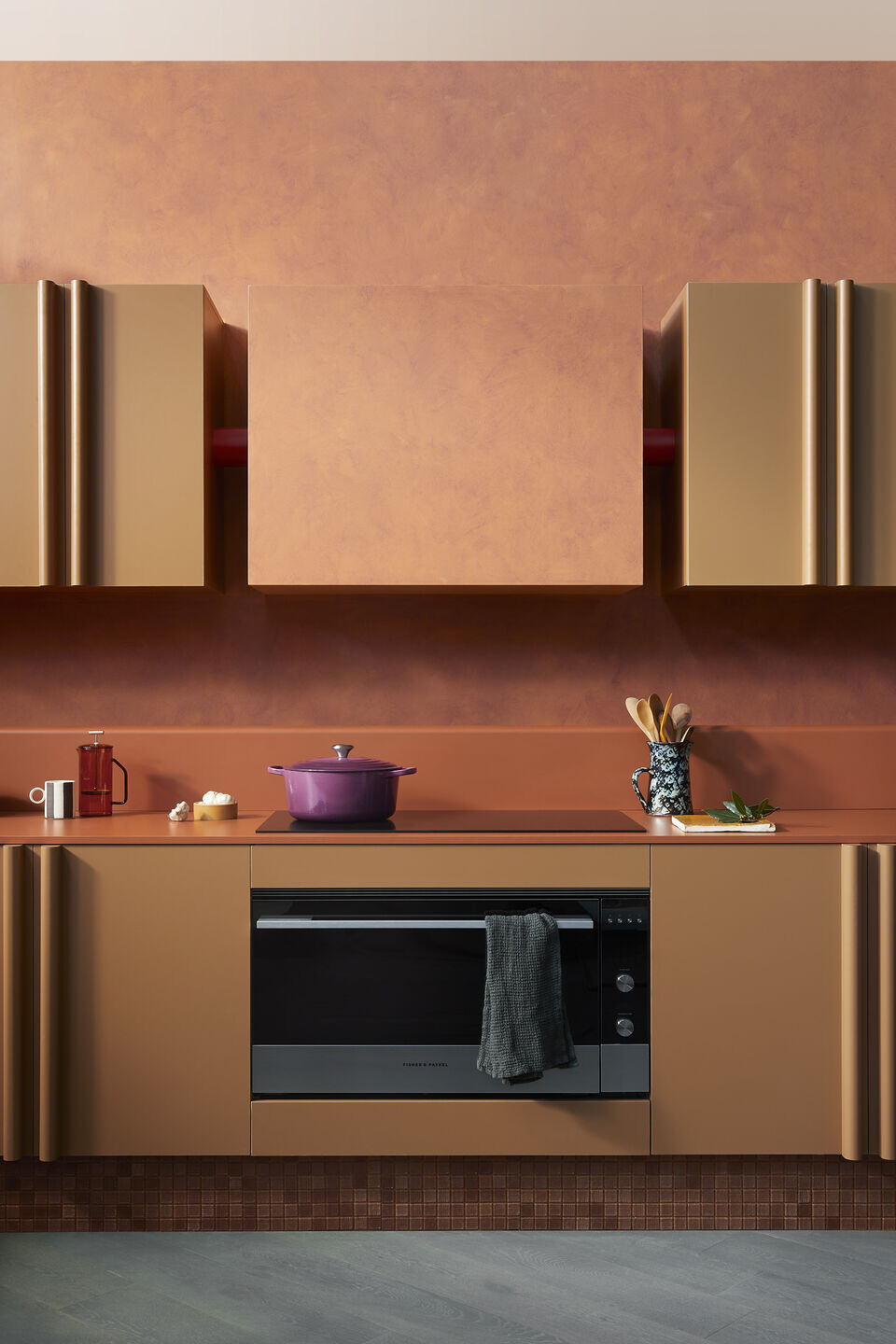 What were the key challenges?
Designed and built in Melbourne during lockdown, I wasn't able oversee the kitchen's creation as my studio is based in Sydney. Apart from that, the collaboration was seamless. I often stain timber with interesting hues and go for leathered or roughly hewn stone surfaces for their textural appeal beyond their obvious aesthetics. So in this case, it felt like I had all my resources at my fingertips given the colour selections and varied woodgrain patterns and tones to play with. Working with Laminex reduced the need to explore these materials, so it was a huge time (and budget) saver as there's no need to go hunting through selections.
Rather than simply adhering laminates to customary, right-angled joinery surfaces, they appear sculpted to demonstrate the diversity of the product. Dowel cabinet door pulls and a curved splashback return post-formed with high-pressure laminate (HPL) plus the chunky overhead cabinetry finishing with a sweeping bullnose return really demonstrates the dexterity of the laminate materials.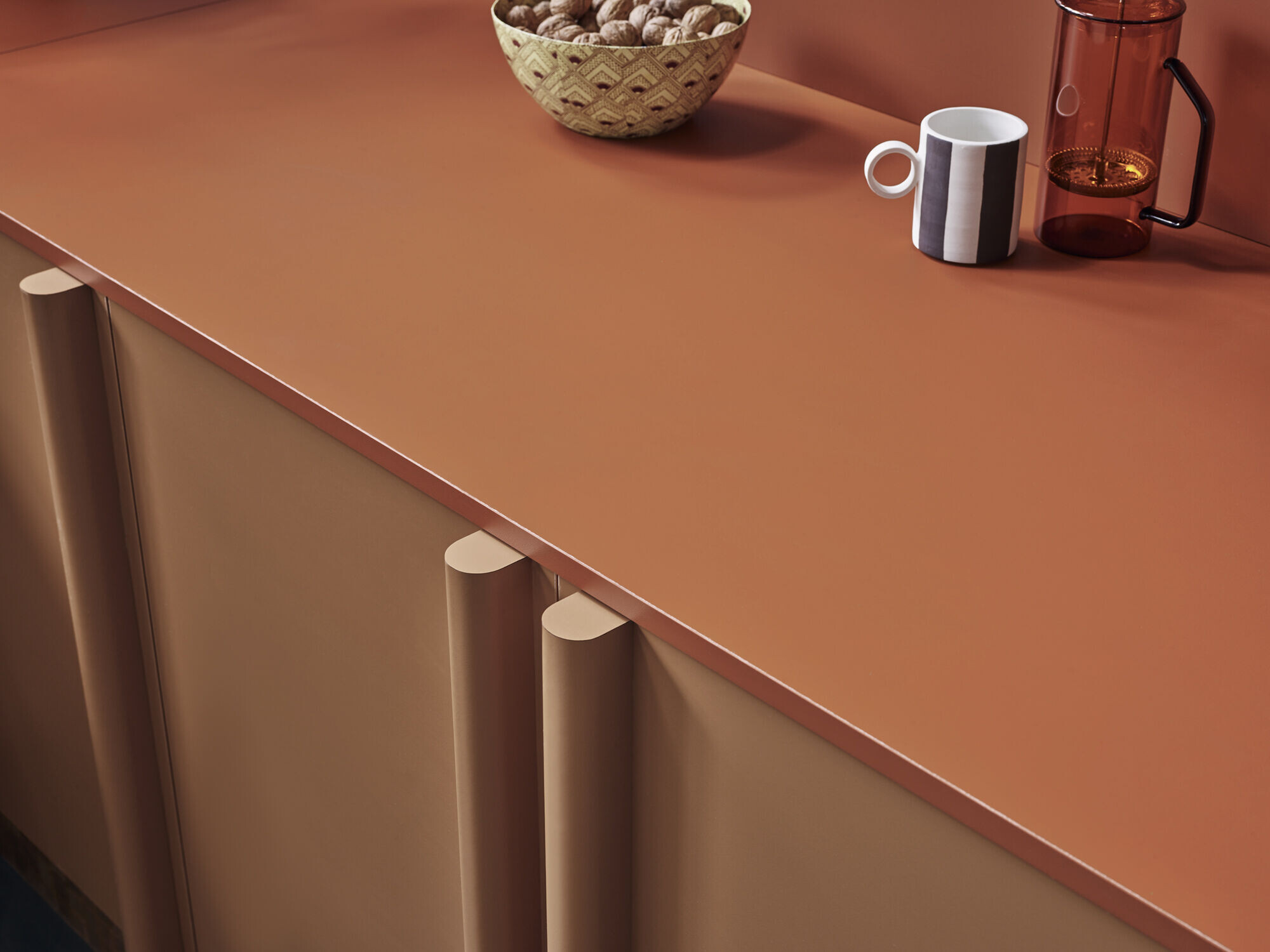 What materials did you choose and why?
There were some new shades from the 2021 Laminex Colour collection they wanted me to integrate into the design. It's no co-incidence that after the first year of the pandemic with no end in sight, Laminex was drawn to the restorative and grounding powers of the natural world. Earthy tones inspired by the warm shades of ochre, terracotta and sand are a key features as is the sage green floor which charge the space with energy and optimism.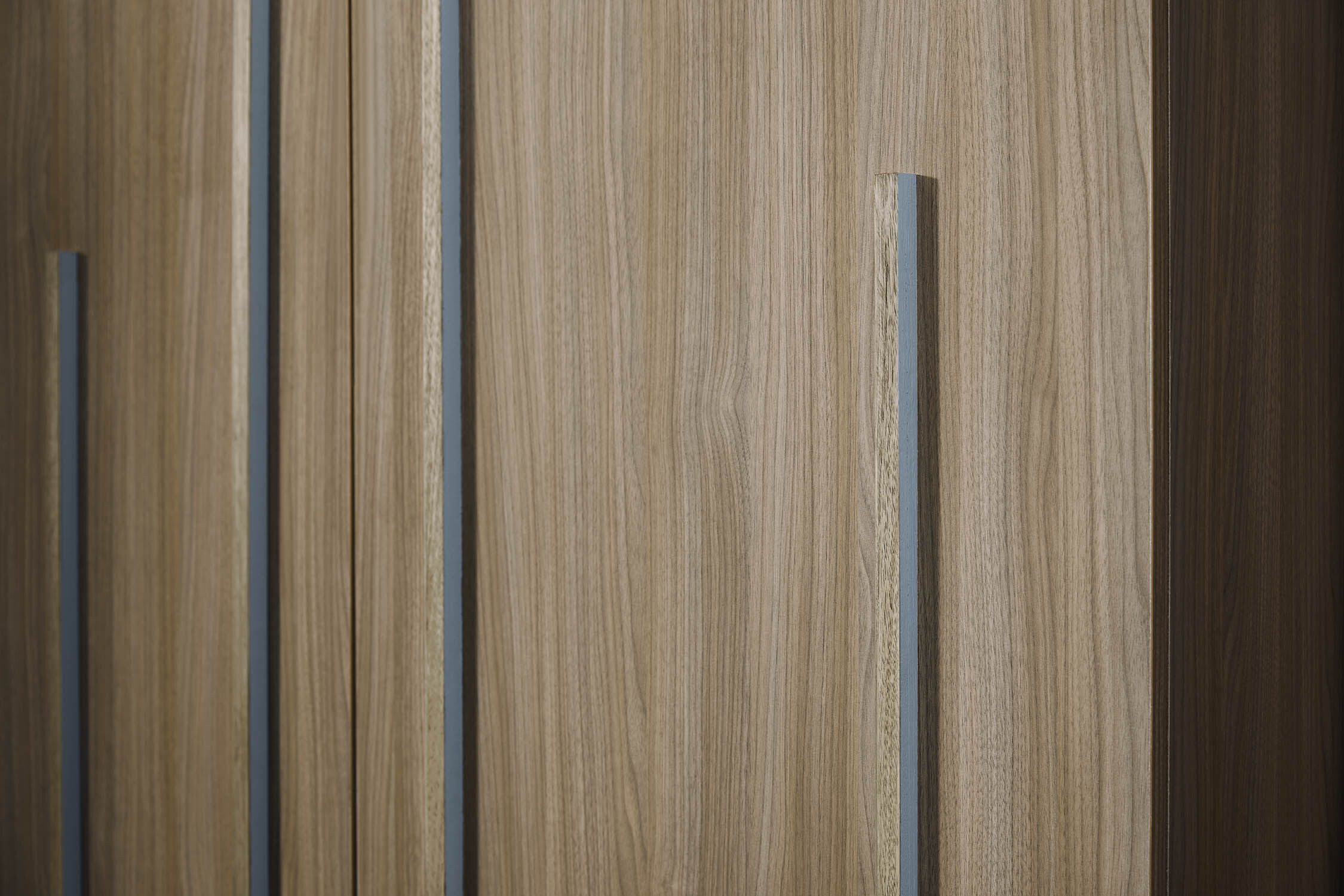 Essentially, I wanted the kitchen to feel like you'd been dipped into a vat of warm, sweet caramel. There's something so luscious about the deeper block laminate colours including Moroccan Clay and Burnt Ochre that distinguish the L-shaped kitchen bench joinery. Elevated above a platform of mosaic tiles that morph into an open portal adjoining a living area and integrated study, it has a levitational quality, achieving the desired dreamy state I wanted. We also blended pops of colour against more neutral backdrops. Spring blue laminate internals line shelves plus cutlery and utensil drawers, adding bursts of summer skies when opened.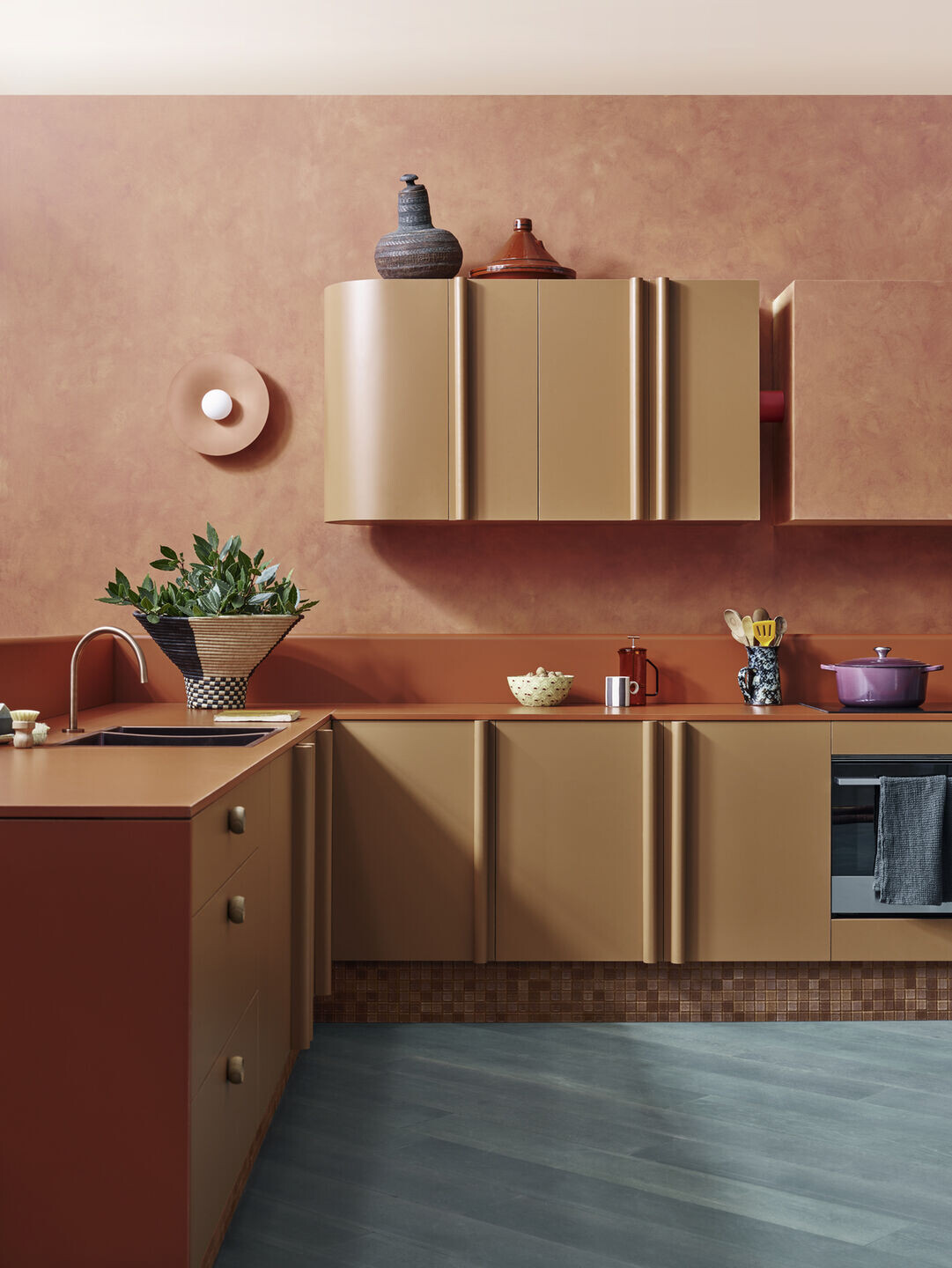 Allowing the textural appeal of woodgrain laminate to be fully appreciated, we mis-matched tones and grains for a tapestry-like appeal on selected surfaces. Rather than simply adhere the lighter Milkwood woodgrain with a natural finish to the island bench counter and the darker Darker Danish Walnut at the base, we integrated them. We applied Danish Walnut (with a textured chalk finish) to the curved base of the bench's cantilevered counter to anchor its base to the floor with a finger-like jigsaw connection. A chunky dowel footrail fabricated from timber adds solid appeal.
Team:
Laminex (it is a Laminex x YSG collaboration)
Material Used:
1. Flooring: Solid timber painted sage green
2. Doors: Portal tiles: INAX Yohen Border N.23 from Artedomus
3. Interior furniture: Sink tap: 'Sensor' tap by Astra Walker