'The Orange Box', project conceptualised for patron from Mumbai who believes in sustainability and are living in there day to day life as well. It was an experimental project to develop a unique farm house on outskirts of Alibaug town near Mumbai.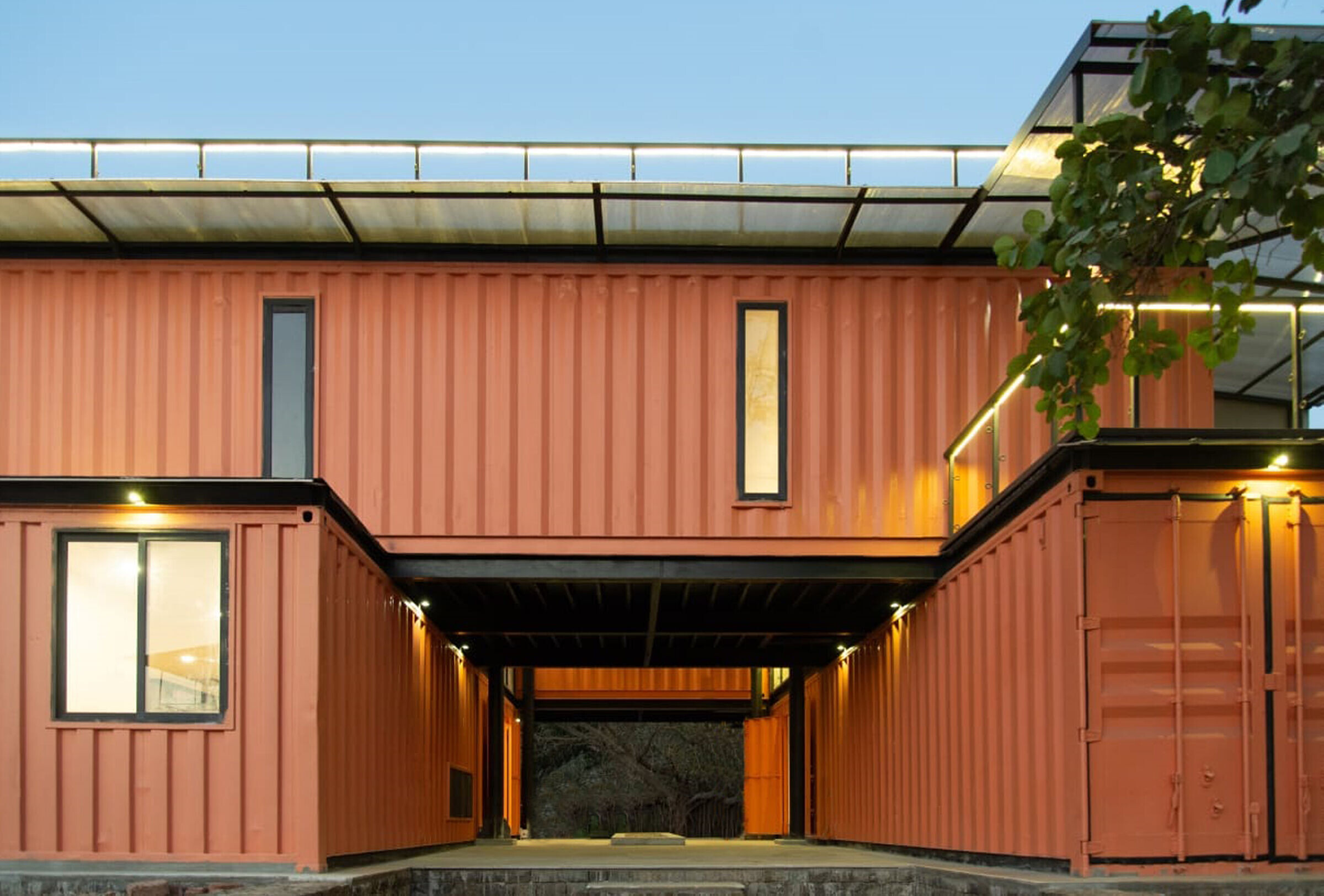 Clients Brief
Client had an initial though of working with containers as basic element for their farmhouse. A three-bedroom adobe which could further range to become artist's retreat or holding workshops or even a base for his workspace.
Client approached us with basic idea of the farm house. This was a unique opportunity but an unconventional thought for us. We started designing with basic massing and planning which was in tune with the brief given by the client. This was not an easy project to work on as it was an unconventional design. We finally came up with a concept where we accommodated all the clients' requirements in six 40 feet containers.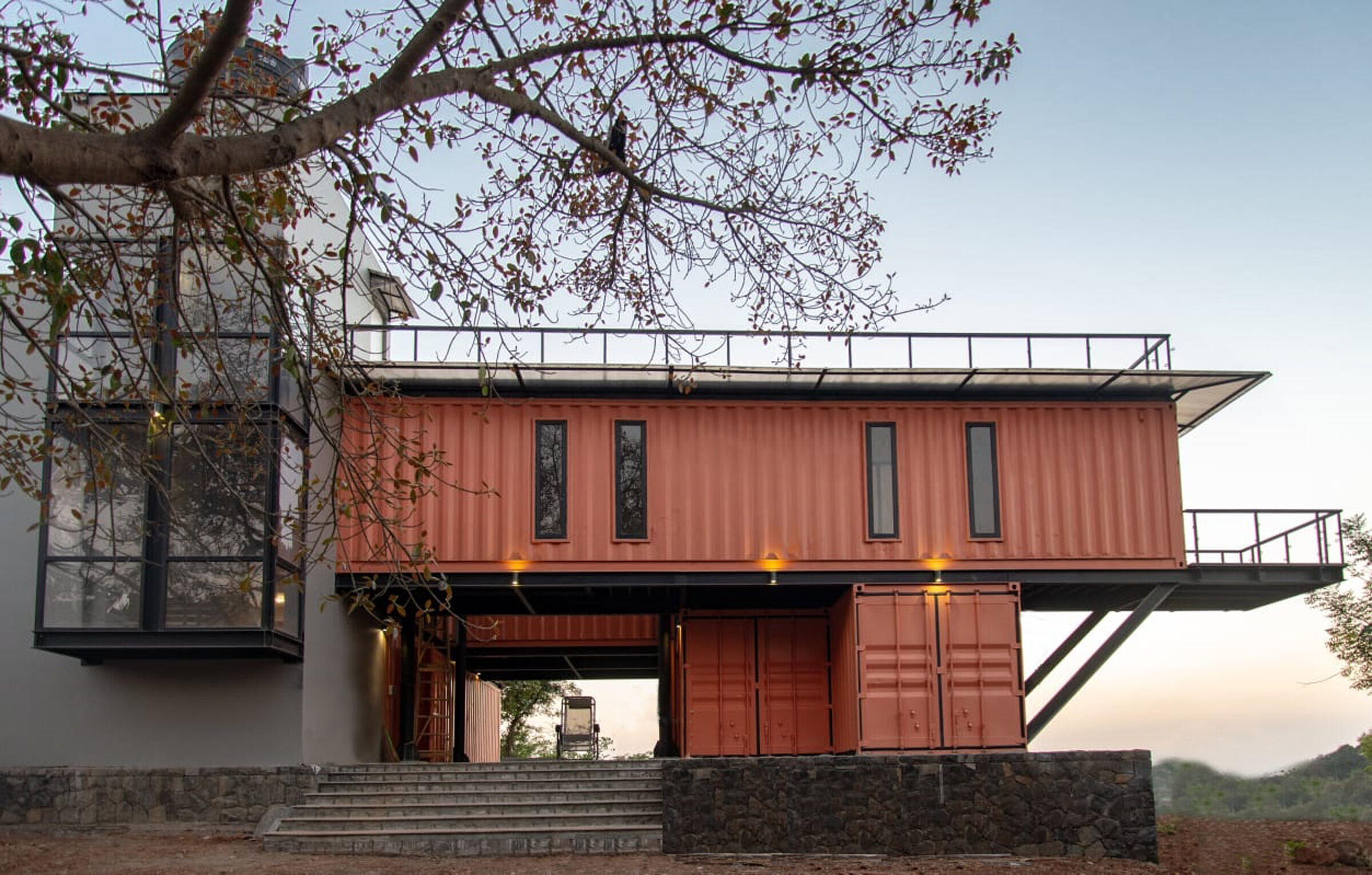 Sustainability
Recycled containers being the primary construction material reduced the impact on the surrounding environment. Minimal use of concrete, sand, cement, brick which causes environmental damage. Green materials like WPC flooring (recycled wood plastic composite material) are used in this project.
Inverted funnel shape roof collects the rainwater into an underground tank with an open chain drain system. Further the excess rainwater is percolated to recharge the ground water table.
The site was blessed with aged banyan tree with several other indigenous plantations near the construction area. The orientation of the structure was such that, no tree was harmed. In fact, some of the trees and natural boulders were borrowed as landscape elements.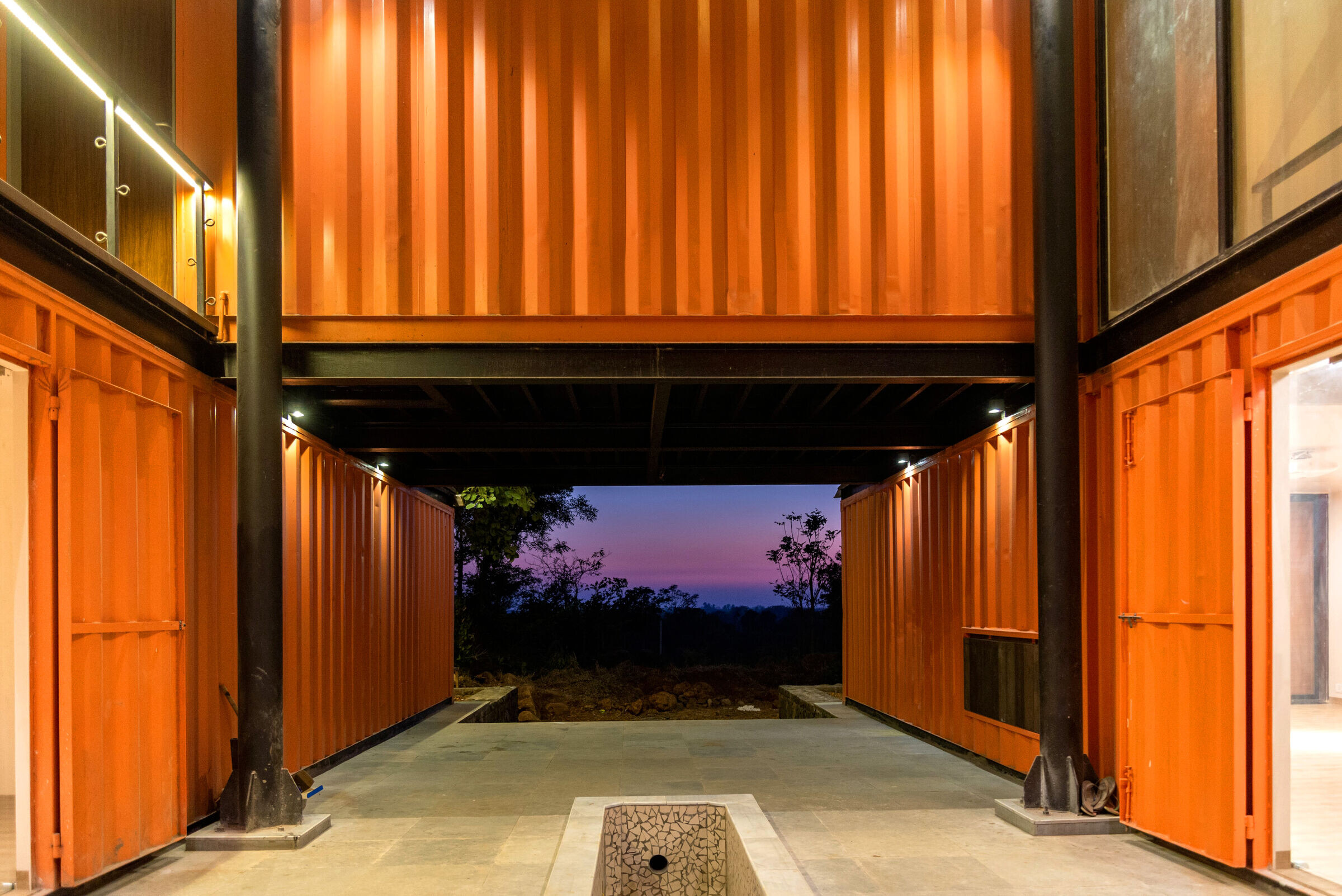 Planning
We kept it simple. Six forty feet containers are arranged, with three containers staggered on the ground floor consisting of a bedroom, living room, dining and kitchen and three containers on the higher floor that are placed perpendicular to the lower blocks consisting of two bedrooms and a den/bar area. The orientations of the containers are such that it forms an open to sky courtyard in centre. 'Linea' - linear water body forms a centrepiece which harvest rainwater from the funnel shape inverted roof over the courtyard through open chain drain.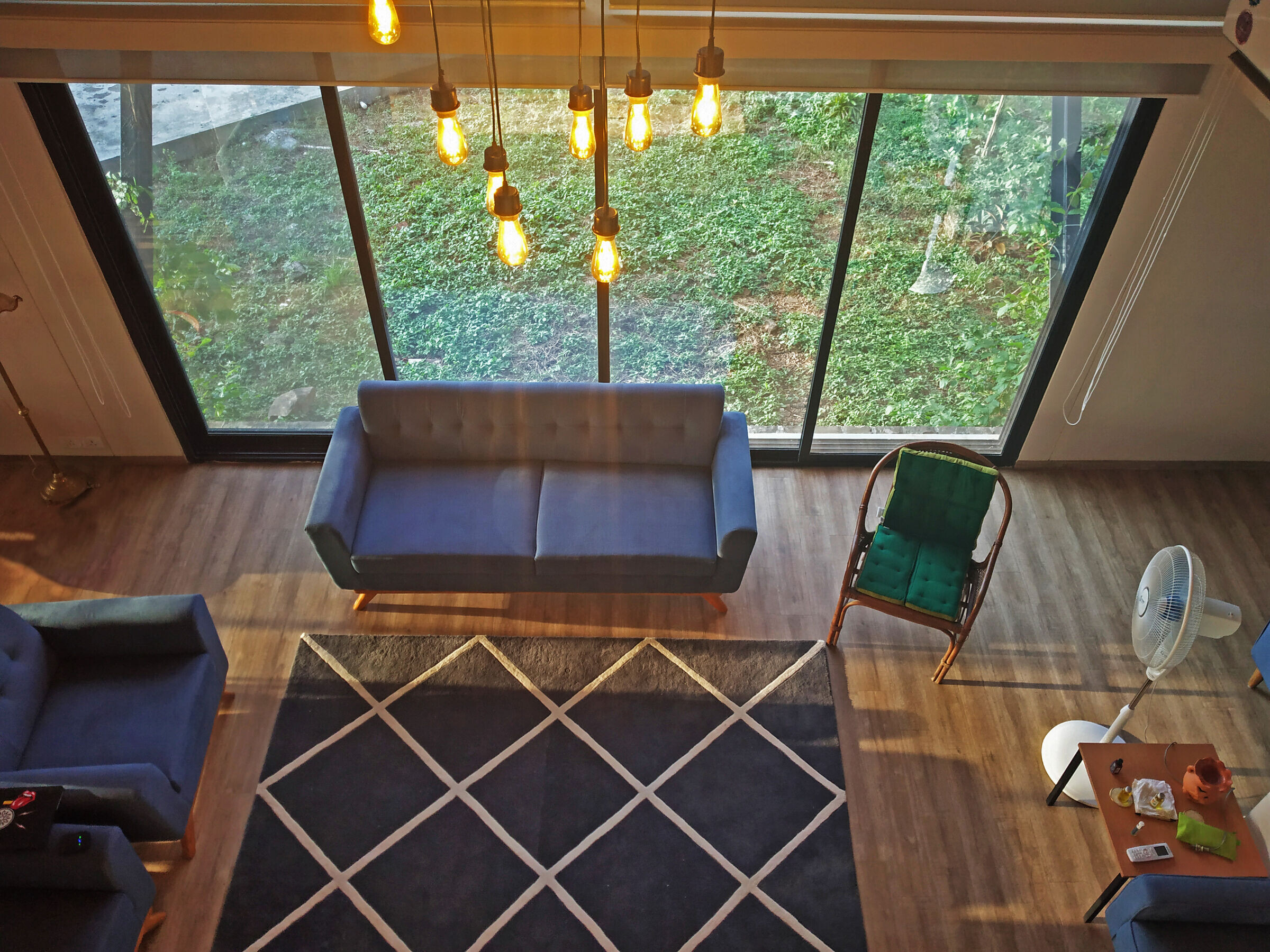 Orientation
The orientation of the structure is such that, the existing landscape of the site is unharmed. Orientation of the structure is such that it reduces heat gain to the steel assembly. Double height glass window for living room face North-West to capture the diffused light. It is also the side which has scenic view. Bedrooms facing South-West are designed with narrow openings which cut downs the heat gain to the rooms. Further, the containers are well insulated to tackle the external heat. South & West facade which calefies more, is buffered by toilet blocks, semi-covered terraces, and existing trees like Babul and Neem.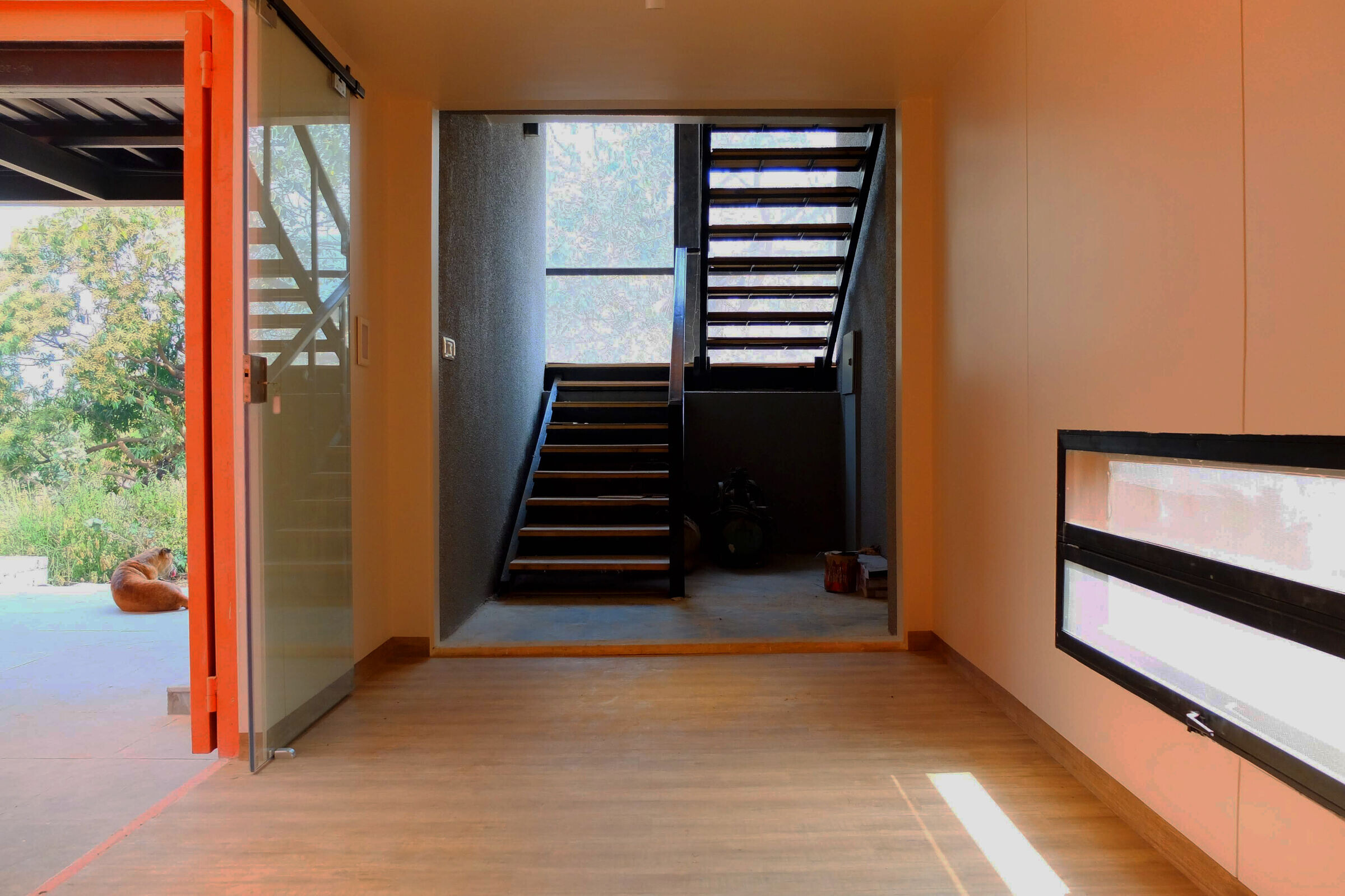 Modularity and Spaces
Shipping containers are standard sized; designing with them was like playing LEGO. This might be contentment while designing but there are limitations to it. Containers are eight feet wide and eight and half feet in height which are standard dimensions, designing with space constraints was a back-breaking attempt. Variations in volumes are formed by amalgamating container blocks horizontally and vertically. To give loftiness living room is provided with double height with the bedrooms overlooking, this added visual connections between the spaces. This volume is further enhanced by a glass facade which overlooks scenic view and also draws light inside structure.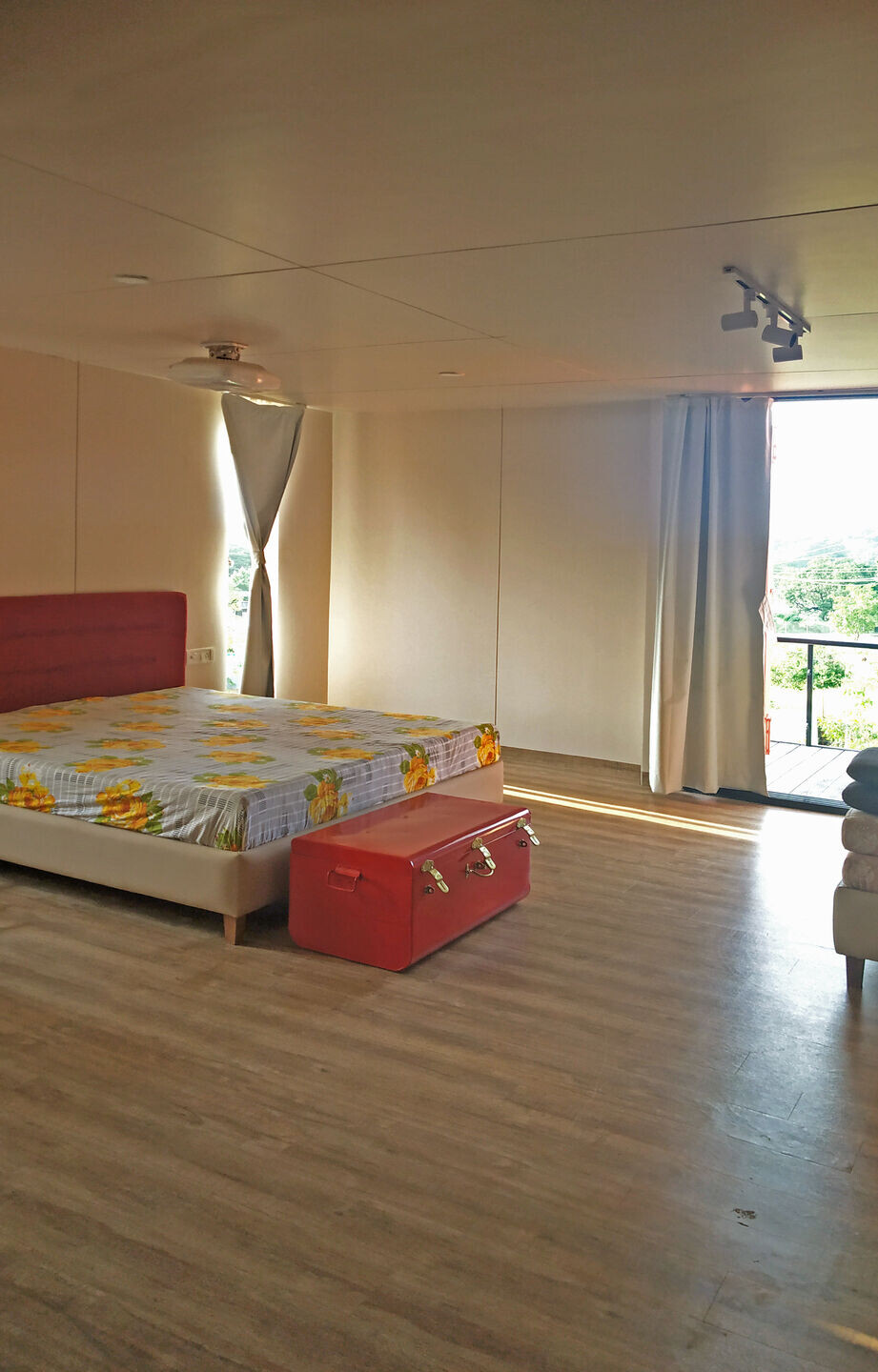 Economics
Time frame of construction is the key feature in such structure. Because of modularity, these structures could be built in quick time. Tough it requires high precession and skilled work force. Compared to other recycled or eco-friendly materials, Shipping containers are more durable and tough. Every time a container is recycled, thousands of kilos of steel are repurposed. The best part is that when using a container, no other building materials like bricks or cement is required, which reduced the overall carbon footprint.