A startup just a few short years ago, rapidly-growing drug development company Valo partnered early on with leading-edge consultants and designers on things like workplace strategy and brand identity to staycompetitive in recruitment of top research talent. Those early strategic investments now appear to be showing returns.
Designed by Dyer Brown, the recently completed headquarters expansion for Valo isthe latest product of an ongoing collaboration that began when the company signed its first lease in 2017, for a team of fewer than a dozen employees. The expanded, high-performance, 35,600-square-foot space in Boston's Back Bay neighborhood now supports workflow for 150 across two floors, with a brand-inspired aesthetic that reflects a unique company culture.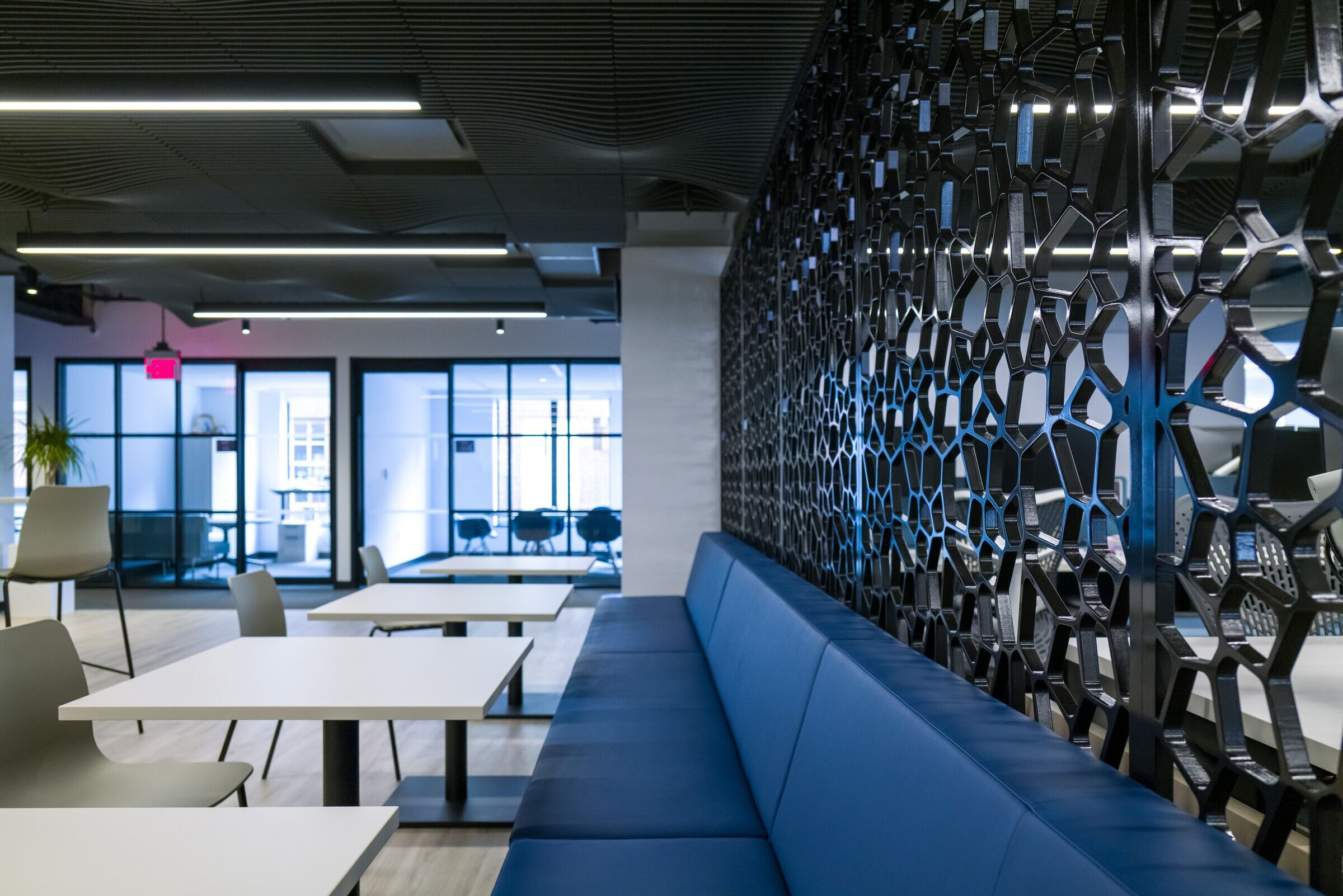 Dyer Brown's collaborative pre-design process served as fertile ground in which the Valo brand identity and culture began to take shape, emerging during visioning sessions and Lean-inspired design exercises."Our early meetings were mutually eye-opening, as we learned a lot about their digitally-driven approach to research," says Dunn. "Our aim was always to provide a leading-edge workplace strategy that would support their mission, but providing some space in those early days for the team to come together and talk out how a workplace would showcase who they were and who they wanted to be, produced a powerful moment."
According to Dunn, the leadership wanted the space to convey a sense of boldness and daring that is also refined and professional – not a 'scrappy-start-up' vibe, but also not stodgy or traditional. The jumping-off point for the design concept was the image of a tailored suit with a colorful lining. The palette of finishes ultimately emphasizes texture and patterns to convey Valo's boldness – in unexpected ways, rather than with bright colors. For example, unique acoustic felt panel ceilings create a rippling, undulating effect overhead in the new café space and several work areas. Vibrant colors do make surprise appearances: peeking out of the phone rooms as multicolored woven wall covering, or as high-gloss blue laminate on café shelving.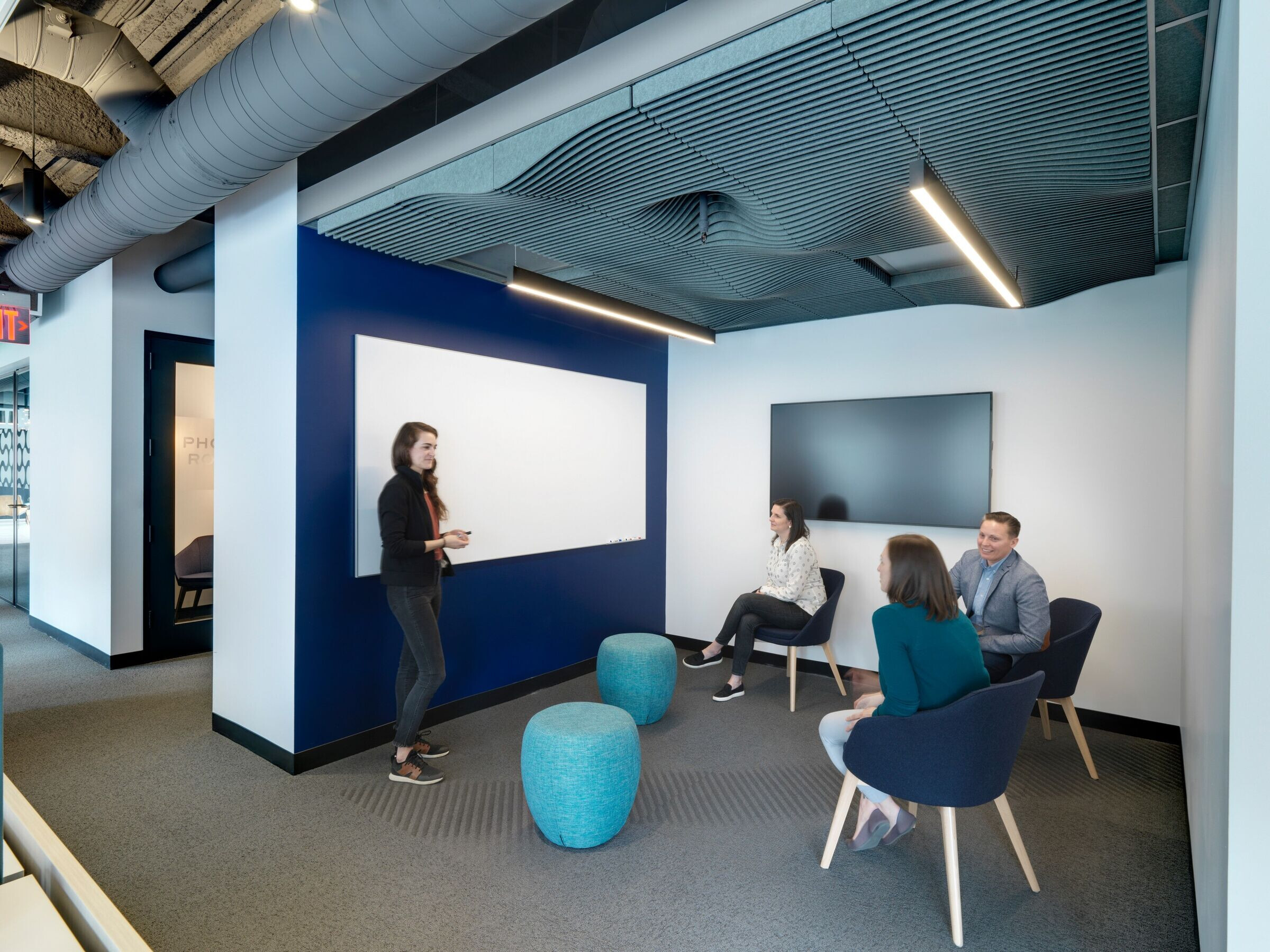 Roughly 25 percent of the workplace is dedicated to non-traditional work setups, all outfitted with ample power and whiteboards, including semi-enclosed meeting rooms, single-occupancy nooks with task lamps, and a dedicated scrum room. The overall program is flexible enough to support near-term growth –with huddle rooms that can be rapidly converted to private offices, for example.
Emerging from their startup stealth mode with significant funding, Valo nevertheless demonstrated a commitment to value, directing Dyer Brown to focus major budget expenditures on public-facing spaces. At reception, for example, visiting clients arrive to find a waiting area with a presentation installation showcasing the Valo brand, flanked by Herman Miller chairs under a playful sculptural lighting fixture, all drenched in a flood of natural light from full-height bay windows. But the fourth floor, which visitors rarely see, just as ably conveys Valo's culture and brand, translated as a quiet, productive, staff-only workspace.