Just ten minutes away from Schiphol Airport, directly along the highway A4 near Hoofddorp, Schiphol Trade Park will be developed in the upcoming years. The area consists of six unique environments, each with its own character. Together they function as one work environment in which nature inclusivity and sustainability are central themes. The ambition is high: it promises to become the most sustainable and innovative business park in Europe. The warehouse designed by Denkkamer on the unique entrance lot is part of the A4-skyline. With its prominent location within the area development, it forms the entrance to Schiphol Trade Park.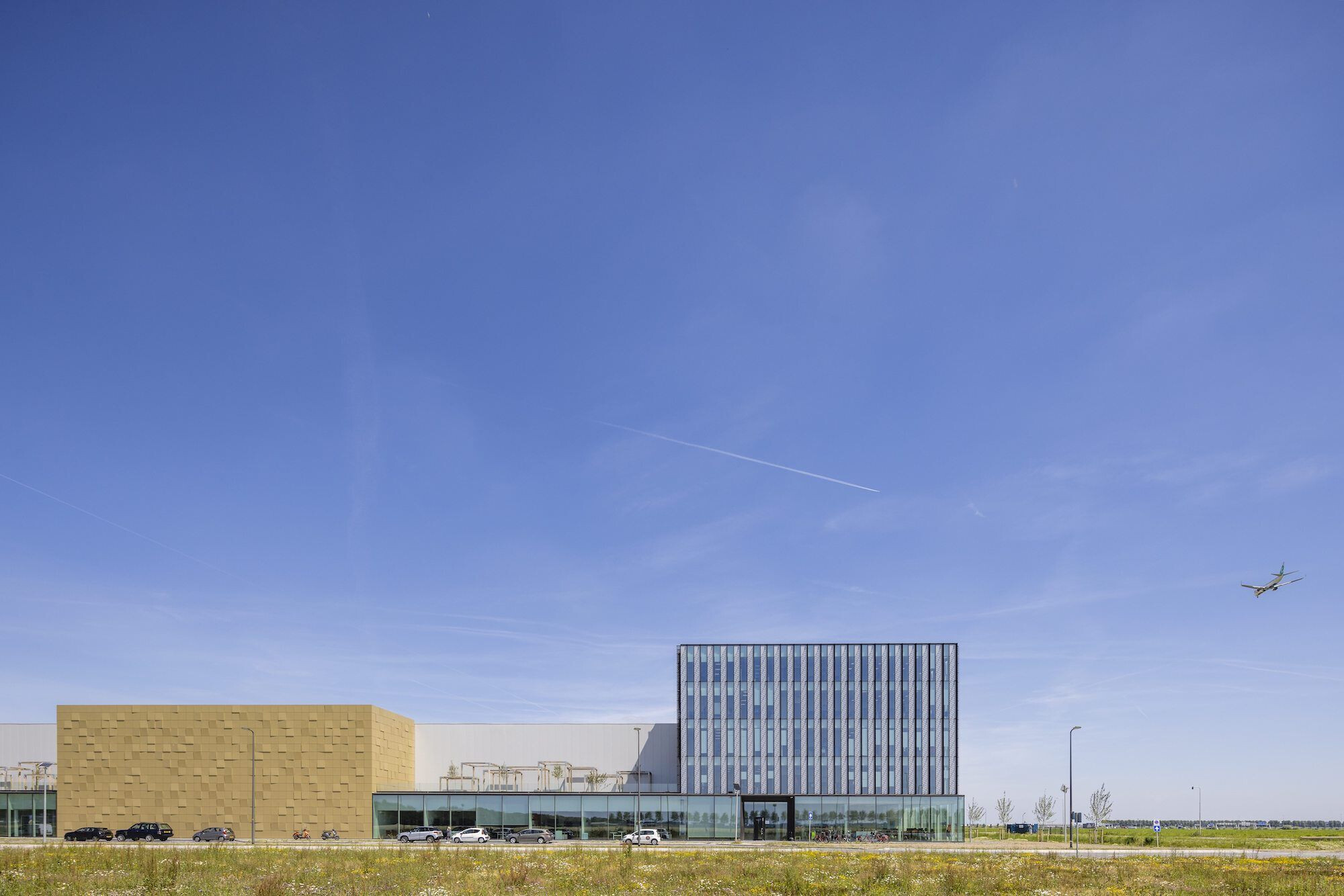 With the warehouse concept, we are attempting to establish a new sort of logistic landscape. By giving the usual introverted logistic services an open character, a relation between building and environment emerges. The logistic function is the bearer of the activity and forms the so-called logistics core of the building. This core is bordered by a dynamic shell that connects with the environment. The shell consists of two components: a programmatic and a nature inclusive component. As a result, the building does not immediately characterize itself as a distribution centre.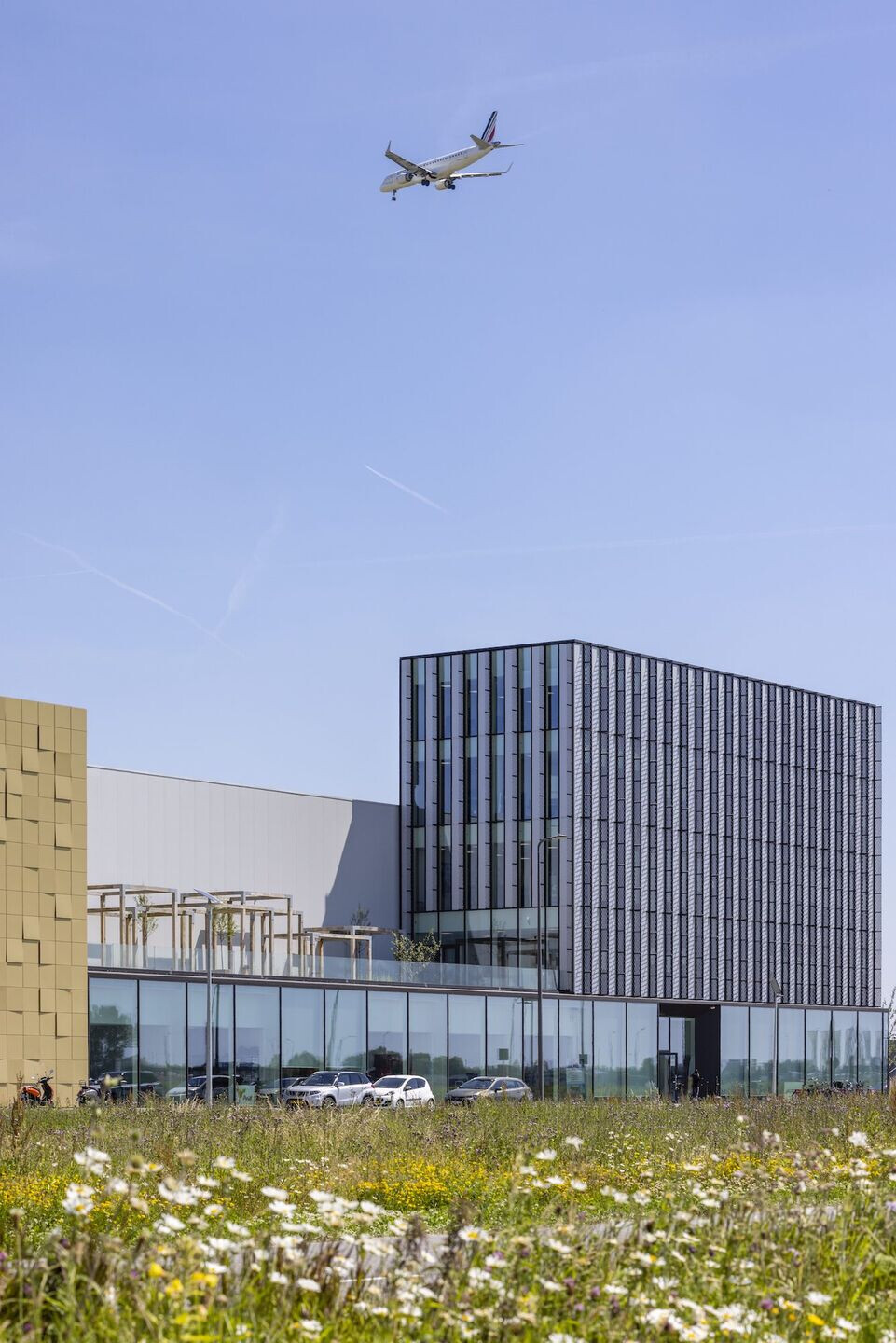 The office spaces are located in the transparent volumes in the periphery and are directly connected to the roof gardens on the first floor. Supportive functions like transformer, sprinkler tank and adr spaces are positioned in the peripheral closed volumes. By doing so the rectangular core is completely free and optimised for the logistics operation. All logistic related traffic movement and loading docks are located at the backside of the building. Above this lies the parking deck for passenger cars, which is directly connected to the road structure by two ramps. This separates the two traffic flows. Parking at a distance from the offices stimulates walking movement of users and will activate the public space along the building.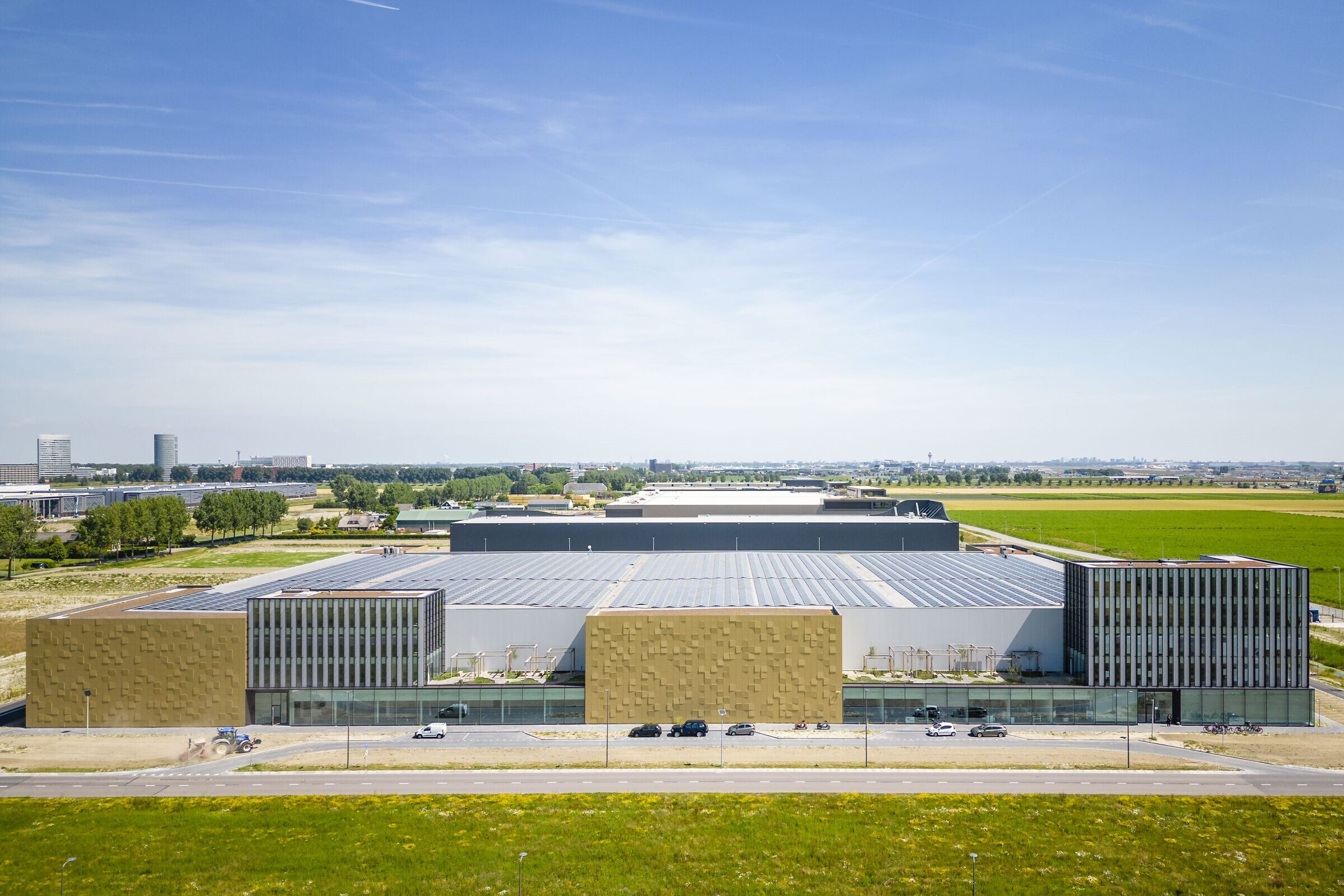 The shell consists of slender volumes, varying in height. The higher roofs have herbaceous green and brown roofs and are equipped for insects and nesting birds. The lower more protected roofs, in-between the offices, serve as roof gardens and provide a pleasant outdoor area and picking garden for users. A green veil and green oasis covers the loading docks and parking deck. They form a paradise for butterflies and amphibians, and offer nesting opportunities for birds. The different heights of the volumes combined with the vertical natural elements are like stepping stones that connect ground level with the new biotopes.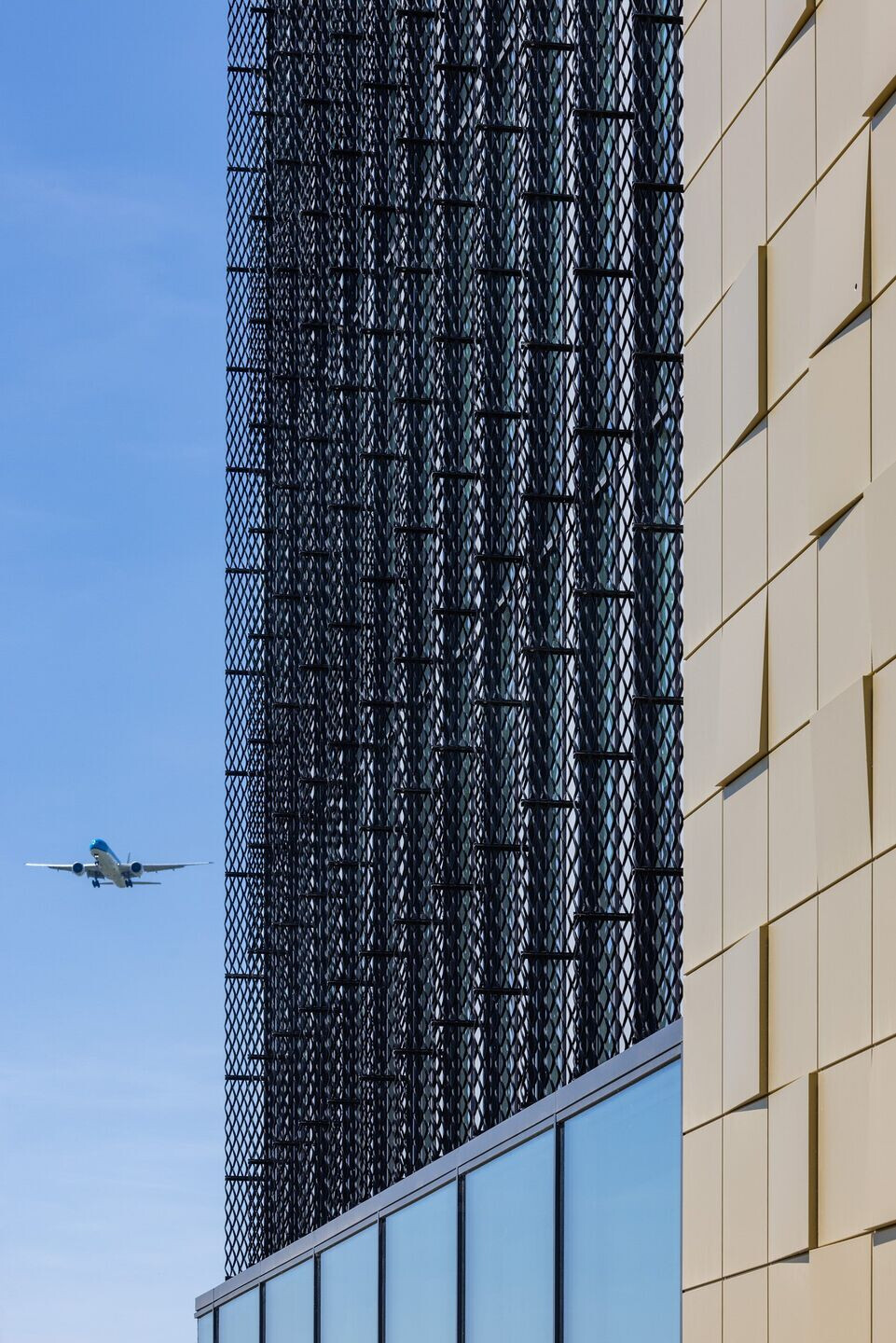 Team:
Architects: Denkkamer Architectuur & Onderzoek
Photo Credits: BASE Photography & Denkkamer Architectuur & Onderzoek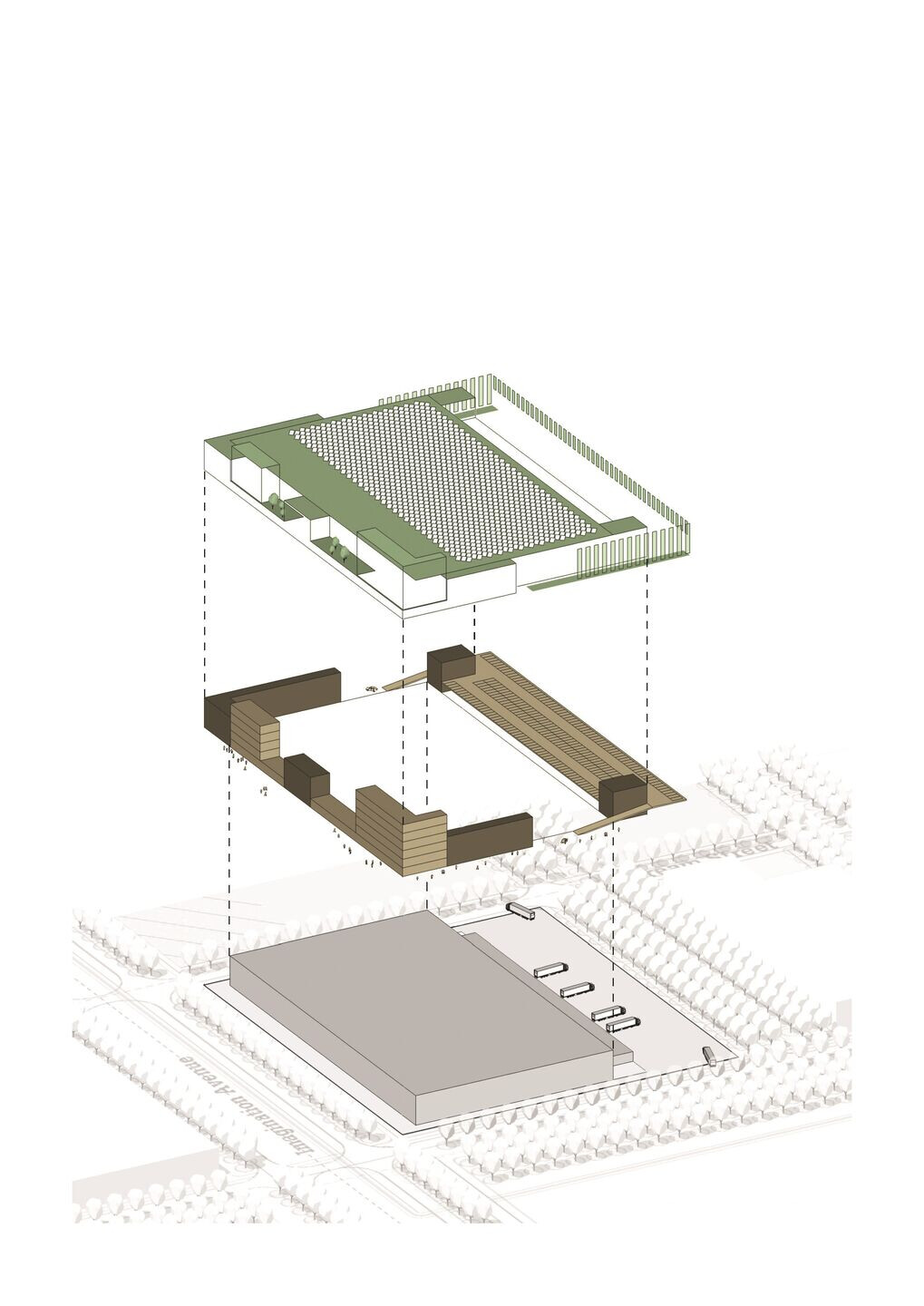 Materials Used:
Reynaers Aluminium - Curtain Wall
Carl Stahl Architecture - Cable Nets
Kingspan - Dri-Design architectural facade system
Aldowa - Expanded metal
Metec - Guardrail
Hörmann - Overhead doors
AGC Glass - Clearlite
Kindow - Internal sun blinds