Situated in Beijing's tallest residential structure, the X-House is a showcase business and residential space for a prominent international entrepreneur. Designed to accommodate business meetings, banquets, guests, and other functions, the space features a 1000-bottle wine cellar, tasting room, and spa bathrooms.
The design is based on a system of Bézier curves, giving each space a unique and distinctive quality, creating a completely unexpected experience high above the streets of Beijing. Collectively, the spaces act as a network of domes, almost like a cave, creating opportunities for views, privacy, exploration and surprise.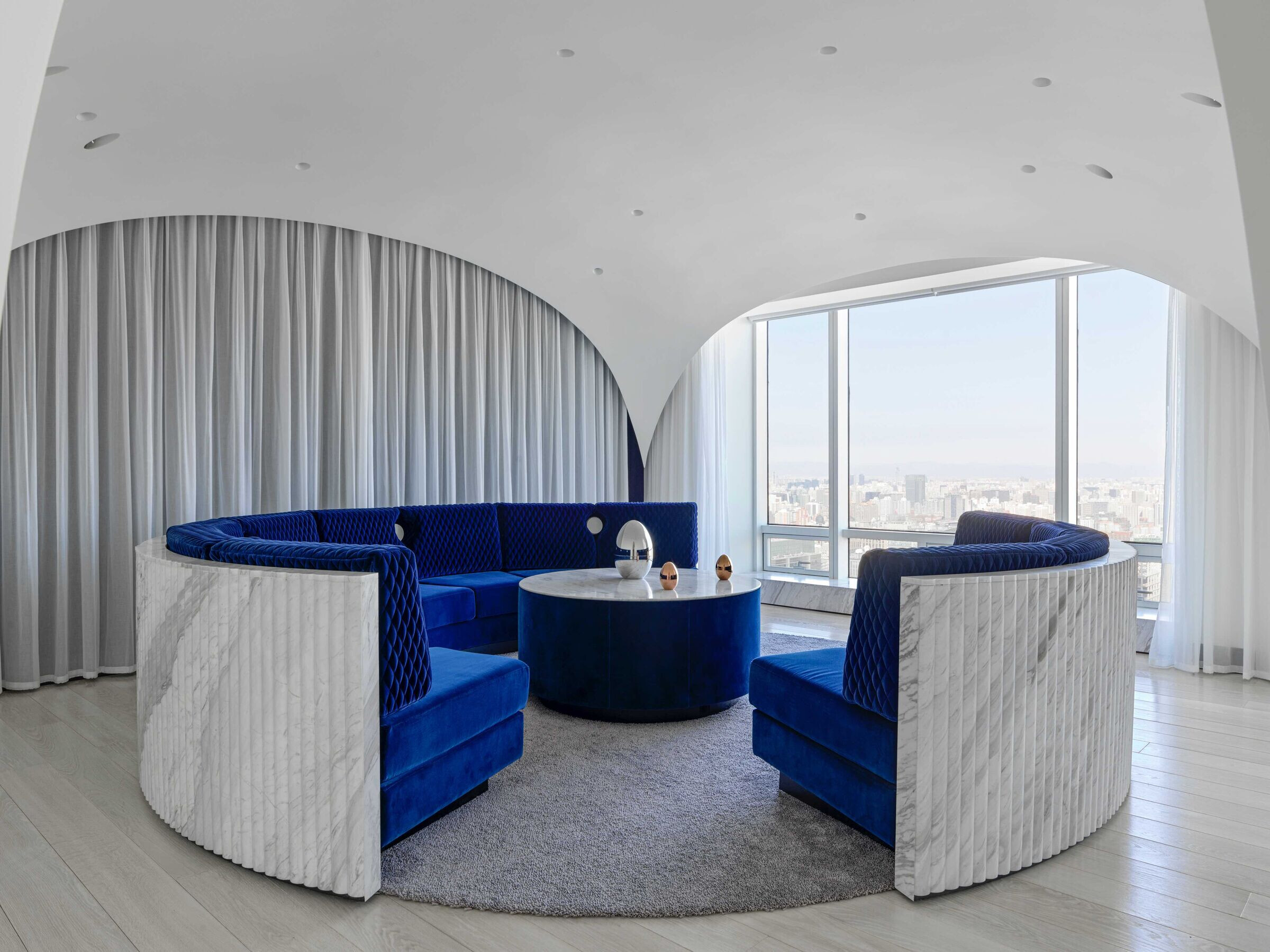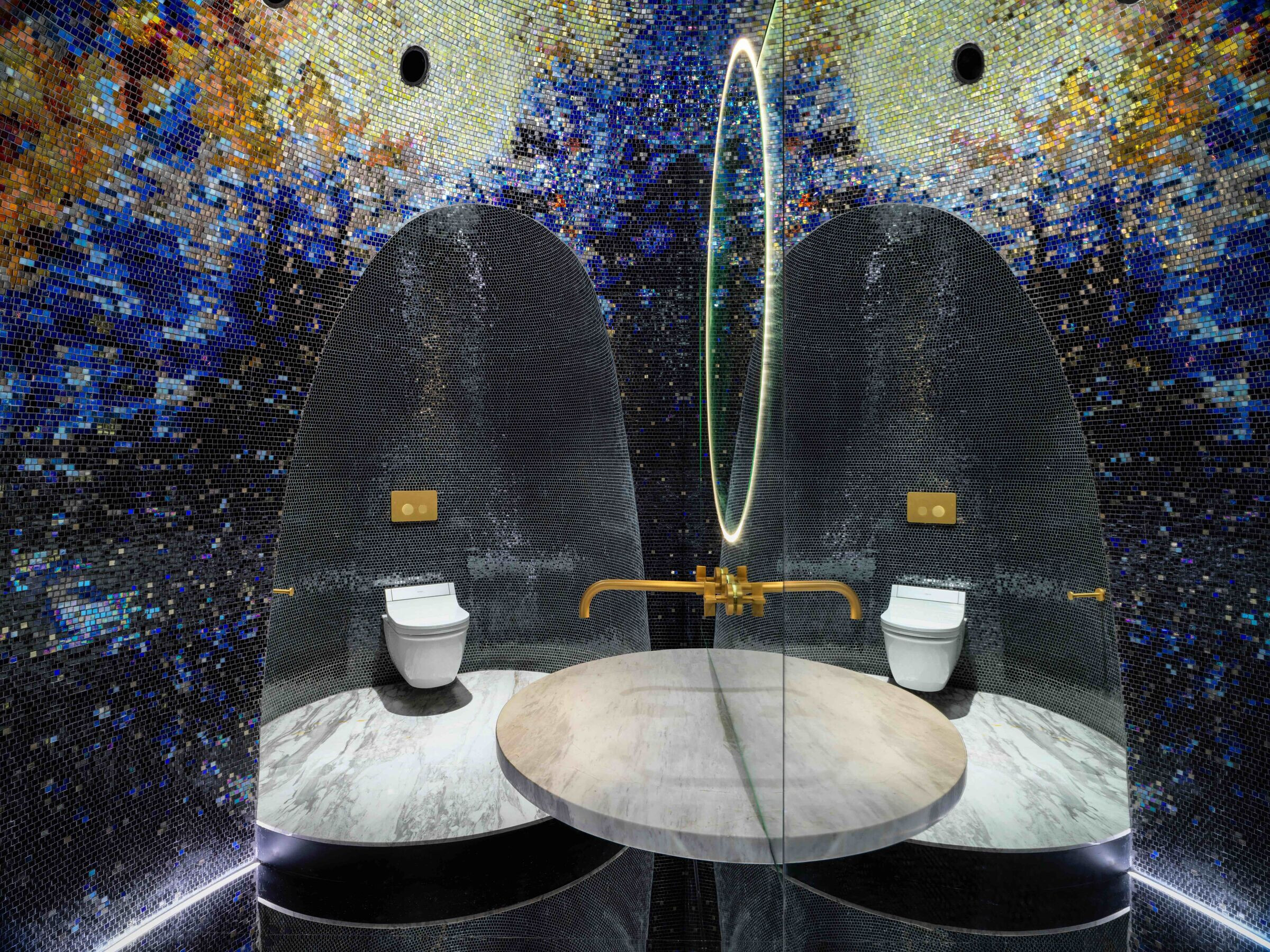 The spaces are interconnected in a carefully choreographed sequence, offering a series of varied views, experiences, and social opportunities. Conceived to host a variety of events from a few people up to 50 or more, the spaces vary considerably in scale, with materials and lighting changing accordingly.
While the typical material palette is a neutral combination of white oak floors and hand troweled white plaster, wet spaces stand out. The bar, with views in two directions of the city's most iconic towers, is clad in hundreds of polished stainless steel triangles, becoming a veritable human kaleidoscope, refracting the views together with the occupants.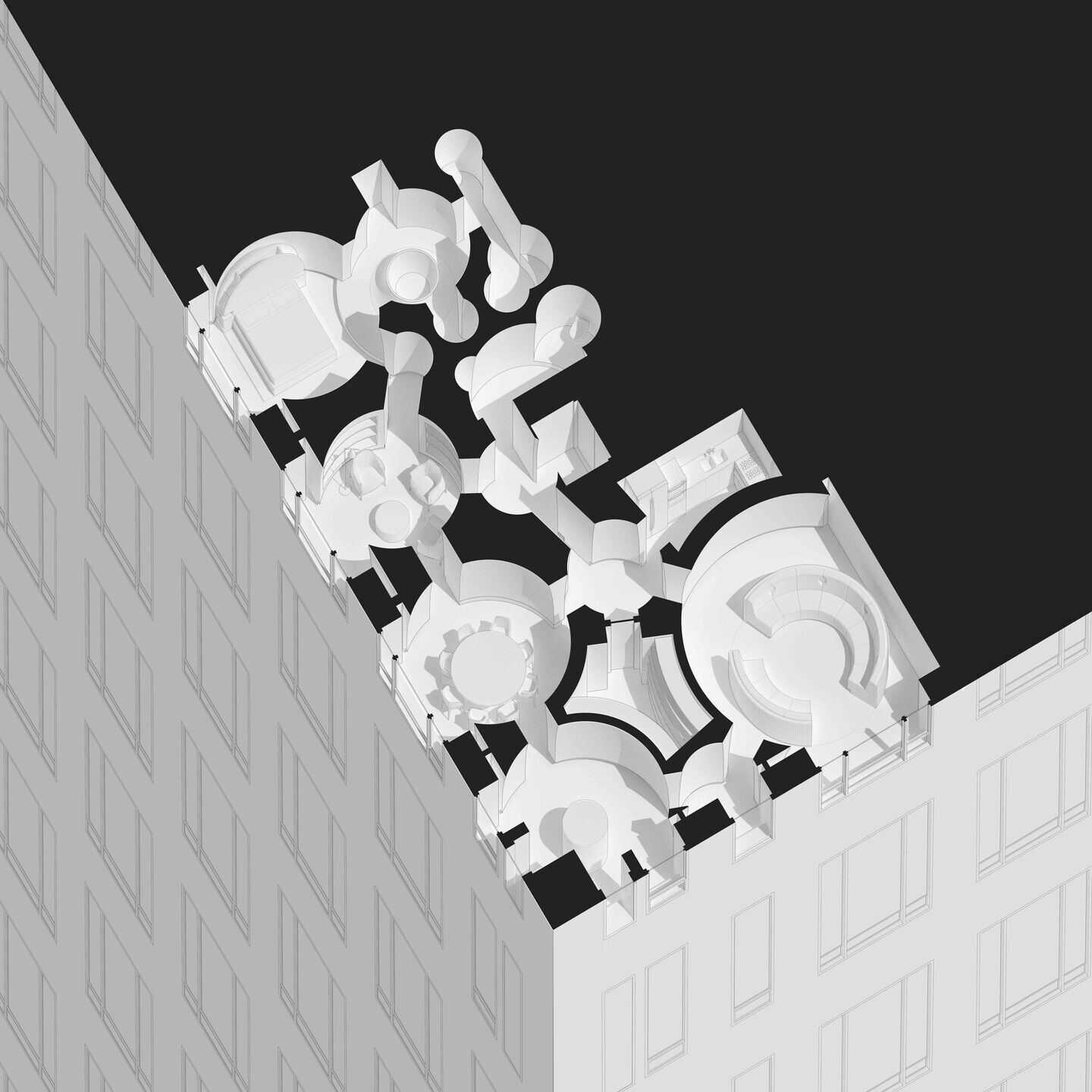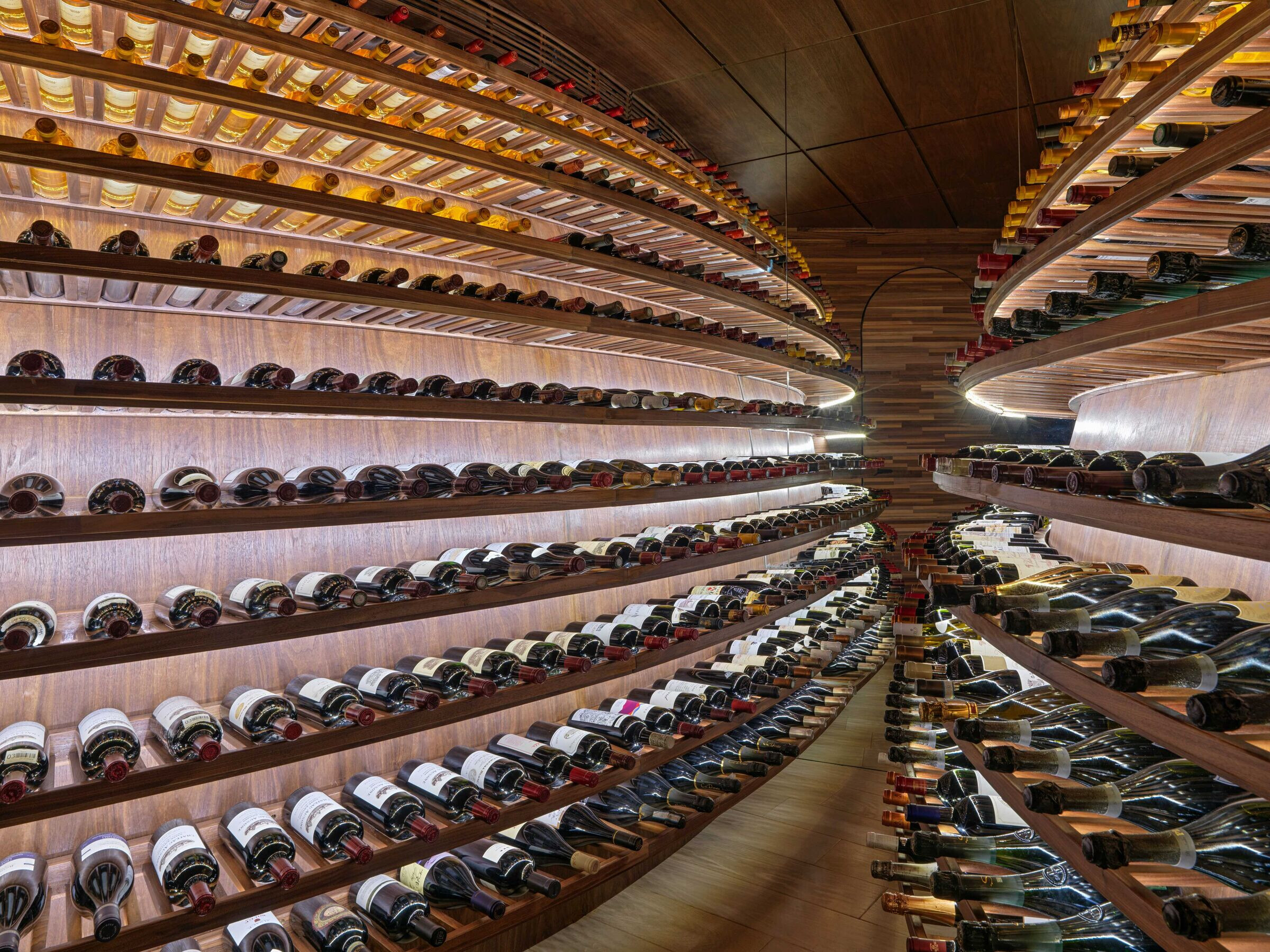 The washroom uses mirrored floors and walls to create a spatial illusion, both completing the fragmented curved geometry as well as offering illusions of spatial infinity that are complimented by the custom Sicis mosaics on the wall.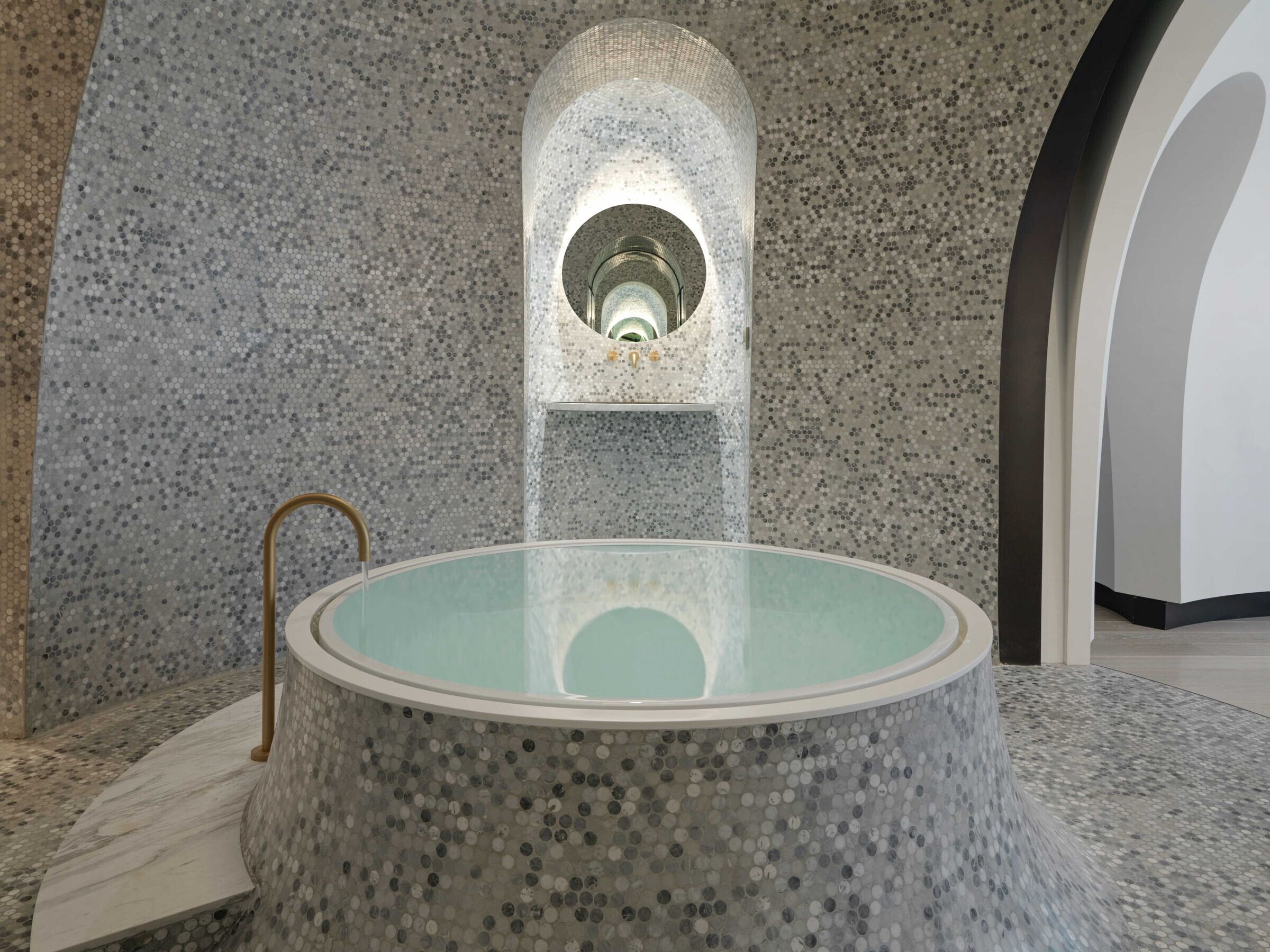 Perhaps the most striking space is the bathroom, where the individual components are broken into a series of five interlocking domed volumes, exploring the architectural possibilities when the otherwise regular system breaks apart, resulting in distortions, overlap, illusion, and a more complex narrative language. Complementing this spatial richness are surfaces clad entirely in 20mm stone mosaic tiles. Using a special process whereby tiles were placed individually and polished after being set, the material gives a uniformity and solidity to the whole, re-emphasizing the architectural space. At the center lies a round tub, seamlessly set into the floor with concealed plumbing.
At the heart of the whole lies a 1000-bottle wine cellar, occupying the void created by adjacent volumes. Reflecting the owner's collecting passion, the cellar is a somewhat unexpected delight, with the curved shelves and mirrors turning the bottles into an architectural material of their own.